This Saturday, April 12th 2014, The Dr. Susan Block Show will commemorate the 22nd wedding anniversary of our host, international sexologist Dr. Susan Block, and her charming Prince, Captain Max (aka Prince Maximillian Rudolph Leblovic di Lobkowicz di Filangieri) with a live bacchanalian broadcast featuring friends, lovers, sexperts, culture fetishists, celebrities, professors and porn stars, followed by a sure-to-be-orgiastic after-party.

The star-studded guest roster includes Alejandra Guerrero, Amor Hilton, Anthony Winn, Ashley Manta, Bonnie Gayle, Brent Woods, Brittany Blaze, Brock Hard, Charlotte Stokely, Chas West, Chris Gore, Coco Risqué, Courtney Taylor, Crystal Jewelz, Dark Phoenix, Esther Hanuka, Harley Dean, Dr. Hernando Chaves, Isiah King James IV, Jack the Zipper, Jacqui Holland, Jaded Dawn, Jason Rouse, John Barrymore, Judy Bloom, Luzer Twersky, Marley Blaze, Mr. E, Master D, Moushumi Ghose, MFT, Patrick Ian Moore, Prince Yashua, Robert "Corpsy" Rhine, Selma Sins, Shay Golden, Shay Lynn, Siren Selene, Steve Nelson, Thomas Quinn + more TBA. A big thank you to Jamaica's Cakes, famous for their episode on Curb Your Enthusiasm, for providing two of their wildest erotic cakes for the festivities. More thanks to our sponsors Condomania and JuxLeather. Various media will cover the event, including Vice Magazine.

Join the celebration Saturday night, April 12th at the divinely dive-y Green Horse Nightclub in West Los Angeles where we will broadcast this very special episode of The Dr. Susan Block Show.  Call 626-461-5950 for reservations and information or Tweet @RadioSUZY1.

Dr. Suzy's & Pr. Max's 22nd Wedding Anniversary will air live on DrSuzy.Tv, Saturday night, April 12th, 2014, 10:30pm-Midnight PST.
Listen FREE on your computer at DrSuzy.Tv or your phone at http://m.drsuzy.tv.
Call-In: 1.866.289.7068 or 626.461.5950. Tweet comments and questions @RadioSUZY1.
Watch the live show and other great shows, clips, photos and erotic music videos at DrSusanBlock.Tv (for as little as $5.95!)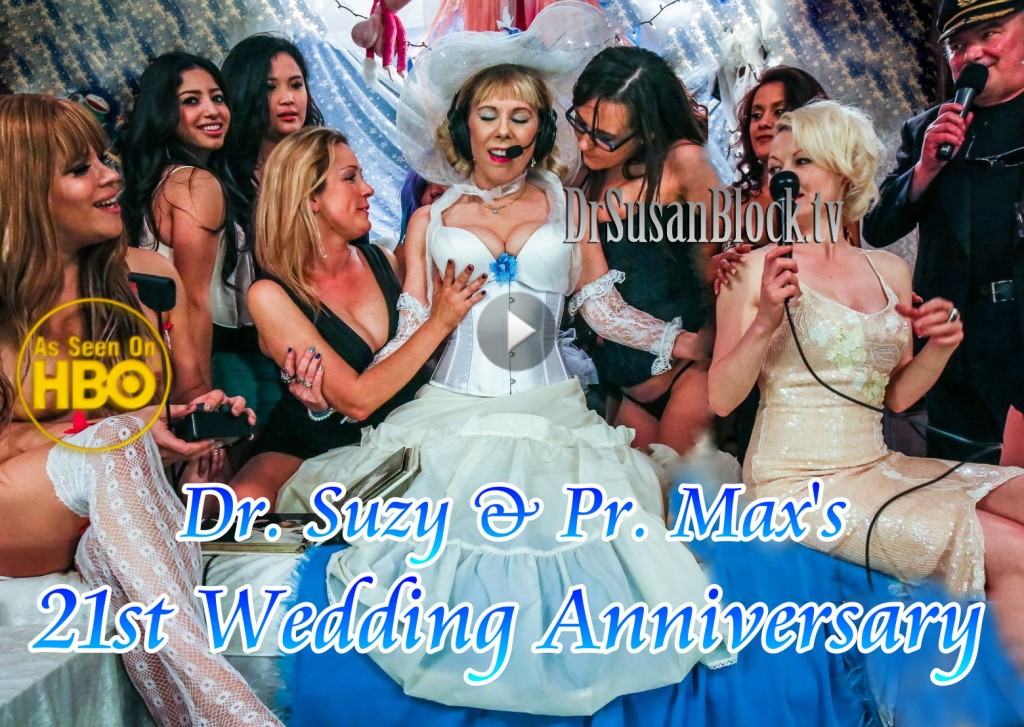 The Dr. Susan Block Show is produced by The Dr. Susan Block Institute for the Erotic Arts & Sciences, an international center for sexual expression, therapy and education, based in LA, founded in 1991 by Susan M. Block, PhD, world-renowned Yale-educated sexologist, best-selling author and host of HBO specials. The Institute's mission is to help individuals, couples and communities enhance their sexuality and improve their lives based upon Dr. Block's philosophy of Ethical Hedonism and The Bonobo Way of Peace through Pleasure. A portion of all proceeds goes to help save the highly endangered "make love not war" bonobos from extinction in the Congo and to promote theBonobo Way around the world.