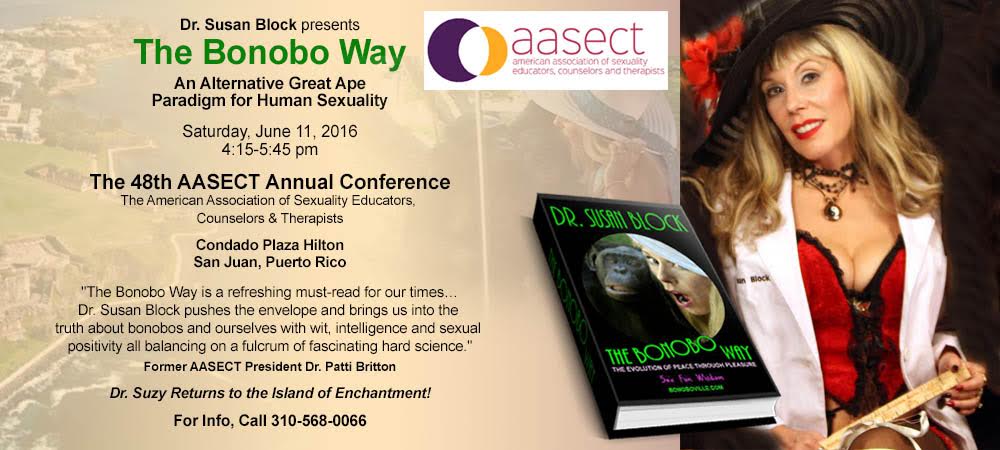 Los Angeles, California: June 1, 2016 — Susan M. Block, Ph.D., a.k.a., "Dr. Suzy," internationally renowned sexologist and best-selling author of The Bonobo Way: The Evolution of Peace through Pleasure (Gardner & Daughters Publishers), will present "The Bonobo Way: An Alternative Great Ape Paradigm for Human Sexuality" at the 48th Annual Conference of The American Association of Sexuality Educators, Counselors & Therapists (AASECT), to be held June 8-12 in San Juan, Puerto Rico.
"I look forward to sharing this very special portion of the 'Bonobo Sutra' with my fellow sex educators and therapists," says Dr. Block who has been presenting various aspects of the Bonobo Way, locally and abroad, at different academic and lifestyle conferences over the past few months, including the keynote address to the world's first "ecosexuality" symposium in an academic institution, convened at the University of Puerto Rico, Mayagüez by UPRM Humanities Professor SerenaGaia Anderlini D'Onofrio. She also gave a talk on nonmonogamy among bonobos at the 5th International Conference on Monogamy & Nonmonogamy at UC Berkeley; and she just delivered a rousing presentation at DomCon LA 2016 on bonobos as the "Most FemDom Apes on Earth."
Next, on Saturday, June 11, she will speak at AASECT 2016 where "Putting the Pieces Together: Inclusivity in Practice" will be the conference theme. "A vital piece of the human sexuality puzzle is our interconnected Great Ape nature," says Block, an AASECT member since 2005. "Bonobos are the most inclusive apes on Earth. They love to share food and sex with friends and strangers. This is deeply linked to another "piece" of the puzzle that bonobos "put together": peace through pleasure. Bonobos are the only great apes who have never been seen killing each other. We humans can learn a lot from our bonobo cousins about our own sexual diversity, erotic inclusivity, gender equality and inherent potential for harmony. As sex therapists, we can help our clients to release their 'inner bonobos' consensually, relatively safely and enjoyably. And speaking of joy, I am overjoyed to return to Puerto Rico, the ecosexual 'Island of Enchantment' and a wonderful place to learn about love."
A consistent message in all of Block's Bonobo Way talks is the critical importance of saving the highly endangered wild bonobos from imminent extinction, and she encourages her audiences to "adopt a bonobo" with Lola ya Bonobo or the Bonobo Conservation Initiative, among others. "Bonobo conservation is integral to the Bonobo Way," says Block. "If we lose the bonobos, then we lose a key to understanding human sexuality that we can never find again."
AASECT 2016 will be held June 8-12, 2016 at the Condado Plaza Hilton in San Juan, Puerto Rico. "The Bonobo Way: An Alternative Great Ape Paradigm for Human Sexuality" is scheduled for 4:15-5:45 pm on June 11, 2016. For information about the Bonobo Way at AASECT 2016 or to arrange an interview with Dr. Susan Block, please call 626-461-5950.
Contact: David Rossi Phone: 626.461.5950 Email: Bonoboville@gmail.com
Web: thebonoboway.com Watch the Video: http://j.mp/TBWyouTubeTrailer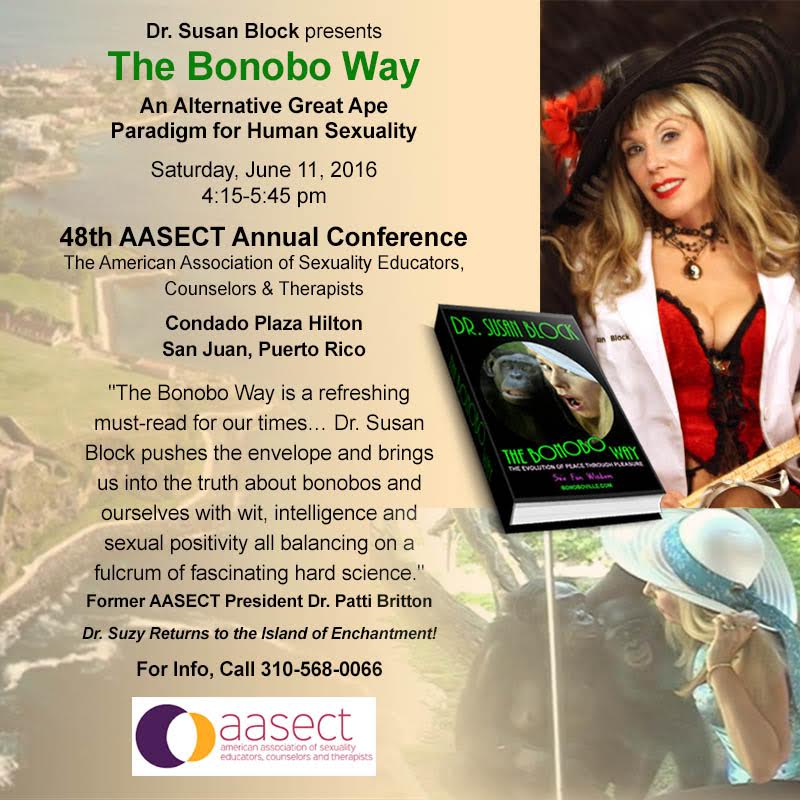 HUMANS ARE LOVING THE BONOBO WAY
"The Bonobo Way is a refreshing must-read for our times."
—Dr. Patti Britton, American Association for Sexuality Educators, Counselors and Therapists (AASECT) Past President
"Impactful, often hilarious… wildly entertaining… The Bonobo Way just might hold the key to world peace."
—HUFFINGTON POST book review by Steve Karras
"The Bonobo Way is sexy and fun… damn smart too."
—Sex at Dawn, author Christopher Ryan, Ph.D.
"The Bonobo Way is a pleasure on all counts… and especially significant at this time."
—Dr. SerenaGaia Anderlini D'Onofrio, co-editor of Ecosexuality
"Bravo Dr. Block for paving the way to a hopefully more bonobo future."
—Vanessa Woods, Duke University primatologist and author of Bonobo Handshake
"Brilliant… A great book about human sexuality."
—Sherry Rehman, Sr. VP of Pakistan People's Party & former Ambassador to the U.S.
"Amazing! Dr. Susan Block is an ecosexual visionary."
—Annie Sprinkle, Ph.D., ecosexual artist and filmmaker
"The Bonobo Way is marvelous! A happy book for a happy life in a happier world."
—Xaviera Hollander, author of The Happy Hooker
"Awesome book… Excellently written and transformative"
—Dorion Sagan, science writer and author of Death & Sex
"Dr. Susan Block has a new understanding of how to enhance our intimate relationships!"
—Progressive News Network interview with Dr. Diana Wiley
"Adventure, optimism, and love is what Dr. Susan Block is all about… Patients become fans, and fans become evangelists."
—CITIZEN LA Inside the Pleasure Compound with Dr. Susan Block
"AMAZING… The Bonobo Way shines a light on humanity's capacity for peace."
—Dr. Scott Barry Kaufman, author of Wired to Create
"The Bonobo Way will save our planet! Dr. Susan's insight into sexuality is not only incredible…it is also the sexual revolution, easily mapped out, that we have been waiting for."
–Tracy Vanity, blogger
"I love every page of The Bonobo Way!"
—Christian Bruyère, producer of Champions of the Wild
The Bonobo Way is available in kindle and paperback on Amazon or direct from the publisher. A portion of all proceeds from book sales goes to Lola ya Bonobo and the Bonobo Conservation Initiative, as well as other organizations actively helping to protect and save the highly endangered wild bonobos from extinction.
Tired of conventional sexuality experts? Dr. Block is available for comment or interview. Would you like to review The Bonobo Way? Contact us today.
David Rossi
Phone: 626.461.5950 Email: Bonoboville@gmail.com Web:thebonoboway.com
Watch the Video: http://j.mp/TBWyouTubeTrailer