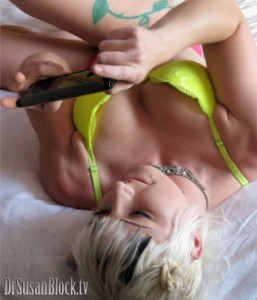 – Are you interested in trying Sext Therapy?
– Are you sometimes more comfortable with texting than talking?
– Do you enjoy sending and receiving erotic messages and pictures on your cell phone?
– Do you have fantasies, fetishes or memories that you'd rather explore through texting, emailing or messaging than other methods?
– Is texting easier, more convenient, more private or less embarrassing for you than talking by phone, webcamming or seeing a sex therapist in person?
Call Us Now: (213) 291-9497
If you answered 'yes' to any of the above, Sext Therapy could be for you.
Sext Therapy is a revolutionary system of sex therapy that utilizes the medium of texting.  For over 20 years, the Dr. Susan Block Institute has been the world's leader in telephone sex therapy, erotic theater therapy and webcam sex therapy.  Now, responding to popular demand, we have opened up a new wing in sext therapy.
As technology changes the world around us, we reorient our lives and methods of communication, which inevitably influences the way we express ourselves sexually.  Sexting is suited to modern times, due to its convenience and relative confidentiality. Do you often find you don't have the time or privacy to hold an actual conversation over the phone? With sexting, you don't have to wait to be completely alone.
You can get your questions answered, satisfy your needs or quench your curiosity immediately and discreetly, at any time of day or night, regardless of where you are.
Imagine being able to explore your sexual fantasies in the midst of going about your daily routine, and having it be your special secret. A sext or steamy picture at the right moment can add a special spark to your day. Later you can call or cam with the therapist with whom you've been sexting, to 'finish' what the both of you started.
The same rates as Phone Sex Therapy apply; for $3.25/min (with a minimum of 12 minutes, or $40), you can send and receive as many texts as you'd like during the window of time you'd like to spend sexting.
Curious to hear more? Let our sexy  therapists help you address your most primal urges in the most modern way.
Call us now at 626-461-5950 to hear more about how you can experience Cell Phone Sext Therapy—anytime 24/7—and we will set you up with an account where you can engage in sext therapy with one of our sext therapists.
The Dr. Susan Block Institute
Established 1991
For more information, call our recorded line.
We're available 24/7, including all holidays.