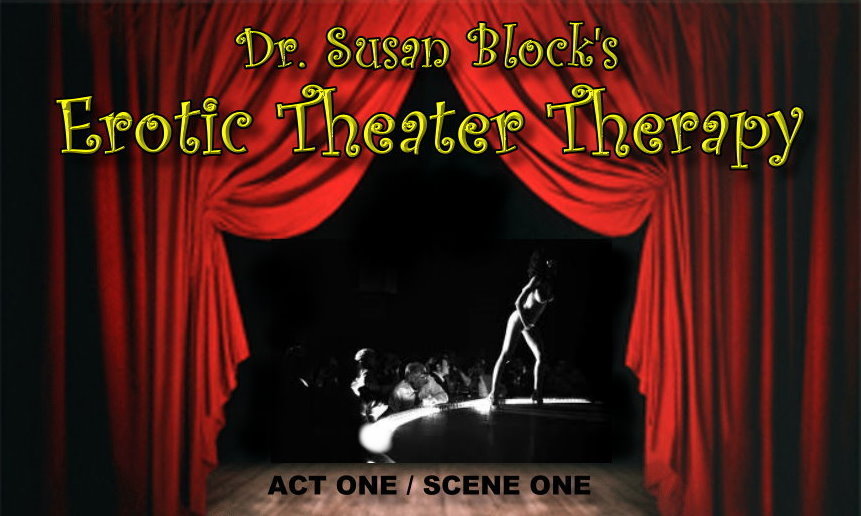 Call Us Now:
213.291.9497
 "All the world's a stage."  ~William Shakespeare
For adults, as well as children, fantasy is often a lot more fun than reality.  Whether it's erotic, exotic or PG enough for Disney, your fantasy is your own self-contained little universe, in which you make all the rules.  Anything is possible; nothing is forbidden.  Here at the Dr. Susan Block Institute, we call this alternative, highly sexual universe within us all the "Erotic Theater of the Mind."
Dr. Susan Block, a magna cum laude graduate of Yale University with Distinction in Theater Studies and a doctorate in philosophy with an emphasis in psychology from Miramar University and an honorary doctorate from the Institute for the Advanced Study of Human Sexuality), has developed a uniquely effective and exciting technique of "erotic theater therapy" over the past two decades.  She and the other therapists of the Institute practice erotic theater therapy both in the brick and mortar "Womb Room" studio in Los Angeles where she broadcasts her Saturday night shows and via the extremely private medium of the telephone and other communications tools.
 In so doing, she follows in the footsteps of her forebear, Dr. Iwan Bloch, the Father of Sexology.  In 1907, Dr. Bloch boldly proposed the new concept of a science of sexuality: sexualwissenschaft or sexology. Bloch's colleague Dr. Magnus Hirschfeld helped to organize this science, and in the liberal atmosphere of Weimar Berlin, purchased a villa that became his institute which housed his immense library on sex (later burned by Nazis), provided educational services and medical consultations and featured theatrical presentations on various sexual fetishes and orientations.  These theatrical events were attended by therapists, patients of the Institute and dramatic artists of the time, like Christopher Isherwood and W.H. Auden.
Throughout history, many more have utilized the art of theater as a therapeutic and educational tool, including such venerated techniques as "psychodrama" based on Dr. Jacob L. Moreno's "Theater of Spontaneity," Dr. Fritz Perls' Gestalt therapy, Jungian archetypal dramatization, Dr. Marshall Rosenberg's system of "Nonviolent Communication," and Michel Foucault's concepts of Ars Erotica ("erotic art") and Scientia Sexualis ("science of sexuality"), not to mention the famous Aristotelian view of theater as not just a form of entertainment, but as a means to understand the problems of life.  Ancient Greek tragedies and comedies—not to mention their theatrical athletic contests—were filled with sex, love, romance, fantasy and desire, as is classical mythology.
There are essentially two types of erotic theater therapy practiced at the Institute: the real-life Womb Room theater at the Institute on terra firma, where we conduct a variety of therapeutic erotic theater experiences, and the Erotic Theater of the Mind which we explore with individuals and couples via the phone, webcam and other media.  For more about Erotic Theater Therapy in the Womb Room, visit DrSuzy.tv.  For more about erotic theater therapy over the phone and webcam, read on.
Dr. Block's phone sex therapy system takes a four-point approach to sex therapy, involving 1) confession, 2) analysis, 3) technique and 4) adventure.  The theater actually *happens* at the fourth point, but is a part of process of all four.  Dr. Block and her other therapists, surrogates and fantasy roleplayers combine the theatrical elements of improvisation, storytelling, spectacle, the hero's journey, archetype, hypnosis, exaggeration, confession, guided masturbation, "dirty talk," erotic sound play and role-play, with more traditional forms of therapy and counseling.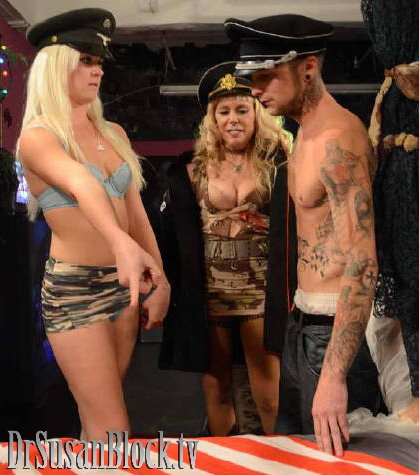 Erotic theater therapy via phone sex fantasy roleplay can awaken, enlighten, stimulate, educate, liberate, challenge and comfort, as well as arouse you.  Here at the Institute, we believe in the healing power of pleasure, and we want to help you to experience it.  It's the Bonobo Way.
Here are some other benefits of Dr. Block's erotic theater therapy techniques applied through phone sex fantasy roleplay:
Gain insight into sexual dilemmas
Investigate unknown sexual situations
Revisit and reenact profound sexual memories—good and bad
Act out dreams with the therapist as aural collaborator
Try out new private activities
Explore taboo actions, objects and partners
Evaluate sexual behaviors:  fantasy vs. real life
Relax your defenses
Wake up your senses
Free your mind
Enhance your orgasm and your partner's orgasm
Express your "wild side" without fear of judgment
Learn about your body
Improve sexual self-control
Allow yourself to experience total sexual surrender (lack of control)
Enhance your self-esteem
Improve your body image
Confront your greatest difficulties in and outside of the bedroom
Learn the art of seduction
Reveal long bottled up secrets in a safe, private, confidential supportive environment
Release sexual frustration
Get ideas for real life through playing out "what-if" scenarios
Develop confidence
Learn the truth about yourself
Rehearse new modes of behavior: learn how to "act" on the stage of your sex life
Learn how to cope with your more difficult sexual fantasies and fetishes
Strategize and plan for your erotic future
Interested in exploring erotic theater therapy through phone sex fantasy roleplay, but not sure what fantasy to explore?  Here are some common examples:
Romantic Lovers
Husband and Wife
Doctor and Patient
Teacher and Student
Boss and Secretary
Goddess and Worshiper
Mistress and Slave
MILF and Neighbor
Priest and Nun
Incest Fantasy
Rape Fantasy
Ageplay Fantasy
Animal Fantasy
More Topics Here
No Topic is Too Taboo!
Learn more about Secret Sexual Fantasies Here
Need To Talk With Someone About Something
You Can't Talk to Anyone Else About?
You Can Talk To Us.
Anytime you need to talk, 24 hours a day, the world-famous telephone sex therapists of the Dr. Susan Block Institute for the Erotic Arts & Sciences are just a phone call away. Call 213.291.9497
The Dr. Susan Block Institute
Established 1991
For more information, call our recorded line.
We're available 24/7, including all holidays.