Is this private?
All telephone sex therapy, counseling and coaching sessions are absolutely private, discreet and confidential. Though Dr. Susan Block is a public figure, she and all of her therapists are extremely scrupulous about maintaining the complete privacy of our clients. Also please rest assured that your information cannot be hacked. Unlike most modern companies, the Block Institute keeps absolutely no client information–personal, financial, medical or anything else–online or even on computers.  If you have any further questions about our privacy policies and practices, please call our office at 213.291.9497.

Do I Need an Appointment?
No. You are always welcome to call, anytime 24/7, with or without an appointment, and we will put you through to the available therapist of your choice.  If you wish to make an appointment to speak to a particular therapist at a particular time, you may do so. But appointments are not necessary, and someone is always available to take your call 24/7.
Financial Considerations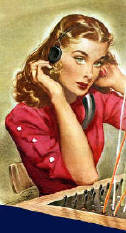 Dr. Susan Block's rates for telephone sex therapy, life coaching by phone, erotic hypnosis and relationship counseling by phone are $237 per hour, but you only pay for the time that you talk. Some of our celebrity phone sex therapists are the same rate. Most of our other therapists are $210 per hour.  Since many of our clients do not wish to speak for a full hour, for financial reasons or time constraints, we also charge by the minute. So that's $3.95 per minute to talk with Dr. Block, and $3.50 per minute for one of our other therapists; the minimum session being $42 for 12 minutes.
Our Webcam Sex Therapy service is $4.50 per minute, also with a 12-minute minimum.
You can charge your sessions to any major credit card, including Visa, Mastercard, Discover, American Express, Serve or Bluebird, or you can use checks-by-phone. For more information, call us anytime at 213.291.9497 and one of our staff members will be happy to help you.
You only have to go through credit card or checks-by-phone processing one time. Once you are a private client of the Institute, and you identify yourself when you call, we will put you through to the therapist of your choice right away.
When speaking to any Block Institute therapist, your privacy and confidentiality regarding your financial information, as well as everything else you talk to us about, is absolutely guaranteed (see above).
If you're not sure which therapist you'd like to talk to, our receptionist can help you make the decision. You may want to talk about several different subjects in one session. You may want to discuss some serious sexual issues in your life as well as enjoy a hot phone sex fantasy. That's fine. There are no limits on what you discuss or how you and your therapist talk in your private telephone session. Not all of our therapists can handle every kind of subject, of course, but we have a large international therapy team working with the Institute, and we can always find a therapist suited to your specific needs and desires.
And yes, you can masturbate, if you want, during telephone sex therapy sessions. And no, there is no other phone sex or phone therapy service quite like ours. The Dr. Susan Block Institute is unique. At least, that's what our extremely satisfied clients tell us. Why don't you find out for yourself?
Call us at 213.291.9497.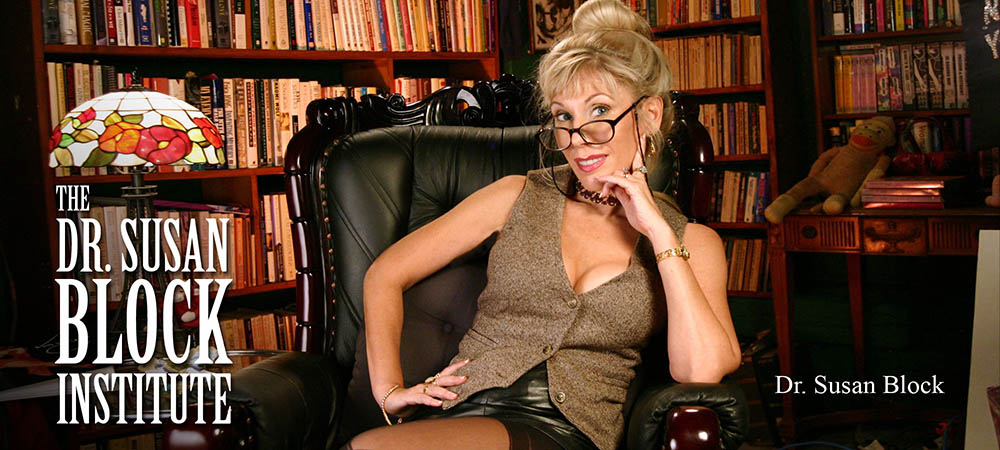 ---

We Accept Zelle!
We are happy to announce that The Dr. Susan Block Institute now accepts Zelle for payment! Zelle is a money transfer system that allows users to anonymously send money.
---

We Accept Bitcoin!
We are happy to announce that The Dr. Susan Block Institute now accepts BitCoin and Ethereum for payment! BitCoin is a cryptocurrency that allows users to anonymously send money without leaving a trail.
Choose one of the Bitcoin packages below to add funds to your account with the institute.
Bitcoin Explained
How to Purchase Bitcoin
---

Gift Cards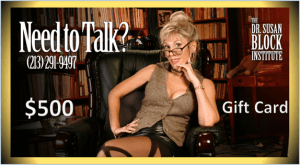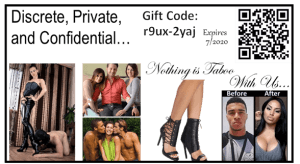 $50, $100, $250, and $500
DSBI Gifts Cards are the Ultimate Discrete Gift!
Simply Purchase, Use, and Enjoy…
When you call, simply give us the Gift Code on the back of the card along with the activation code that is given to you upon purchase and the card will be loaded to your account!
Gift cards may be used for all DSBI Products and Services. You can check out our gift store at https://drblockspleasureshop.com
Gift Cards may also be used to Purchase Tickets for The Dr. Susan Block Show.
Special Deals Available to Vendors that Buy in Bulk!!!
For More Details Inquire at: [email protected]
The Dr. Susan Block Institute
Established 1991
For more information, call our recorded line.
We're available 24/7, including all holidays.