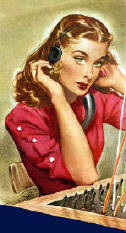 You can talk with the telephone sex therapists of the Dr. Susan Block Institute about anything you like.  No topic is too taboo. Look over the lists of subjects below under "Sexual Issues" and "Erotic Pleasures," if you need some ideas. As you can see, there is quite a bit of overlap among the topics, and we deal with more subjects than we could possibly list.
You may need to talk about several different subjects in one session. Perhaps you want to discuss some serious sexual issues in your life as well as enjoy an erotic phone sex fantasy. That's fine and usually very beneficial to your sexual health in numerous ways. There are no limits on what you can discuss or how you and your therapist talk in your private telephone or webcam session. Though each one of our therapists doesn't specialize in every kind of subject, we have a large team working with the Institute, and we can almost always find a therapist suited to your specific needs and desires.
And yes, you can masturbate, if you want, during telephone sex therapy sessions. And no, despite the proliferation of interesting options on the Internet and beyond, there is no other phone sex or phone therapy service quite like ours.
Sexual Issues
Understanding Your Sexual Nature and How to Live with It
Exploring Your Erotic Fantasies
How to Find the Lover of Your Dreams
Understanding Your Partner's Fantasies
Dealing with Your Fears and Desires
How to Express Your Erotic Nature
How to Explore Your Sexual Fetish Erotically and Safely
How to Share Your Fantasies with Your Partner
How to Liberate Your Inner Bonobo
Childhood Influences on Your Sexuality
Relationships and Sex
Families and Sex
Work and Sex
Politics and Sex
Money and Sex
Religion and Sex
Art and Sex
Cuckoldry
Trust Issues
Fear & Sex
Sexual Wellness
Religious Sexual Abuse
How to Channel Erotic Inspiration
How to Get What You Want In Sex, Love, Life and Death
Orgasmic Fulfillment
Orgasm Difficulties
Masturbation Issues
Masturbation Technique
Mutual Masturbation
Safe Sex in Dangerous Situations
Ejaculation Control
Erectile Difficulties
"Sex Addiction"
Body Image Issues
Shyness
Exploring the Clitoris
Low Sexual Desire
Dealing with Your Partner's Low Sexual Desire
Penis Size Concerns
Enhancement of Arousal
Virginity Issues
Exploring Pain/Pleasure Dynamics
How to Find the Erotic Elements in Everyday Life
Dealing with Sexual Illness and Injury
Sex and Physical Handicaps
Trying "The Lifestyle" (Learning to Swing)
How to Increase the Passion in Your Marriage
Eros and Thanatos
How to Develop Your Sexual Communication Skills
How to Talk about Sex with a New Lover
How to Talk about Sex with Your Spouse
How to Give Great Oral Sex
What You Should Know About Dominatrixes
What You Should Know About Prostitutes
What You Should Know About Porn Stars
How to Seduce the Lover of Your Dreams
How to Lose Your Virginity
Premature Ejaculation
Different Sexual Positions for Different Pleasures
Sexual Anatomy Lesson
How to Deal with Extra-Marital Affairs
Your Own or Your Partner's
How to Explore Your Feminine Side
How to Explore Your Masculine Side
Using Your Sexuality to Enhance Your Creativity
Why Women Should Explore Phone Sex
How to Explore Your Submissive Side
How to Explore Your Dominant Side
How to Find a Woman's G–Spot
How to Find a Man's P–Spot
How to Female Ejaculate
How to Help Your Partner Experience Female Ejaculation
Tantric Sex Techniques
Pornography Issues
How to Meet Mr. or Ms. Right
How to Deal with Your Sexual Feelings toward
Your Mother, Father, Sister, Brother, Children,
Next-Door-Neighbor, Co-Worker, Boss, Employee,
Student, Teacher, Sister-in-Law, Brother-in-Law,
Cousin, Aunt, Uncle or Other Inappropriate
Object of Your Desire
How to Recover from Incest Trauma
How to Recover from Rape, Molestation
and Other Negative Sexual Experiences
How to Use Sex Toys
Explore the Loss of Control
Sex and the Stock Market
Holiday Blues/Holiday Sex
How to Break Away from a Toxic Lover
How to Forget a Lost Love
Advertising for Love in the Classifieds and on the Internet
Gender Issues
Body Shame
Sex and Age
Bisexuality
Sex and Drugs
Sex and Anti-Depressants
Sex and Aphrodisiacs
Dressing for Sex
Undressing for Sex
Sexercise for Sexual Health
Circumcision Issues
How to Conquer Your Sexual Phobias
Finding the Pleasure in Your Life
How to Share Sex Toys with Your Partner
Sexual Meditation
Erotic Relaxation Techniques
How to be an Ethical Hedonist
How to Practice the Bonobo Way of Peace through Pleasure