This Saturday night, December 19th, The Dr. Susan Block Show will celebrate Xmas, its pagan antecedent, the Roman Saturnalia, and natural "Sun Birthday," Winter Solstice Eve. Joining international sexologist and Bonobo Way author Dr. Susan Block live in-studio will be one of our favorite porn star power couples, veteran creators of "Sex Across America," Alexandra Silk, a.k.a. "Silky", perhaps best-known as the Bailiff on Playboy TV's "Sex Court," and her award-winning director/hubby Luc Wylder, as well as Xbiz Awards 2016 nominee Alex Chance, "adult artist and erotic muse" Lola Luscious and the return of therapeutic clinical sexologist Dr. Dawn Michaels ACS. Also in studio will be our beloved Dayton Rains—award-winning porn star as well as webcam and phone therapist with the Institute—and DrSuzy.Tv show producer Biz Bonobo, a.k.a. Elizabeth Aston. 
"Xmas, Sexmas, Saturnalia & Winter Solstice" will broadcast LIVE from Bonoboville on The Dr. Susan Block Show this Saturday night, December 19th, 2015, 10:30pm-Midnight PST. It can be viewed on DrSuzy.Tv or in Bonoboville where you can also chat live in the Bonoboville Studio.
Click Here to RSVP to attend this show in the "Speakeasy" studio audience or call 626.461.5950. Studio doors open at 9:30 pm. Studio Members FREE. Membership Has Its Pleasures.
Call-In During the Live Broadcast: 1.866.289.7068. Tweet comments and questions @RadioSUZY1 and @DrSuzy. Listen Free or Watch the live show at DrSusanBlock.Tv. This week's live broadcast sponsored by Sybian, Agwa Cocoa Leaf Liqueur, Ron de Jeremy Rum, Condomania, Glyde America Condoms and JuxLeather
A little history from Dr. Suzy: "Xmas wasn't the first celebration of a December miracle. Winter Solstice or "Sun Birthday" was—and is—when the sun, after being at its lowest, is "born again," as the days begin to get longer. Sex is a vital part of any Winter Solstice celebration worth its egg nog.  To honor the icy season, our polytheistic forbearers would feast and fornicate for days of nonstop bacchanalian orgies that would make Bonnie Rotten pee in her g-string. Over 2000 years before Christianity, Mesopotamia's Winter Carnaval was a kind of "SeXmas," featuring mummers-style parades with floats carrying scenes of sex among the gods. The Greek Winter Festival honored another populist Son of God with a human mother, who worked miracles, brought forth wine, and was resurrected after death; His name was Dionysus. The Roman Saturnalia, presided over by Old Father Time (a kind of kinky Santa Claus, chortling "Io, io, io!' which is essentially pronounced "Ho, ho, ho!"), included the first Xmas Carols which were truly X-rated, as the carolers (the hoes?) would sing in the nude. To our prehistoric human ancestors, Winter Solstice sex was more than just a personal pleasure or a cool way to keep warm. It was an ecstatic communal coming together, celebrating the erotic fecundity of life in the dead of winter and bringing red-hot "joy to the world" in a season of cold, dark, winter blues."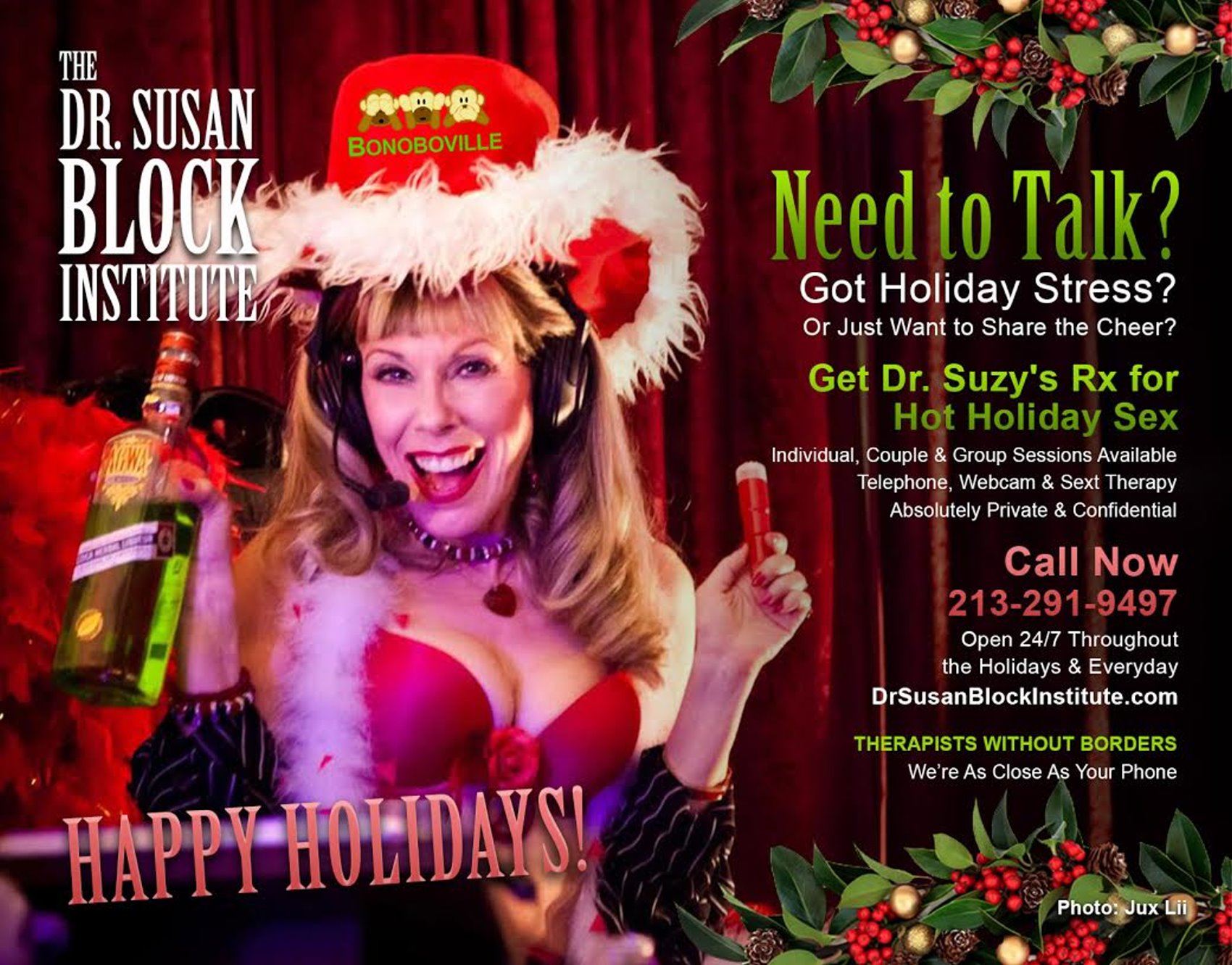 The Dr. Susan Block Show is produced by The Dr. Susan Block Institute for the Erotic Arts & Sciences, an international center for sexual expression, therapy and education, based in LA, founded in 1991 by Susan M. Block, PhD, world-renowned Yale-educated sexologist, best-selling author and host of HBO specials. The Institute's mission is to help individuals, couples and communities enhance their sexuality and improve their lives based upon Dr. Block's philosophy of Ethical Hedonism and The Bonobo Way of Peace through Pleasure. A portion of all proceeds goes to help save the highly endangered "make love not war" bonobos from extinction in the Congo and to promote the Bonobo Way around the world.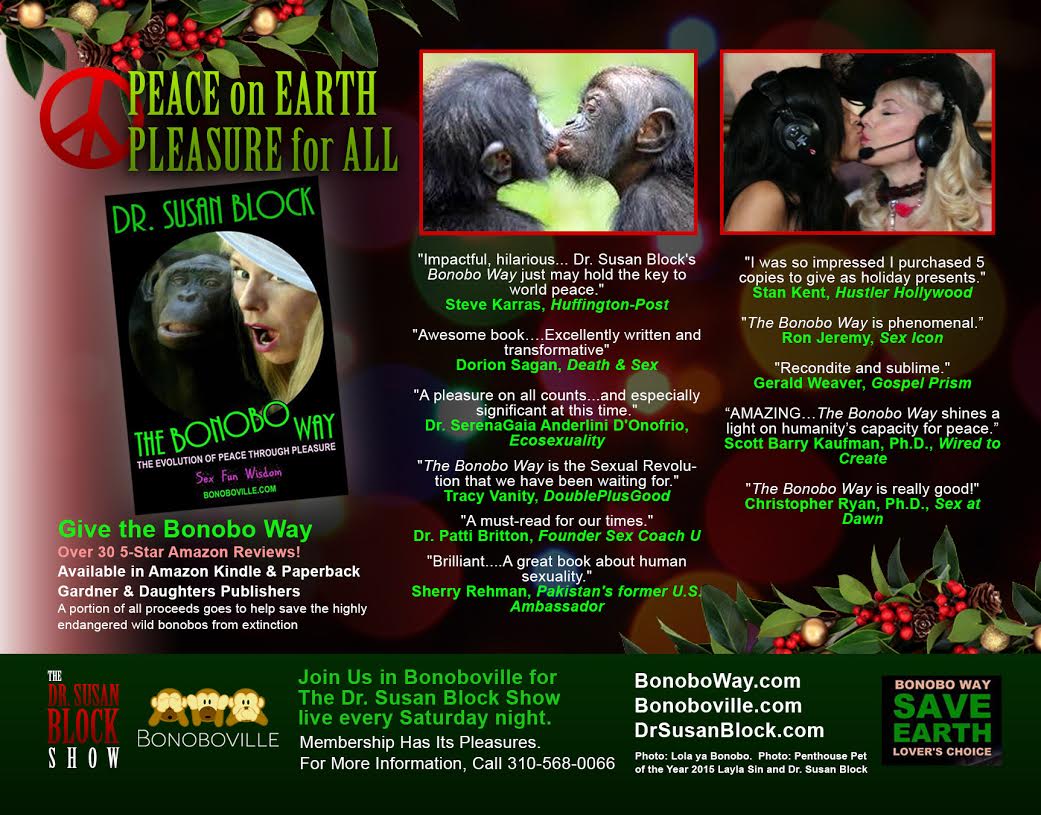 This Holiday Season, GIVE THE BONOBO WAY! CLICK HERE TO READ OUR RECENT RAVE REVIEWS & INTERVIEWS

Make 2015 your Year of the Bonobo and get your copy of The Bonobo Way: The Evolution of Peace through Pleasure.