This Saturday night, January 10th, 2015, The Dr. Susan Block Show, broadcasting live from Bonoboville at LAX, will welcome an icon of American entertainment, animal rights and wilderness exploration. Joining international sexologist and Bonobo Way author Dr. Susan Block live in-studio will be world-renowned animal-trainer-turned-actor Dan Haggerty, best-known as Grizzly Adams in the title role of the 1974 feature, The Life and Times of Grizzly Adams, about 19th century bear-whisperer James Capen "Grizzly" Adams. The film evolved into the NBC television series which ran from 1977 to 1978, and turned Haggerty into a beloved symbol of wild adventure.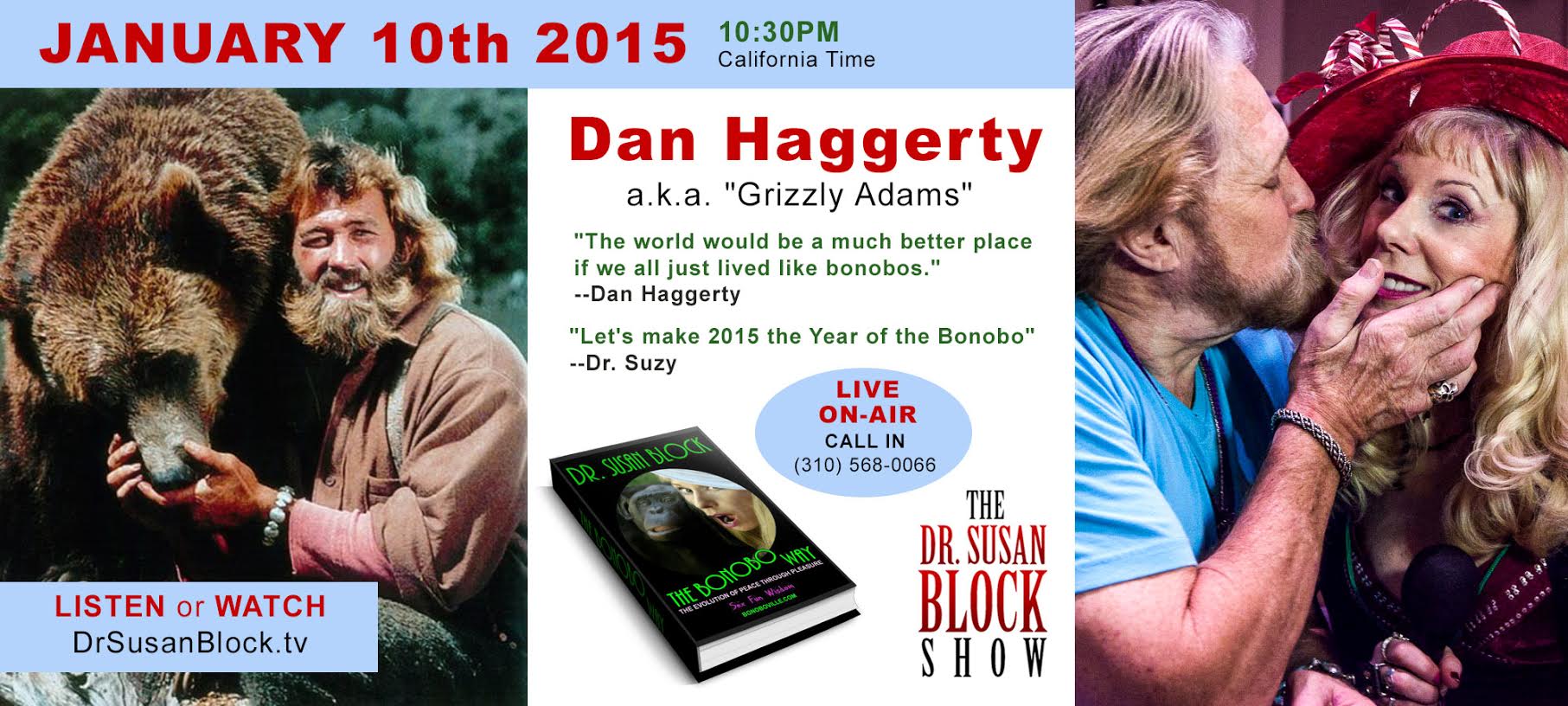 Most fans know of Dan's close relationship with his 500-pound "co-star," a bear named Ben (actually played by a female bear) and other great beasts of the American wilderness. But few are aware that Dan is also a "bonobo fan," as he told Bonobo Way author Dr. Susan Block when they met last year at the Hollywood Show. "The world would be a much better place if we all just lived like bonobos," says Dan.
"Grizzly Adams in Bonoboville" will air LIVE January 10th, 2015, 10:30pm-Midnight PDT on The Dr. Susan Block Show on DrSuzy.Tv.

Click Here to RSVP to attend this show in the "Speakeasy" studio audience or Call 626.461.5950
Call-In During the Live Broadcast: 1.866.289.7068 or 626.461.5950. Tweet comments and questions @RadioSUZY1.
Watch the Live Show at DrSusanBlock.Tv (for as little as $5.95!).
This week's live broadcast sponsored by Condomania, JuxLeather, Agwa Cocoa Leaf Liqueur and Dirty Tequila!
Go Bonobos in the New Year! Make 2015 the Year of the Bonobo and get your copy of The Bonobo Way: The Evolution of Peace through Pleasure.

The Dr. Susan Block Show is produced by The Dr. Susan Block Institute for the Erotic Arts & Sciences, an international center for sexual expression, therapy and education, based in LA, founded in 1991 by Susan M. Block, PhD, world-renowned Yale-educated sexologist, best-selling author and host of HBO specials. The Institute's mission is to help individuals, couples and communities enhance their sexuality and improve their lives based upon Dr. Block's philosophy of Ethical Hedonism and The Bonobo Way of Peace through Pleasure. A portion of all proceeds goes to help save the highly endangered "make love not war" bonobos from extinction in the Congo and to promote the Bonobo Way around the world.