"Long before '50 Shades of Grey,' there was lusty Lupercalia in red. And it's coming back!" –Susan Block, Ph.D.
This Saturday night, February 14th, HBO sexologist and Bonobo Way author Dr. Susan Block, will celebrate LUPERCALIA, the original pagan Valentine's Day, at her world-famous studio and "Speakeasy" in a charming old converted motel, surrounded by beautiful erotic art, romantic balconies, state-of-the-art sex toys, Juxleather Lupercalian whips and floggers, an OPEN BAR and an Aphrodisiac Buffet in the Garden of Earthly Delights called "Bonoboville" LA. Click here to RSVP or call 626-461-5950.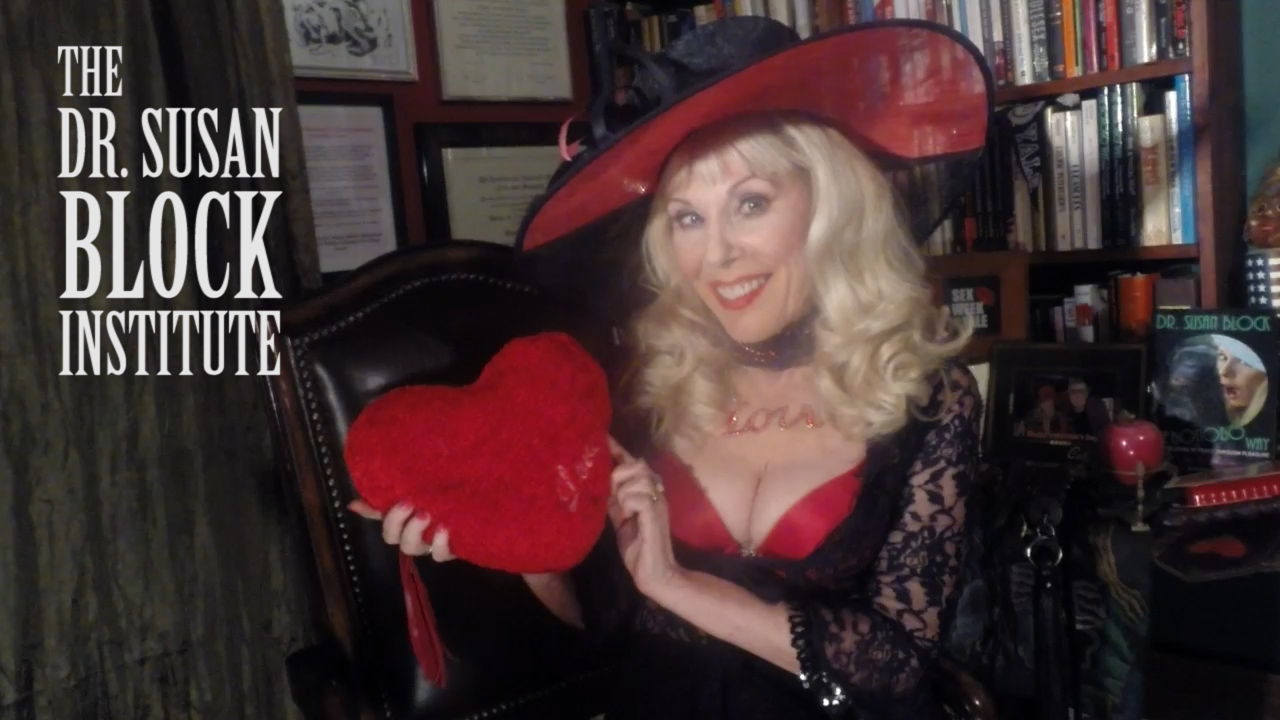 "The idea of honoring exclusive, expensive, romantic love on Valentine's Day is a relatively new invention," explains Dr. Block. "But the tradition of celebrating all-inclusive, free and natural lust around February 14 pre-dates classical times when prehistoric Romans put on the LUPERCALIA, a festival of Faunus (the Roman Pan), communal pleasures, purification, fertility, the rush of hormones, the howl of the wolf, the crack of the whip and the coming of Spring. That is what we're going to celebrate this February 14th."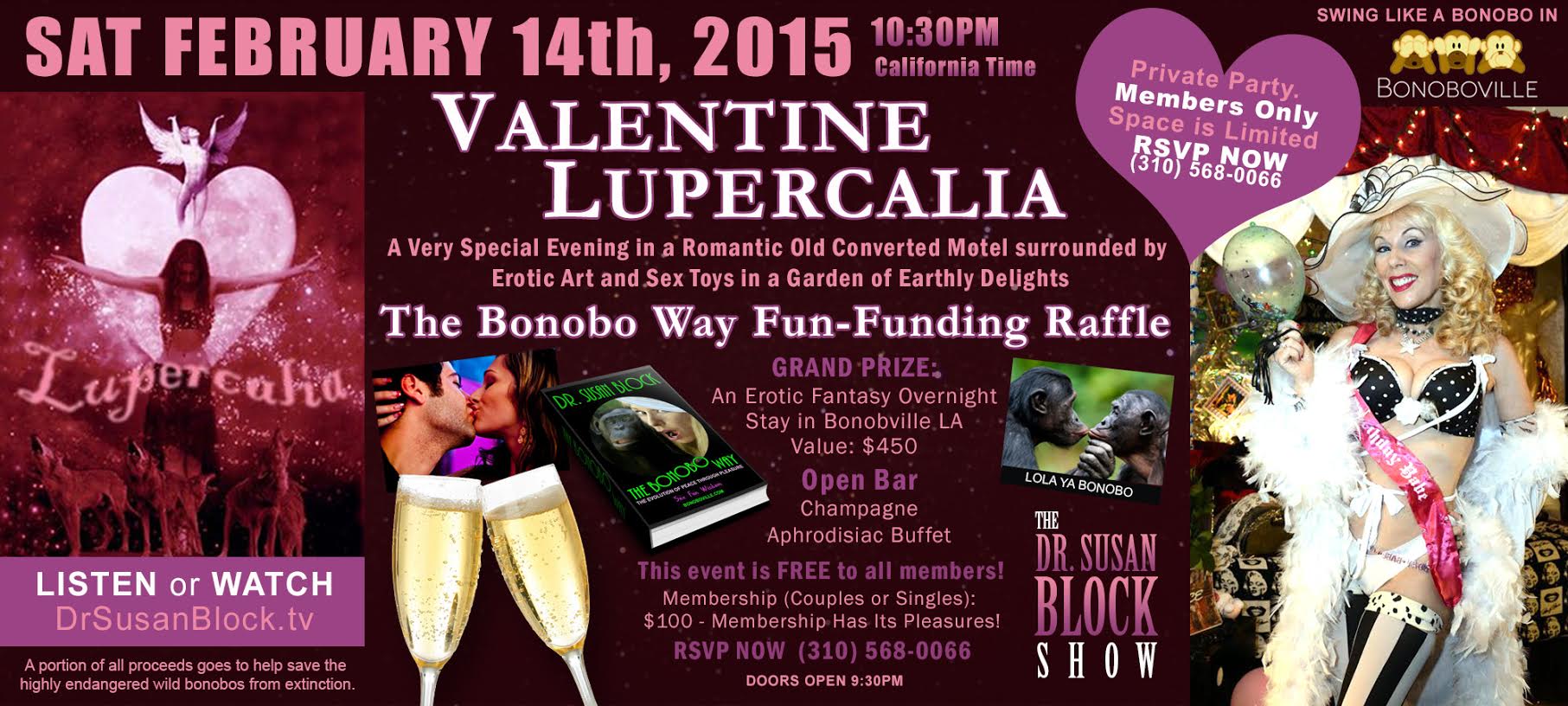 Valentine/Lupercalia in Bonoboville LA is open to couples and singles. Special celebrity guest couples include Lupercalian Angels Amor Hilton & Ron Jeremy, Miley Cyrus erotica double Miley May & poly partner Brett Ravage, AVN Hall of Famer Alana Evans & hubby Scott Evans, Haley Sweet & Dark Phoenix + pop singer Jessica Shores, Rainey Lane, JuxLii, Amanda Blow, Jenny Buss & more TBA.
"If the hard-candy hype, pressure and commercialism of Valentine's Day is giving you a toothache, consider joining us for the un-sugar-coated and delicious holiday of Lupercalia," says Dr. Suzy. "Better to have your buns beaten (consensually, of course) than your heart broken. And speaking of the quintessential symbol of V-Day, doesn't that so-called 'heart' looks a lot less like the cardiac organ than a well-whipped derriere?"
Click here for a video of Dr. Suzy telling the fascinating story of The Lupercalia.
Click here for more info about Valentine/Lupercalia in Bonoboville on February 14, 2015.
Click here for Dr. Block's blog about the history Lupercalia.
Looking for the perfect V-Day present? Give the Gift of Love from the Love Apes! Give The Bonobo Way for Valentine's Day—or Lupercalia! A portion of all proceeds go to help save the real "love apes," the highly endangered bonobos, from extinction.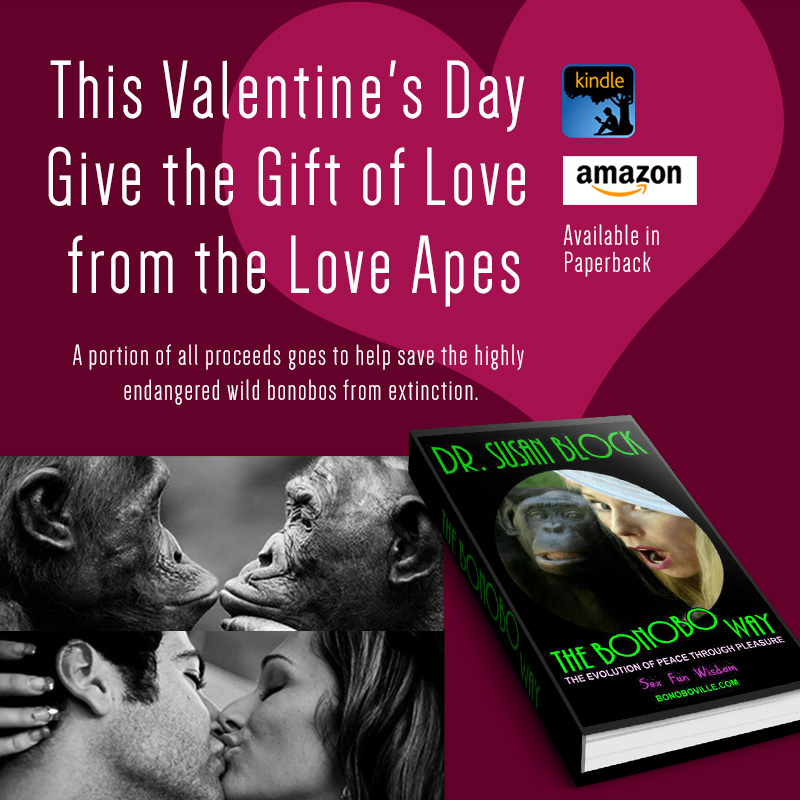 Click here for more great Valentine's Day story ideas.
The Dr. Susan Block Show is produced by The Dr. Susan Block Institute for the Erotic Arts & Sciences, an international center for sexual expression, therapy and education, based in LA, founded in 1991 by Susan M. Block, PhD, world-renowned Yale-educated sexologist, best-selling author and host of HBO specials. The Institute's mission is to help individuals, couples and communities enhance their sexuality and improve their lives based upon Dr. Block's philosophy of Ethical Hedonism and The Bonobo Way of Peace through Pleasure. A portion of all proceeds goes to help save the highly endangered "make love not war" bonobos from extinction in the Congo and to promote the Bonobo Way around the world.
Go Bonobos in the New Year! Make 2015 the Year of the Bonobo and get your copy of The Bonobo Way: The Evolution of Peace through Pleasure.

Get Ready for VALENTINE/LUPERCALIA in Bonoboville LA on Valentine's Day, February 14th 2015. Click here to RSVP or call 626-461-5950.