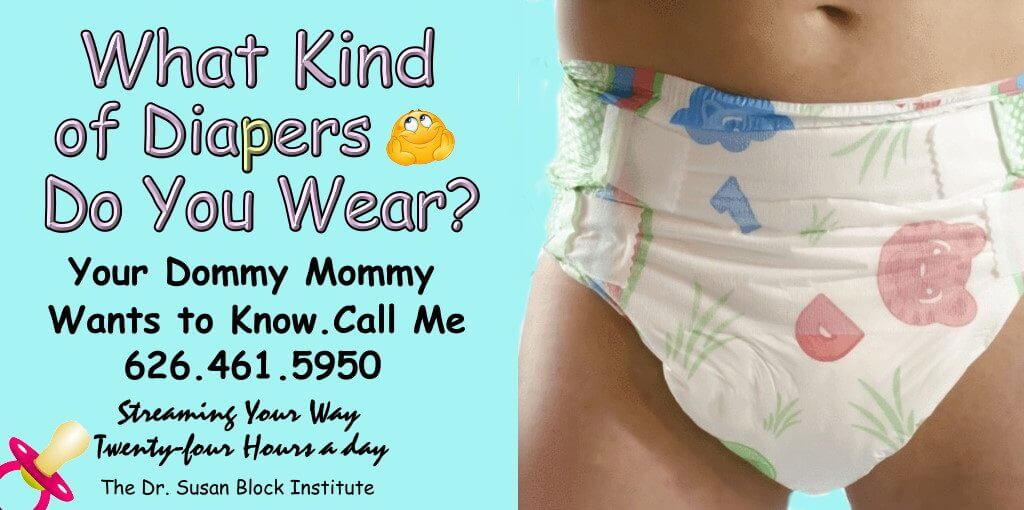 Call 213.291.9497

Are you an adult who longs to be a baby again? Do you get aroused by the idea – or the reality – of being in diapers, being cuddled by warm strong arms and big soft breasts, suckling mama's nipples, being spanked, being cuddled, coddled or just plain babied? You might have an adult baby fetish.
Do you want to cry like a baby? Laugh like a baby? Mess your diaper like a baby? Be treated like a spoiled, cranky, naughty or very good baby?
Often powerful people, like police officers, CEOS and world leaders, have secret adult baby fetishes.
The Therapists Without Borders of the Dr. Susan Block Institute are experts in adult baby fetishes and diaper play. Call us anytime at 213-291-9497.
What is AB/DL?
"Adult Baby/Diaper Lover" or AB/DL refers to a person who enjoys roleplaying as a young child or baby and/or wear diapers, either for sexual or nonsexual reasons. This person may enjoy enacting childhood activities such as crawling on the floor, playing with toys, sucking on a pacifier or talking in baby talk, or being cared for by a parent- a mommy or daddy (more on that later!). Or perhaps they prefer to just wear diapers, in which case the sensation of diapers gives them an erotic charge, so they incorporate it in their sexual relationships.
AB/DL is a spectrum, and anyone who identifies within it has their own definition of what it means to them and what they enjoy. Some people, like those who identify as adult toddlers, may want to just wear children's clothes and not be entirely helpless. Others desire to hand over control to a caregiver and let them do everything for them, from read them books at bedtime to make their food (which consists mostly of baby food, snacks, or whatever the adult baby in question likes) to even changing their dirty diapers (or "diapees," as they're often referred to by AB/DLs). There's even adult bedwetters, who find comfort in soiling their bed at night.
These activities are what's known as being in "little space," referring to a broader term, "little," that encompasses age regressors who don't necessarily identify as newborn-type adult babies or toddlers, but still want to be young age.
Many littles tread towards the kinkier side and enjoy AB/DL in a Bondage/ Discipline, Dominance/Submission and Sado-Masochism (BDSM) context, with a Dom/me acting as Mommy and Daddy providing discipline, like spanking or flogging. More on that later, but understand that it is a different facet of the AB/DL world.
Who can be AB/DL?
Public perception, the little of it that there is, has long skewed the AB/DL community as being mostly male, but there's a wide variety of people who identify within those categories: male, female, gender fluid, trans, nonbinary, etc. AB/DLs are diverse as any group, and include people who are gay, straight, bisexual or pansexual.
What isn't AB/DL?
Longtime misconceptions of people who identify as AB/DL have been images of older men, who are lazy and gross, and use the AB/DL moniker to give credence to the need for someone else to take care of them.
But nothing could be further from the truth! In fact, many AB/DLs are high functioning people in the vanilla world and are independent and able to care for themselves. Many of them are CEOs, bankers, college students, lawyers, professors or otherwise ordinary folks. Sometimes their demanding, intensive schedules feed into their need to check into their AB/DL personas to hand over control to someone else for comfort.
AB/DLs are also not pedophiles; this is yet another common misconception, because of the link between childhood regression and sexuality (sometimes). AB/DLs don't want to have sex with kids, they want to BE kids. And anyone within the AB/DL community will be quick to tell you that it is understood as a roleplay fantasy between consensual adults, not with actual family members, and not real.
Why would someone want to be AB/DL?
There's no definitive reason why someone has the desire to return to their diaper-wearing days and suck a pacifier as an adult, but some reasons include the need to feel supported, nurtured and comforted, on a deeper level. Or, perhaps they want to avail themselves of their demanding adult responsibilities and enjoy the freedom of being a child. It's also possible an adult baby has experienced some trauma related to their childhood, or didn't receive any attention as a child, and wants the feeling of being protected by a parent.
In the case of diaper lovers, some may actually have medical issues that require them to wear diapers 24/7. Or, the feeling of a diaper hugging their bottom might help them feel more secure in their daily life. Diapers can also serve as a fetish for some, and the experience of having sex with a diaper on one or multiple partners is the only way they can orgasm.
Every adult baby, diaper lover, little, adult toddler, etc. is different, and it takes time to understand what it is about this particular age play that speaks to them.
AB/DL in the kink world
For the portion of adult babies who enjoy living their AB/DL fantasies in a kink-specific context, AB/DL crosses over quite often with BDSM. Instead of being called an adult baby or diaper lover, individuals tend to be called "littles" while their caregivers are often called Bigs, Daddies or Mommies.
The relationship between a little and a Big or Daddy is analogous to that of a sub and a Dom/me where the Big/Daddy/Mommy provides Dominant support to their submissive little. The Dom/me protects the little and enacts appropriate discipline when the little has been bad. Or in certain relationships, the little enjoys soiling their diaper in order to get humiliated by their Mommy or Daddy. Coprophagia, or a sexual fetish that involves eating feces, is another theme encountered in some instances of kink-centric little play.
Littles can be of any sex or gender, but the most common littles are women, and who pair up with male Doms, or called Daddies. The acronym for this pairing is DD/lg (Daddy/little girl), and it allows Daddies to lean in to their masculine, Daddy nurturing side to take care of a dependent, submissive, younger female partner.
Just like "subspace" exists for submissives in a BDSM session with a Dom/me, littles can experience "little space" from their Mommy and Daddy. This can be triggered in different ways, from certain phrases being said to them, being babied, or disciplined for acting out. Types of discipline include spanking (either with a hand over a bare bottom), or using spanking tools like paddles or floggers- depends on what the little likes! Both parties will negotiate over options and preferences.
Challenges of AB/DL
Plenty of AB/DLs live in shame and have difficulty disclosing this facet of their personality with anyone. Many avoid seeking medical help for this shame because they fear judgment from therapists or the psychological community. Unfortunately, many of these fears are founded in truth: there isn't a lot of research dedicated to understanding AB/DL, so AB/DLs do experience disgust from therapists.
Those who struggle the hardest with being an AB/DL tend to have "binge and purge" periods where they buy lots of diapers to indulge in their fetish at once, but throw the rest away afterwards because they feel disgusted in themselves. In these cases, these people suffer from deep depression and low self-esteem. Once they are able to accept themselves as AB/DL, then they can begin to release those depressed feelings.
Another challenge for AB/DLs is dating. Many live alone or take great pains to hide their lifestyle from their partners, or risk their relationships by disclosing their AB/DL side. It can and has worked out for some couples, where an AB/DL is accepted; in some cases a partner may even feel moved to participate and share in an AB/DL's roleplay, enacting the role of a parental figure by feeding their beloved adult baby milk from a bottle, reading them a bedtime story, speaking to them in baby talk, and/or changing their diaper. The latter is not everyone's jam, but it is possible for couples to negotiate their expectations and boundaries in these scenarios.
Like it was mentioned before, not all AB/DL cases need the sexual component included in them, so many couples roleplay parent/baby scenes without any sex involved.
There are plenty of cases of partners open to learning more about AB/DL because they care about their partner's happiness and comfort! They will often do the research and ask questions to understand more.
But just as often, partners aren't able to accept or look past their lover's AB/DL kink, so that ends their relationship, forcing the AB/DL to seek out other people. It also hurts their self-esteem and sense of self-worth.
Loving an AB/DL
One doesn't necessarily need to tell their family about their AB/DL lifestyle; it is up to their own discretion whether or not to disclose this information. Knowing a friend or family member who identifies as an AB/DL doesn't require a ton of knowledge on the subject, but does require some compassion and understanding that this is who they are and they are unable to change. Most AB/DLs can compartmentalize their AB/DL fantasy life from the outside world, so relatives and loved ones can be assured they won't have to directly deal with it. Mainly, if someone close to you comes out as AB/DL, they need the validation that it is okay, and not be made to feel like they're 'sick' or perverted.
Having your partner come out to you as an AB/DL can serve as a sort of shock, especially when one doesn't feel familiar or aware of AB/DLs. But if you're open minded and willing enough to sit down and hear them out, you can see where they're coming from and where you might fit in. Some AB/DLs are fine just acting out their fantasy by themselves or around you, or may ask to have their dirty diapers changed from time to time. Some might want to be completely taken care of as a baby while you take care of their needs and speak to them in baby talk. Others just want to feel free wearing their diaper at home and not freak you out. In the case of diaper lovers, they may want to incorporate diapers in sex, if that's the way they prefer to get off.
Every AB/DL is different, so partners need to hear them out and understand what their specific interests are, and negotiate where they feel most comfortable entertaining a roleplay or fantasy. The biggest thing is to understand this has nothing to do with involving children in sexual situations- they just want to BE children. Providing your AB/DL partner assurance and patience in accepting who they are and how they aim to enact their AB/DL identity will show them that you care and will provide a space for mutual understanding. Most of all, be honest and upfront about your concerns and questions.
Exploring Your AB/DL Side
Chances are if you're new to understanding your propensity for diapers or your desire to suck your thumb and wear dinosaur-covered onesies, you're going to want to take some time in exploring it on your own. Certain toys, clothes, or behaviors might trigger your AB/DL side, or perhaps activities like watching Disney movies, talking in baby talk or soiling your diaper is what you're after. Take time to try different scenes to examine what feels best for you and what draws you in to this particular fantasy in general.
Need to talk about Adult Baby Diaper Play or anything else that you can't talk about with anyone else? Call the Therapists Without Borders of the Dr. Susan Block Institute anytime at 213.291.9497.