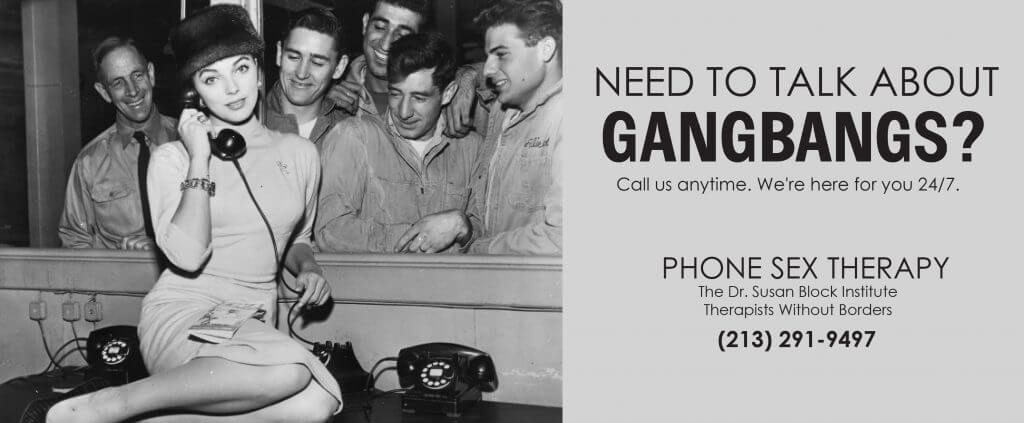 by Dr. Susan Block.
Are you thinking about gangbangs?
Do you ever fantasize about multiple men having sex with one woman? Do you imagine your wife, lover or favorite celebrity at the center of the action?  Would you want it to be with your friends or strangers? Have you ever participated in a gangbang? Would you like to try it?
Do you need to talk about it?
Being aroused by the idea of participating in a consensual gangbang is normal and a lot more common than you might realize.  You may want to act on your desire, or you may not. Regardless, though gangbangs and all forms of group sex are taboo in most modern human societies—and no one should ever take part in a nonconsensual gangbang—they remain part of our prehistoric primate heritage. Indeed, gangbangs have been going on since the dawn of humanity, for thousands of years before the concepts of monogamy and even fatherhood came into understanding.

Need to talk privately about gangbangs, group sex, swinging, cuckolding or any other form of recreational sex? call the world's foremost experts, the Therapists Without Borders at the Dr. Susan Block Institute. Our team of highly qualified sex therapists, sex life coaches, fantasy roleplay performers, sexual psychodrama facilitators, erotic hypnotherapists and kink specialists are here for YOU anytime you need to talk.
Whether you want to better understand your own feelings and desires, act them out in real life, learn how to share them with your partner, work through past experiences, hear about our own experiences with gangbangs, or explore a fantasy over the phone, via webcam through sext therapy and/or in person, we're here for you. Call 213-291-9497.
Why Do You Love Gangbangs?
Many gangbang enthusiasts are worried that their interest in gangbangs, threesomes "The Lifestyle" and other forms of group sex makes them "weird." If that sounds like you, rest assured you're not weird.
Human sexual history, in fact, is loaded with various kinds of group sex, including gangbangs. Unfortunately, much of it—way too much of it—has been by force, most notably and tragically during wartime. Unfortunately, when Hollywood movies, such as The Accused, depict gangbangs, though they don't show genitalia like porn, they almost invariably show the horrible, nonconsensual kind.
However, some of the group sex that's been going on since hunter/gatherer times has been consensual and a great pleasure, as well as a profoundly meaningful experience, for all involved. That includes gender-balanced swing parties, same sex orgies, one male with a "harem" of females, as well as one female having sex with multiple men.

So, there's nothing new about group sex, including gangbangs. What is *new* is that the Internet allows us to learn more about what other people do than ever before in human history. Moreover, if we want, we can *hook up* with people who share our desires—including the desire to watch or partake in a good gangbang.
Search "gangbang" in google, and you'll see megatons of gangbang porn, and the great majority appears to be enthusiastically consensual. According to PornHub.com, which received 42 billion visits in 2019, "threesome" was the 13th most popular search term and "gangbang" was the 19th most popular, putting both in the top 20.
But why is this? Aren't we supposed to want to be with just one special lover? Why would sharing lovers with others turn us on?
Sperm Wars & the Upsuck Effect
The "Sperm Wars" phenomenon—where the womb becomes a battleground for sperm that fight like armies or football teams to get one of their sperm (the proverbial football) to the egg first—gives us a biological explanation of why gangbangs are so popular.
Studies show that a man's sperm count tends to rise when competition to fertilize the egg of his wife or girlfriend appears to be high. Whether the man really has genuine rivals who are having sex with his partner or it's just in his vivid imagination, his brain sends a message to his testicles that says, "Send in the army!" or "We need the whole football team, including reinforcements, for this game!"
In other words, "Make more sperm!"
Whether he's excited and happy about the competition or jealous and angry, this phenomenon tends to give a man a stronger erection and a more explosive ejaculation. Of course, it's better for everyone concerned if he's more glad than mad, but that does explain why jealous, angry lovemaking or "makeup sex" can be so arousing for some people, despite their better judgment.
Conversely, sperm counts often decline in the routine sex of monogamous relationships, no matter how intimate and loving. Since the element of competition is missing, the brain's message to the balls is, "You don't need the whole football team to score this goal since there's no rival team on the field. Conserve your resources and just send in a few runners."
The shape of the human penis gives us another clue as to why gangbangs are so popular. A study by Gordon Gallup and coworkers (2003) concluded that one evolutionary purpose of the thrusting motion characteristic of intense intercourse is for the penis to "upsuck" another man's semen before depositing its own. Thus a man's urge to thrust, through intercourse or masturbation, is often enhanced by the presence of another man or several men, whether real or fantasized.
A Galaxy of Gangbangs
There are many different kinds of gangbangs.
There's the beach party gangbang, a birthday gangbang, a soft-swing gangbang that involves outercourse instead of intercourse. It could be a spanking gangbang, a cuckold gangbang, an oral or an anal gangbang.
In terms of the participants, there's the classic one-woman-with-a-male-gang scenario—and then there's anything else that turns you and you partner(s) on.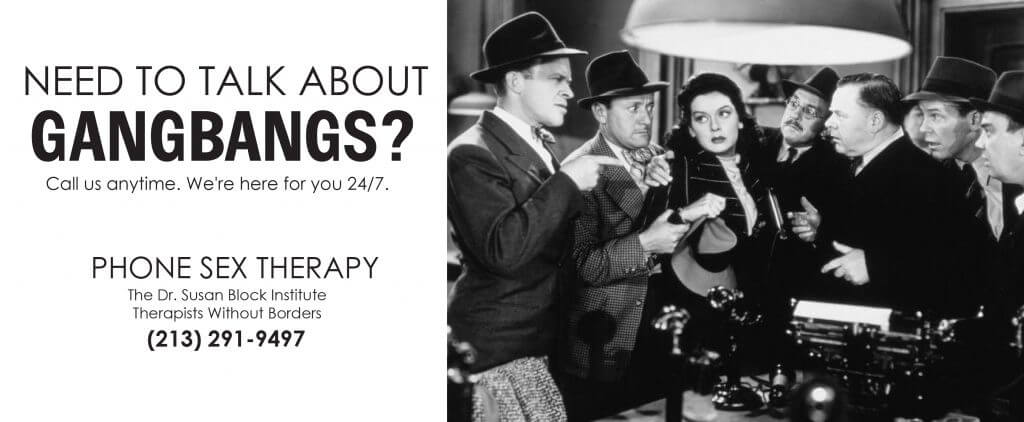 Maybe you're a man who longs to be gangbanged by other men, or perhaps by a group of women sporting strap-ons or squirting all over you.
Most men who imagine such scenarios don't dare express their feelings, not to other men nor to the women in their lives, for fear of being humiliated… even if "humiliation" is part of the fantasy.

Need to talk about it privately with someone who understands? Call us at 213.291.9497.

Consent is Essential
As with any type of sexual activity, the most important element of a gangbang is consent. Fantasy gangbangs can involve whatever turns you on, but any real-life gangbang should require enthusiastic consent from all participants, especially the recipient, the person (usually, but not always, a female) who is at the center of the gangbang.
Otherwise, it's a gang rape. Even if that turns you on in fantasy, it's not something to ever participate in reality.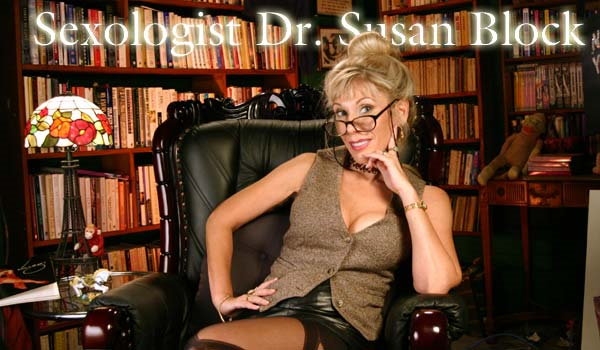 Keep in mind that, for many reasons, feelings of consent can change over the course of a few minutes or hours. So, it's important to continually "check in" with the recipient to make sure she or he is "all right," happy and eager for more.
At the first sign of reluctance on the part of the recipient, no matter how turned on everybody else is, the gangbang must stop.
Whether or not the gangbang is a success, it's important to provide "after care," especially to the recipient. This could take the form of hugs, drinks, food, help cleaning up, words of appreciation, a massage or whatever the recipient enjoys.

Need advice preparing your next gangbang soirée?
We'll help you to make sure it's a success for all concerned.
Call the Therapists Without Borders of the Dr. Susan Block Institute at 213.291.9497.
Are You a Cuckold?
"Cuckold" is an old English term for a man whose wife (often called a "hotwife") has sex with other men (called "bulls"). In the 21st century, there has been a resurgence of interest in the cuckold's predicament, cuckold sex, cuckold fantasies, cuckold erotica, hot wives, big bulls, sperm wars and the cuckold lifestyle.
There's also the cuckold gangbang, when the hotwife has sex with several bulls at one time. The gangbang may or may not include the cuckold himself.
There are many types of cuckolds: Submissive Cuckolds, Dominant Cuckolds, Sissy Cuckolds, Fantasy Cuckolds, Sapiosexual Cuckolds, Interracial Cuckolds, Small-Cock Cuckolds, Bi-Curious Cuckolds, Swinger Cuckolds, Spanked Cuckolds, Cuckolds-in-Bondage, Cuckolds-in-Chastity, Director Cuckolds, Cuckold Voyeurs, Cuckold Exhibitionists, Cheated-On Cuckolds, Trans Cuckolds, Reluctant Cuckolds, Humiliated Cuckolds, Happy Cuckolds and many more varieties.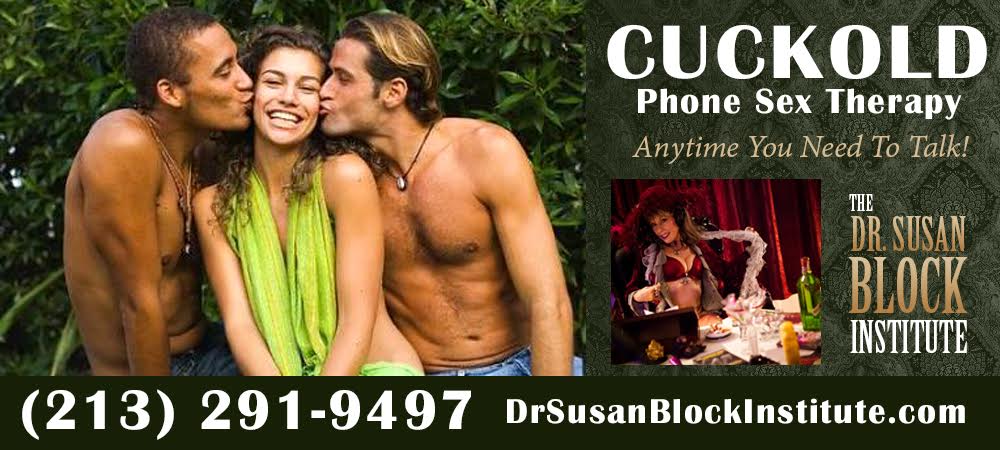 Along with the growing popularity of cuckolding, there has been a growing acceptance of it as a "normal" sexual interest, even if it's enhanced with a gangbang, as long as it's all consensual.
Nevertheless, many men feel ashamed of their desire to be cuckolded, perhaps especially if it involves a gangbang. Such men tend to feel a whole lot better when they learn the "sperm wars" biological explanation for their desires, as well as just how common and "normal" these desires are.

Need to talk about sperm wars, cuckolding or gangbangs?
Call the Dr. Susan Block Institute at 213-291-9497.

Group Sex & Swinging
There are many forms of group sex, from threesomes to orgies, polyamorous arrangements, swing parties and pansexual celebrations. Gangbangs are another form of group sex.
Group sex might sound very kinky for some, but it fulfills a very natural, human need to share erotic, orgasmic, loving experiences with multiple people, friends, loved ones and attractive strangers.  In a world that increasingly demands compartmentalization and isolation, there are few arenas left in which humans can share in this vital, life-affirming experience of communal ecstasy.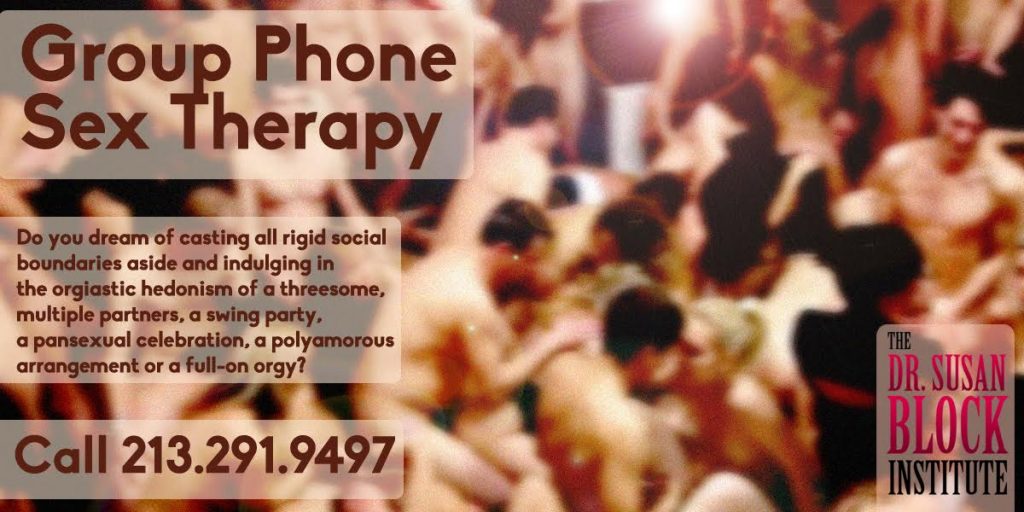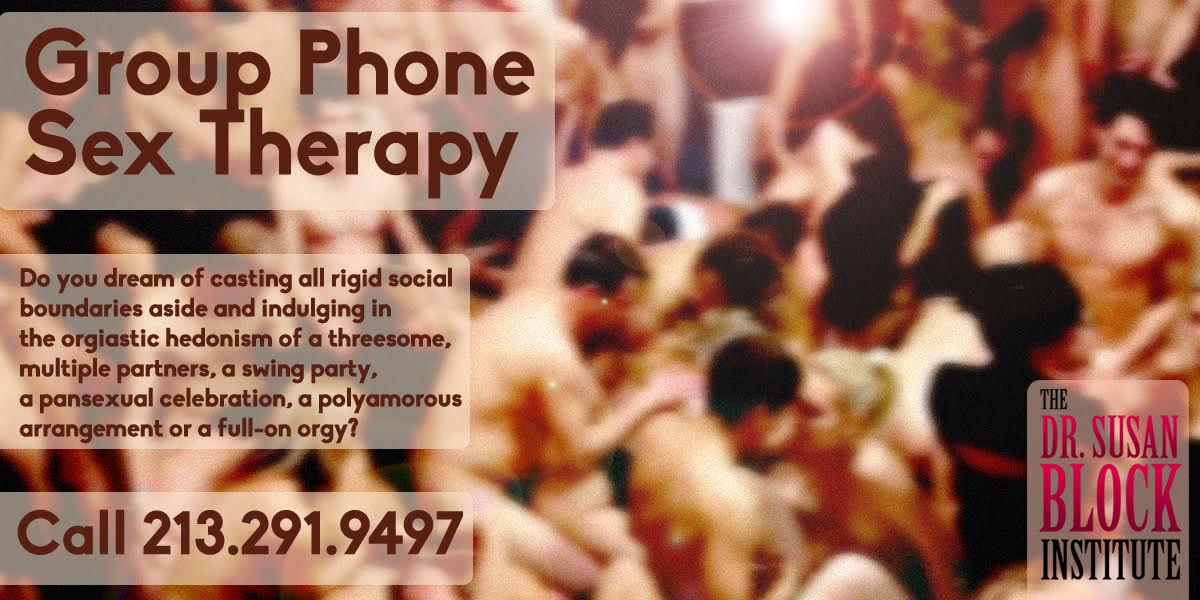 Different group sex formations are popular, such as the "daisy chain" in which participants perform oral sex on each other in circular formation.  
Some threesomes exhibit a gangbang flair, such as the "spit-roast," where two males engage a female (or another male), with one penetrating from the rear, usually doggy style, while the female performs fellatio on the other male. There's also "double-penetration" in which one male penetrates the lady's vagina while the other enters her anus. If she goes down on another, that's a triple-penetration.  Add a few more guys around them, watching, stroking themselves and waiting their turn, and you've got a classic gangbang.
Go Bonobos for Gangbangs
Gangbangs and other forms of group sex are very common amongst our closest genetic cousins, both common chimpanzees—who are more likely do it non-consensually—and especially bonobos —who usually do it with enthusiastic consent and are thus far more worthy of our emulation. 
In fact, the sexual behavior of all the great apes is a fascinating window into how early human sexual behavior evolved, giving us vital clues as to why gangbangs are so arousing for so many people.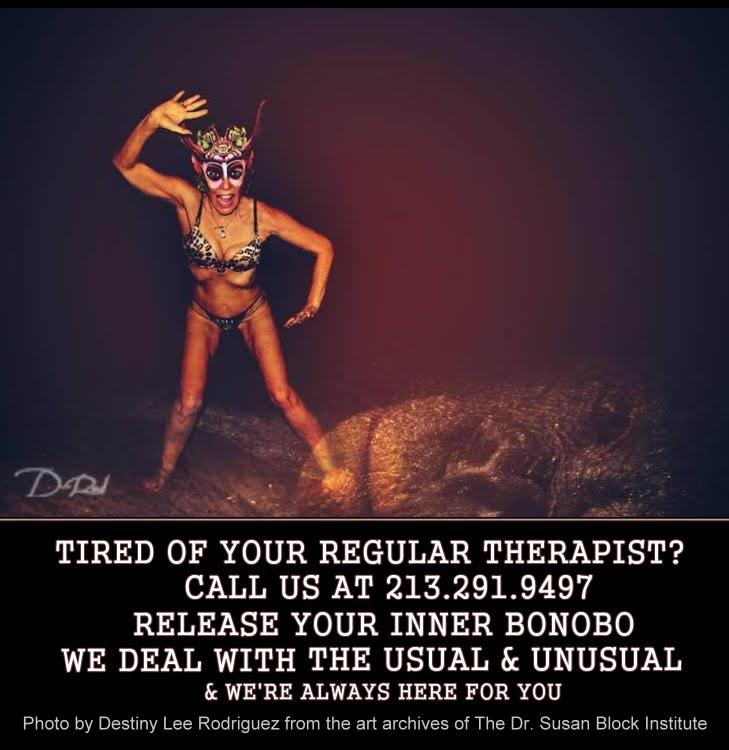 Many anthropologists agree that prehistoric humans often engaged in various forms of group sex for tens of thousands of years before the advent of farming and "civilization" started pressuring people, especially women, to be sexually monogamous.
Certainly, prehistoric humans participated in consensual gangbangs and other bonoboesque forms of recreational sex that are generally considered taboo in modern human society.

Do you yearn to liberate your inner bonobo… at least in the Erotic Theater of the Mind?
Call us at 213-291-9497.


If you're a porn fan, you probably know that "bukkake" is a Japanese term that refers to spraying the face and body of a person, usually a woman, though sometimes a man, with sperm from one, several or many men. The word actually means "splash" or "squirt" in Japanese. In some bukkake sessions, 150 men ejaculate onto one woman.
That's some gigantic gangbang!
In American-style bukkake, the recipient acts like she's enjoying herself, rubbing the sperm into her skin like a beauty treatment.
In Japanese-style bukkake, the recipient is more degraded, often acting like she is an unwilling participant (hopefully, it's just an act). 
Legend has it that in ancient Japan, an adulterous woman would be dragged into the town square and tied up, whereupon every man in town ejaculated all over her in a frenzied bukkake gangbang. Basically, they seem to have been saying, "If you're going to take it from a man other than you husband, you're going to get it from everyone else. You're going to be gangbanged."

Some say it comes from the practice of stoning an unfaithful woman to death, and that bukkake is a "kinder, gentler" chastisement. Whether or not the legends are true, "bukkake" became a form of Japanese porn in the 1980s, grew in popularity, and now if you type "bukkake" into google, you're likely to get hundreds of sites, even if you don't spell it right.
Bukkake is so vivid and provocative, it can represent many different ideas and feelings. Years ago, in an antiwar context, I compared the "Shock & Awe" bombing of Iraq with bukkake (the nonconsensual kind) in Bukkake Bombing Crusade.
But back to consensual bukkake (even if it's made to look forced) where nobody gets killed and, hopefully, everybody has fun and big orgasms, including the recipient.
By far the most common bukkake scenario is a group of males ejaculating on a female, but there are scenes where a group of women gangbang a man or woman, spraying the recipient with female ejaculate.  

Gay male bukkake gangbangs are also popular in which a group of men gangbang one male recipient, covering him in their creamy spunk.
Just the sight of all that semen can trigger the Sperm Wars effect in many guys—gay, straight or bi.
Banzai!
Gangbangs: Natural, Normal…But Not Easy
Just because a desire for gangbangs is natural and popular doesn't mean it's easy to make it happen in real life, especially in our erotophobic society. There are many variables with one-on-one sex, and group sex just ratchets up the possibilities for problems as well as pleasure.
For instance, say you're a man with an intense gangbang fantasy that you'd really like to make happen in real life. But what if the woman (your wife? Your girlfriend? Your sex buddy?) isn't as enthusiastic about being "gangbanged" as you are about seeing her in that situation? 

What if you can't find the right guys? Where do you find them? How do you screen them? How do you handle safer sex? What if, despite the fantasy turning you on, the reality makes you jealous? What if people gossip about it, take photos without your permission or otherwise betray your trust?  How do you mix lust with trust?

Sometimes it helps to talk freely with someone who understands, won't judge you and will help you. Whether you need more personalized advice or just want to roleplay a fantasy, call the Dr. Susan Block Institute anytime at 213-291-9497

Are You a Gangbang Goddess?
Are you a woman who wants to be gangbanged? Congratulations! You are a very sexual female, and you deserve to enjoy the tremendous, unparalleled pleasures of group sex.

The good news is it probably won't be tough for you to find partners who want to gangbang you. Just post an ad on a swinger site and watch the replies flood your inbox.
The bad news is that it's not so easy to find partners you really like, feel attraction for and trust with your naked sexuality. It might take some time and patience to mix trust with lust to create the gangbang of your dreams.
Unfortunately, most modern societies around the world denigrate all forms of group sex, including consensual gangbangs. This can make your partner judge you harshly for confessing or expressing your desires. So, it's usually best that you understand your feelings and the issues involved before divulging too much.
Most importantly, before you plunge into the deep end of gangbanging and group sex, make sure this is something you want to do, not just something your husband or lover wants you to do. Don't grudgingly "go along" with a scene that doesn't turn you on, like Paul Manafort's wife is alleged to have done in their "interracial" gangbangs. Enthusiastic consent—on your part and the part of all involved—is the basis of a great gangbang or any kind of great sex at all.


Need to talk about how to turn your gangbang fantasy into reality?  Want to find out how to create the ultimate gangbang, whom to invite, what to serve and what to wear? Want to learn more about the origins of your personal gangbang desires? Or do you just want to enjoy guided masturbation as we explore the fantasy together?
Whatever you need to talk about, you can call the Therapists Without Borders of the Dr. Susan Block Institute and talk to one of our male, female,  trans or non-binary therapists of all ages over 18 with great gangbang knowledge, experience and erotic appreciation.
Whether you'd like to get a better understanding of your fetish, get some tips for talking to your partner about it, work through past experiences, hear about our  experiences with gangbangs, or just explore gangbangs in the Erotic Theater of the Mind over the phone, via webcam through sext therapy and/or in person, we're here to help.  Call us anytime at 213-291-9497.

The Dr. Susan Block Institute
Established 1991
For more information, call our recorded line.
We're available 24/7, including all holidays.