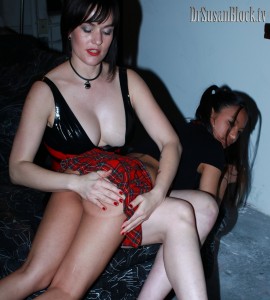 Call Us Now:
213.291.9497
Spanking is an activity heavy with erotic significance. Whether you'd like to spank or be spanked, there's something so voluptuously yummy about the idea that you or your partner has been very naughty and needs to be punished.
What's the best part? That all too familiar sound of a hand against a quivering bare bottom? The stinging redness left behind? Maybe it's the moment of anticipation, hand poised in the air ready to come down and deliver, when the world seems to stop and the spankee braces him or herself in preparation for the inevitable.
Would you like to be the disciplinarian, to have that parental power of punishment over someone else?
Perhaps you would like to be the one bent over and reminded of just how bad of a boy or girl you've been…
Crops, whips, canes, belts, paddles and hands…
Need to talk to someone about something you can't talk about with anyone else?
You Can Talk To Us.
Click Here to Read Dr. Susan Block's Essay
Spankology 101: The Psychology, Physiology, Art, History, Politics and Eroticism of Spanking
Click Here to Read Dr. Block's Definition of "Spanking" in
The Wiley-Blackwell International Encyclopedia of Human Sexuality
We are the Spanking Experts.
Anytime you need to talk, 24 hours a day, the world-famous telephone sex therapists of the Dr. Susan Block Institute for the Erotic Arts & Sciences are just a phone call away, and you can call us at 213.291.9497.
The Dr. Susan Block Institute
Established 1991
For more information, call our recorded line.
We're available 24/7, including all holidays.