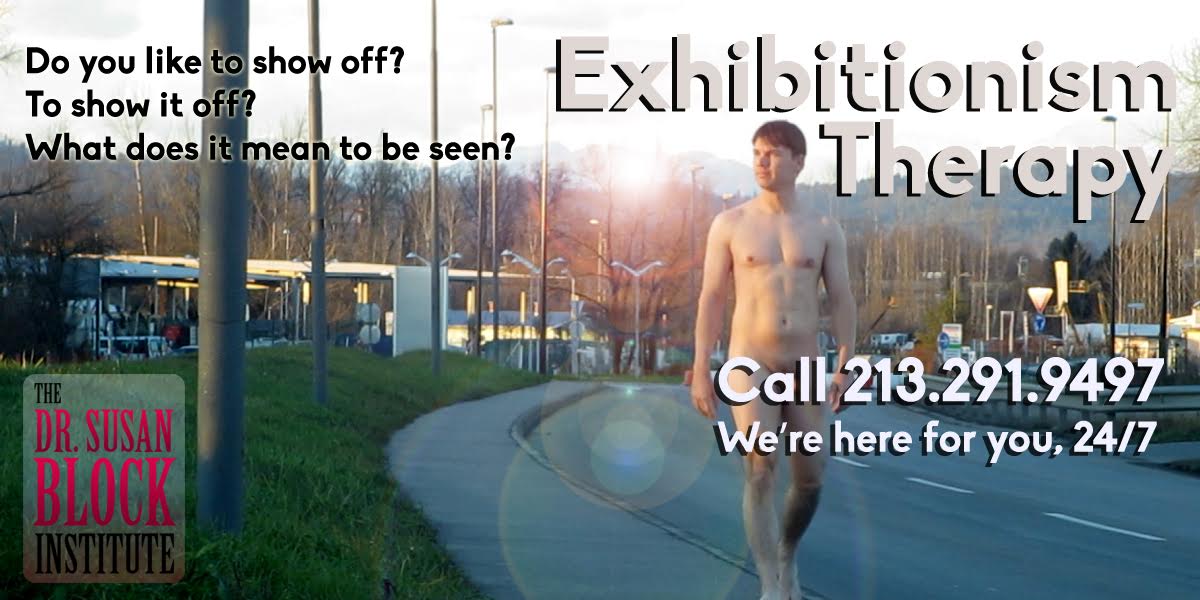 Call 213.291.9497
Show off!
So what if you are? We all go through life performing. Being the center of attention, erotic or otherwise, can boost your ego. On the other hand, it can also be embarrassing. It is always, at its essence, revealing.
Some people spend their careers in the spotlight, like athletes, comedians, actors… and that special class of actors… no, not reality TV stars—porn stars—the most uninhibited exhibitionists of all. They know full well the erotic charge of exposing their bodies, alone or in explicit performance with someone else, for an appreciative audience.
But what about you?  Do you ever feel like you want to be a star, sexually speaking? Do you like to show off? To show it off?  What does it mean to be seen? 
To be seen is to be immortal, if only for a moment, through the eyes of another.  Triumphant. Shining like a star.  Recognized. Celebrated. For that moment, you rule the world.

Or maybe you're a more mischievous exhibitionist. Do you like to play? Shake your booty? Strike a sultry pose for the camera? Strut your stuff through cyberspace? Undress in front of your window with the curtains open?  Get "caught in the act" of doing something naughty?
Do you fantasize that people are watching you, whether you're by yourself or with someone else, engaging in the most intimate and erotic of human activities? How about exposing yourself to a stranger?  How about millions of strangers clicking their mice in rhythm to your thunderous orgasm?  Marilyn Monroe fantasized about being nude on the pulpit of her Church worshiped by the congregation.  So, what about you?  Are you Marilyn? 
If so, there are places for you to take it off for an appreciative audience.  Maybe not too many churches, but there are lots of strip clubs, swing parties, The Dr. Susan Block Show, festivals, parades, nudist beaches and many other venues and events centered around the promotion and consensual enjoyment of public exhibitionism.  Here is where your exhibitionism, as long as you are reasonably attractive, will be welcome and applauded.
But what if you're not exactly Marilyn?  What if you're not so attractive, at least not in the conventional sense, but you still yearn to show off like a shining star?  What should you do?  And what if your preferred form of exhibitionism involves exposing yourself where you're not necessarily so "welcome," where exposure is taboo?  What if you're excited by the possibility of getting caught with your proverbial pants down? What if you're a "naughty exhibitionist"?
Well….are you a naughty exhibitionist?  Have you ever masturbated with your door unlocked, knowing that at any moment your roommate, your sister, the babysitter, your neighbor, your wife's best friend, the maid, your executive assistant, your mother-in-law or even your mom, could walk in and find you jerking away? How shocked would she be? Can you imagine the look on her face?  Maybe she'd like it… maybe it would even turn her on, and then maybe it would turn into the most amazing sex you've ever had.  Then again, maybe she'd be upset and punish, dominate or humiliate you in a really hot way, spank you or maybe crossdress you or take a photo of you and post it online.  Then again, maybe not… In fantasy, it might always be exciting, but in real life, it can turn into a real mess…
Not that there's anything really wrong or unethical about public exposure or masturbation, at least not in our opinion, as long as only consenting adults are involved.  It might be annoying, but it doesn't really hurt others, like stealing, assault, or other violent crimes do. But most societies consider "public indecency" a crime by law and, if you do get caught showing off in the real world, you know it wouldn't be anywhere near as fun as the fantasy. Court time, court costs, jail time, public ridicule (which is very different and a lot more problematic than a "public disgrace" or humiliation fantasy) or, possibly the loss of your job, or family. Not very arousing or appealing, is it?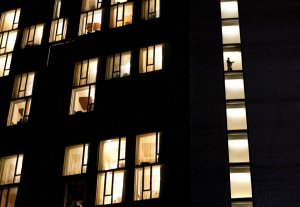 When politicians show off their exhibitionism, publicly or privately, they risk "public disgrace" in various forms.  One of the most dramatic stories of political erotic exhibitionism is right in the Bible. In 2 Samuel 6:12-22, after King David captures Jerusalem, he dances in front of the Ark, wearing nothing but a loincloth (the Biblical version of a thong). Though David pleases the crowd with his exhibitionist antics and gifts of cake and dates, his wife Michal sneers at him like he's no better than a Peeping Tom. "How the King of Israel has distinguished himself today, going around half-naked in full view of the slave girls of his servants as any vulgar fellow would!"
David doesn't care. He is the King, after all. The exhibitionist revelations of modern leaders—from Weiner to Trump—are a lot more complex.
So this simple desire to be seen is not always so simple to fulfill.  Do you know what we mean?  Do you enjoy exhibitionism?  Do you need to talk about it? Whether you need serious therapy to help you control your desire to expose yourself nonconsensually, a fun fantasy to help you explore the pleasures of exhibitionism, or if there's something else you need to talk about, the world-renowned webcam and telephone sex therapists of the Dr. Susan Block Institute are just a phone call away.  You can talk to Dr. Block herself or to one of our other therapists, each excellent in her or his specialty.  You can also arrange for an in-person appointment at our offices in Los Angeles, and our webcam, sext and phone sex therapy services are open anytime 24/7.  Call us from anywhere in the world at 213.291.9497. 
And yes, you can masturbate, if you want, during sessions.  And no, there is no other sex therapy or phone sex service quite like ours.  Our form of sex therapy is unique in that we can discuss and help you with your real-life situations, and/or we can enter the Erotic Theater of the Mind (your mind or ours, or a combination) and roleplay your exhibitionistic fantasies—even the forbidden kind that would get you into serious trouble if acted out in real life.  In fact, one of our specialties is "the forbidden," the stuff you can't talk about to anyone else.  After all, pretty much everything is safe on the phone—where you can close your eyes and fantasize the wildest scenes possible through the hidden camera of your imagination. Moreover, your secrets are safe with us.  Therapy with the Institute is completely private, discreet and confidential.  Of course, we can't tell you their names, but we count many celebrities and world leaders among our clients, so we understand the importance of strict confidentiality.  We have been around and we intend to stay around, and we value your privacy as we value our reputation.
Exhibitionist phone sex therapy is fun, satisfying, edifying, defuses problematic desires (so you're less likely to get into trouble) and often leads to great insights into your sexuality and other aspects of your deeper self.  We've found the phone—private, intimate and essentially non-visual—to be an excellent vehicle for this kind of erotic insight.  Then again, exhibitionism is primarily a visual interest, and you can also enjoy a very personal exhibitionistic experience tailored to your desires with one of our webcam sex therapists.
Whatever your exhibitionistic pleasure or problem, we're here for you, 24/7, every day and night, including holidays, whether you need to talk…or be watched.  Give us a call anytime at 213.291.9497.
The Dr. Susan Block Institute
Established 1991
For more information, call our recorded line.
We're available 24/7, including all holidays.