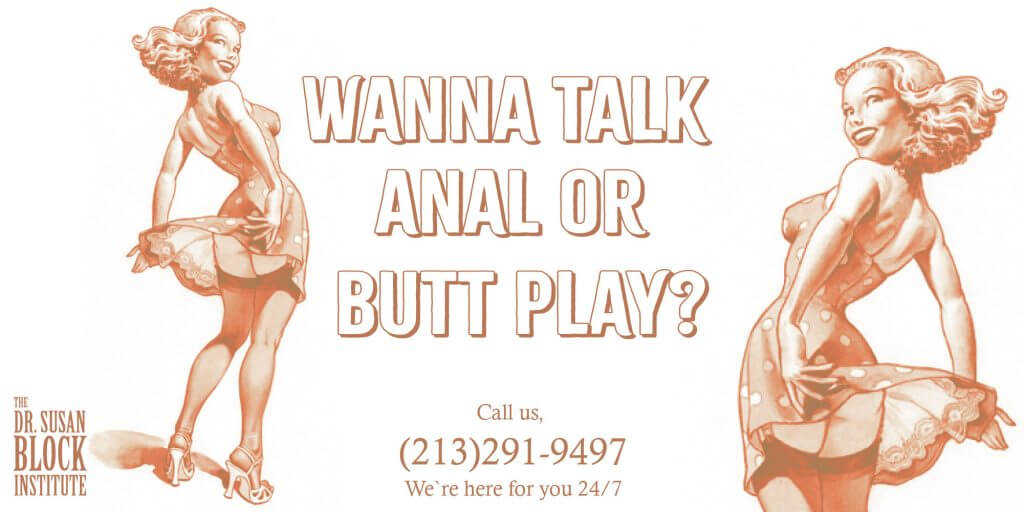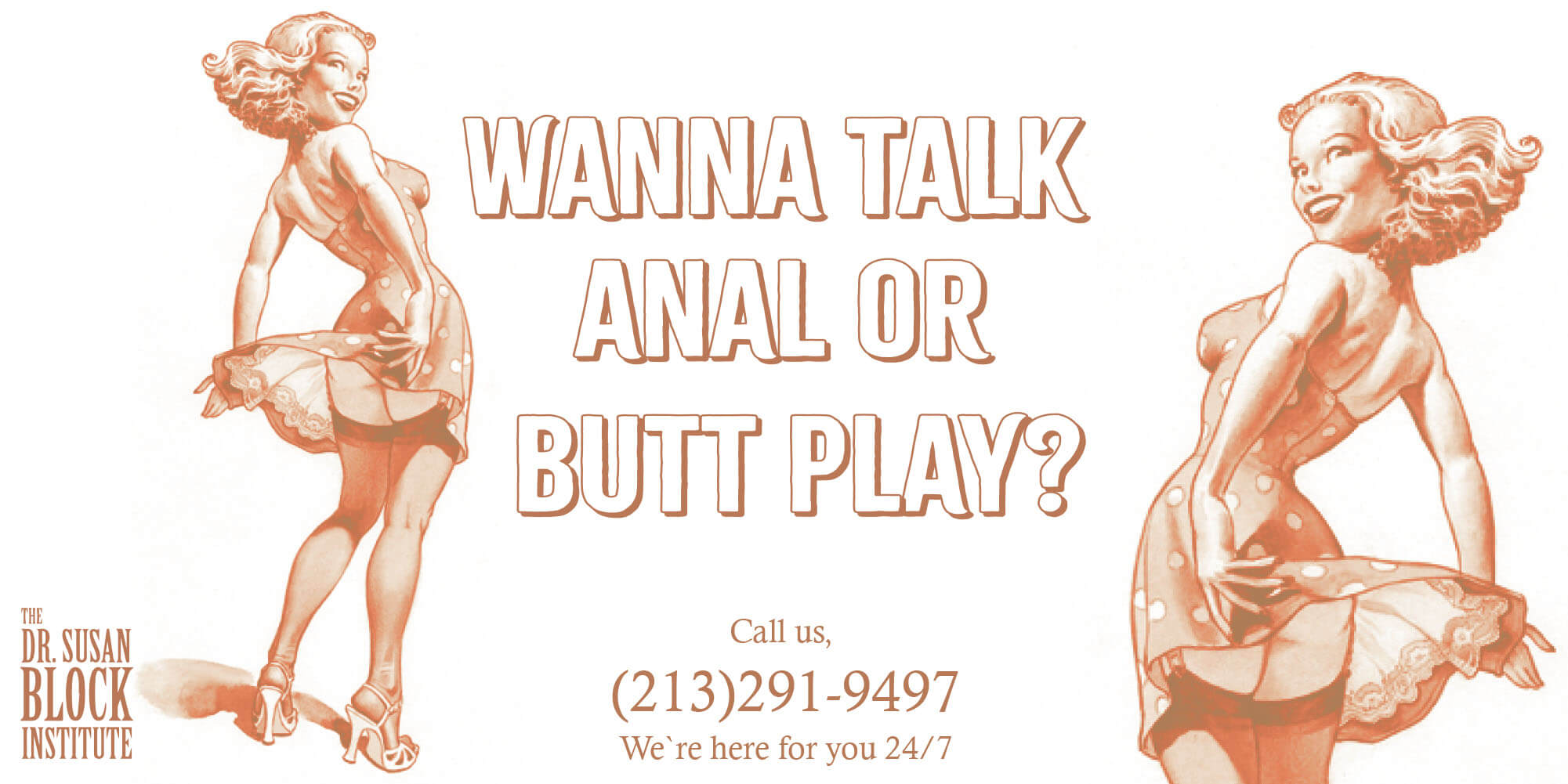 Need to Talk about Anal Sex or Butt Play?
Call Us Now:
213.291.9497
by Dr. Susan Block.
Are you interested in anal sex?
Do you have unfulfilled anal desires you long to explore? A compelling anal fantasy you'd like to roleplay? Do you want to penetrate your own or your partner's beautiful butthole… but you just don't know how, or even where to begin? Want to "do it yourself" to yourself, but not sure how best to do it?
Do you enjoy watching anal sex in porn, but find really having anal sex to be frustratingly different? Have you had a negative anal sex experience? Do you want to know how to make anal sex better next time?
Need to get some facts and advice about anal cleanliness and the safer sex aspects of anal play? Need to know what lube to use? How slow to go?
Want to experience analingus?
What about the best butt plugs, dildos, vibrators, anal beads, strap-ons for premium pegging, shaving cream cans, cucumbers and other fun items for optimal anal play?
Looking for anal relaxation techniques—mental or physical? Do you do your sphincter kegels? Interested in learning the finer pleasures and health benefits of P-Spot stimulation or prostate massage?
Curious about the connections between anal desire and sexual orientation?
Want to find out how to give yourself or your partner an analgasm?
Looking to combine anal sex with spanking, tickling, butt bondage or other forms of posterior play?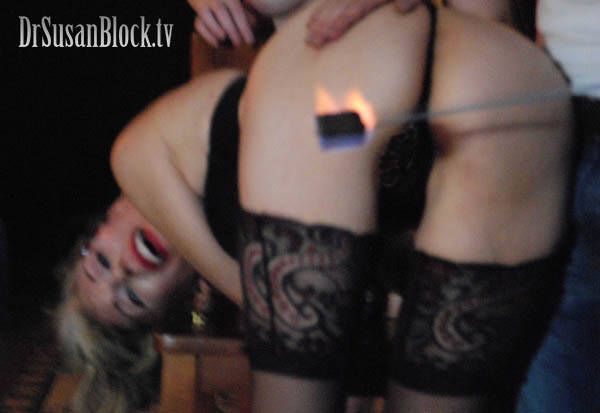 Fantasizing about having rough, unprotected, forced anal sex? That's obviously not okay to do in real life, but how about exploring the fantasy during a phone sex fantasy roleplay session? Want to explore auto-anal play through Guided Masturbation or Erotic Hypnosis?
Do you have an anal secret you feel it's about time you shared privately with someone you can trust?
Call the Therapists Without Borders of the Dr. Susan Block Institute. It's absolutely private and confidential, you can talk about anything and yes, of course, you can masturbate, if you want, during sessions, and no there is no sex therapy or phone sex service quite like ours. Call us anytime you need to talk: 213.291.9497
Anal: The Final Frontier
Many consider anal sex to be the "final" physical taboo.
Whether or not you do, anal sex can be a deliciously pleasurable taboo … if you approach it in just the right way for you.
Contrary to popular belief, the anus is a two-way street. At least, it can be.
No, the anus is not technically a "genital" organ like the vulva, vagina, penis and testicles, but the mouth isn't technically a genital organ either, and kissing and oral sex feel good. Therefore, it's perfectly normal and natural for someone of any gender to experience pleasure from anal touch.
Lined with exquisitely sensitive nerve endings, the anus allows stimulation, penetration and other forms of anal play to feel just heavenly, if performed properly.


Just like the key to real estate is "location, location, location," the key to great anal intercourse is "lubrication, lubrication, lubrication."

So…. conquer your irrational fears, embrace the forbidden erogenous zone and open up that long-locked Back Door!
Or at least, talk about it with someone who can help…
Anal Outercourse
Even if you're very eager to engage in anal intercourse, you should probably start with outercourse.
This is true even if you're engaging in anal self-penetration, and especially if you're interested in anal intercourse with a partner.
Anal "outercourse" includes rubbing, tickling, spanking and playing on the outer, "puckered up" area of the anus, without penetration.
Start lightly and teasingly, slowly increasing your or your partner's comfort with being touched around the anal area. This helps you to appreciate its exquisite and tender sensitivity.

If you are the anus "owner," it tends to be your responsibility to make your anus as clean as possible for the occasion (unless you both have a fetish for being literally "dirty," which isn't very sanitary and can be hazardous to your health). For some, an enema gives them that "anal fresh" feeling. For others, just a nice hot shower, bath or bidet is sufficient.
If you are the "fingerer," make sure your fingernails are clean and trimmed. No hangnails, cuts, dirt or peeling nail polish. If your manicure isn't anal-friendly, wear latex gloves for this.
When in doubt, play lightly and only rub hard if your partner asks for it. Be careful, but be playful too! Try using a drop of lube on your finger tip to spell out "I love your ass" right on your beloved partner's booty-ful bottom.
Analingus Anyone?
As cunnilingus is to the vulva, so analingus is to the anus, a type of oral sex that involves licking and kissing the butthole.
For some, this might sound gross; but for many, analingus is the ultimate anal experience.
Though analingus (aka "rimming") could involve some penetration (aka, "tongue-fucking"), most of it involves outercourse activities like planting your lips on your partner's bum and swirling your tongue around that puckering rosebud.

Everybody—male, female and gender-neutral—has a sphincter muscle.

I assume this would involve a partner because I've never met anyone who could lick their own butthole (though I've known a few guys who can suck their own cocks).
Analingus is for sharing, which also means it's rather risky when it comes to the transmission of sexually transmitted diseases (STDs), as well as germs and viruses like COVID-19.  So, cleanliness is even more vital for licking than fingering.  When in doubt, put a dental dam (clear piece of thin latex) or just a section of Saran wrap to act as a "screen" between your lips and your lover's back door (a screen door?).
It's not as intimate, but it could save your life, or at least, your peace of mind.
Sphincter Muscle Squeeze
A sphincter is a circular muscle that maintains constriction of a natural body passage and which relaxes as required by normal physiological functioning.
The anus actually has two sphincters, one internal involuntary sphincter muscle and the other is more external and voluntary.  For purposes of enhancing your anal pleasure, we're concerning ourselves with the external sphincter muscle.
Squeezing and releasing the anal sphincter can greatly enhance anal pleasure whether you're just playing around externally or engaging in penetration. This happens involuntarily when you have an orgasm. Bu you can improve your anal tone and pleasure by doing sphincter muscle squeeze-and-release repetitions, like kegel exercises for the sphincter.
The great thing is that everybody—male, female and gender-neutral—has a sphincter muscle.
We can all enjoy the pleasure it gives us from squeezing and releasing. True, nature provides those good sphincter feelings primarily so that we'll poop regularly, but there's nothing wrong with taking advantage of those pleasure-sensitive nerve endings when it comes to poop-free anal play.
You can do a nice sphincter squeeze with nothing inside your rectum, but you might find that a nice dildo or butt plug helps you to squeeze longer and stronger, as well as intensifies the pleasure.
Interestingly, 18th century doctors used to prescribe butt plugs to cure all sorts of ailments, from headaches to drowning. I wouldn't endorse that, though a few good sphincter squeezes around a nice butt plug have been known to "res-erect" a once-dead-and-gone erection!
Anal Intercourse
When most people hear the term "anal sex," they think of anal intercourse, e.g., somebody's anus being penetrated by somebody else's penis.
As explained above, anal sex could encompass any kind of erotic play in the anal area, but anal intercourse is for some the "ultimate" anal.
If you're an anal virgin (and often even if you're not), start slow, engaging in lots of anal outercourse before you get to the intercourse.
How long should you go slow and shallow before you get into deep-penetrative thrusting? That depends on you and your partner. Anywhere from a few minutes to a few years.
Cleanliness is important, especially if you plan to take it deep. For some, that just means a good hot bath or shower, while others may take an enema before anal; this is a common practice in porn. This is usually the receiver's responsibility, but the giver could help out, if both enjoy that.

There are lots of erotic activities you might engage in *for* your partner, even though you don't enjoy them. Anal intercourse should not be one of these.

Unlike the vagina, the anus is not self-moisturizing.  So, just like the key to real estate is "location, location, location," the key to great anal intercourse is "lubrication, lubrication, lubrication."
If you're using condoms, make sure you use a water-based lube. If you are an exclusive couple and not using protection, coconut oil feels great.
Sorry fellas, but semen and "pre-cum" are not the same as lube.
If you are the "giver," prepare the anus by lubed-up fingering. Again, go slow, at the receiver's pace.
Impatience is the Enemy of Good Anal.
Once you've played for a while with a finger comfortably inside, you might open it up more with a dildo or butt plug that's bigger than your finger, but not as big as your cock. Then, when both of you are more than ready, the giver can go in. Sorry to sound like a broken record, but go slow. If you're blessed with a big one, you have to go even slower.
Slow and steady wins the anal race.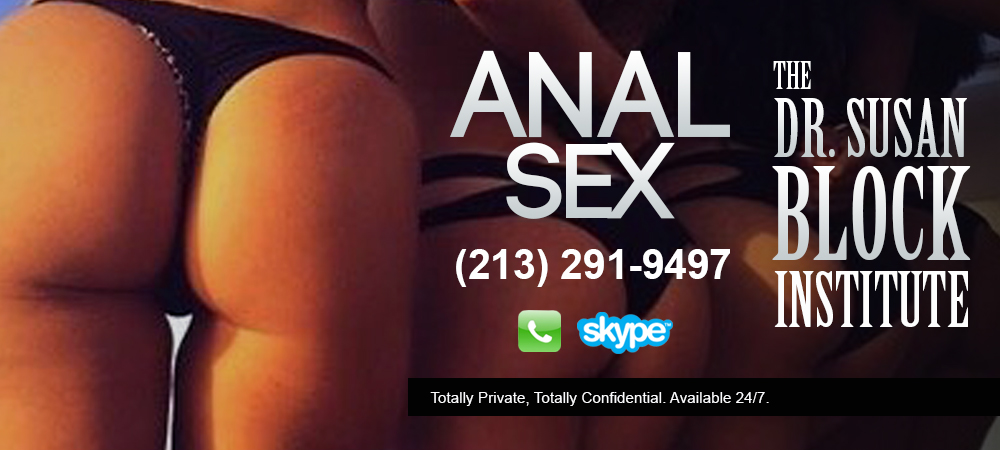 Try penetrating just a little and then pulling out completely, rubbing the head of the penis on the outside. When your partner is ready (or, preferably when they ask—or beg—for it), go in again and penetrate a bit further, then pull out again. Continue with this until you are fully in—but be prepared to stop at any time if you or your partner is uncomfortable or in pain. If everybody's happy, have yourselves a good, hard, thrust-filled, anal romp!
Some of the more popular positions for anal intercourse include Backside Doggystyle and Butt-Lifted Missionary (put a pillow under that butt), as well as Cowgirl (or Cowboy) Anal, Backdoor Side-by-Side, Standing Anal and On Bended Knee.
You might even have an analgasm (orgasm during anal sex).
Still, be careful. Don't be a "Weapon of Ass Destruction."
The anal walls are more delicate than vaginal and can tear and bleed more easily. A little bit of pain is okay for some people, like a spice, but too much spoils the meat, so to speak.
Anal intercourse, like all kinds of anal sex, should be pleasurable… or don't do it.
There are lots of erotic activities you might engage in *for* your partner, even though you don't enjoy them. Anal intercourse should not be one of these.
Don't be too shy or too cool to talk about what you're doing before, during and after you do it. This can include hot "dirty talk," if you and your partner are into that, or compliments about what a fantastic ass they have. Most important, ask your partner how they're feeling.  Letting them suffer in silence while you have yourself a ball ensures that you will not be invited back in the back door.

As far as erotic entertainment goes, porn is fine… But do not consider your favorite anal porn scene to be a literal lesson in how to have pleasurable anal sex.

Anal sex can feel stimulating and pleasurable for both giver and receiver, especially when you're really in sync with each other. But it can be a little tricky in various ways, many of which are explained on these pages.  If it doesn't go perfectly the first time, you can always try again if and when you're both in the mood.
Remember, you can pause or stop at any point you want. Just because you have started something doesn't mean you need to continue, especially when it comes to anal intercourse. Stopping whenever you want to is perfectly fine.
Anal Porn vs. Anal Reality
If you like to watch anal intercourse, you'll find plenty of it in the wonderful world of pornography.
As far as erotic entertainment goes, porn is fine and probably won't shrink your brain to the size of a hemorrhoid. But do not consider your favorite anal porn scene to be a literal lesson in how to have pleasurable anal sex.
To satisfy their impatient viewers, porn generally gives you the misleading impression that anal intercourse happens quickly, easily and without much anal outercourse as foreplay.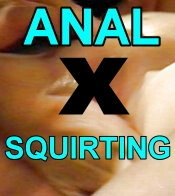 So porn viewers don't get a realistic sense of the time involved in preparation in terms of cleanliness, safety or comfort.
Enjoy your porn, but don't consider it a guide to good anal!
Anal Sex for Men: Does It Make You Gay?
So you're a man, and you want to experience anal sex?  Or maybe you already enjoy it.  Congratulations!  There's nothing wrong with you.
And no, being turned on by anal play doesn't make you gay.
Gay, straight, bi or pansexual, everybody has an anus, so everybody—even the manliest of men—is capable of experiencing physical pleasure and mental excitement from anal stimulation.
Enjoying anal—giving or receiving—has nothing to do with your sexual orientation. Even if you never want a fellow guy near you, you might like anal sex. In that case, you can always just do it to yourself.
You could also have a woman penetrate you anally, either with her finger, a hand dildo or a sexy strap-on. In the last twenty years or so, the term "pegging"—a woman using a strap-on dildo to penetrate a man's anus—has moved into the mainstream of sexual terminology, indicating how popular it is.
Even though liking anal doesn't "make you gay," you might realize you're gay when you try anal play… and that's okay!
Though it can feel confusing. Maybe you've only had straight sex throughout your life. Then one night, your wife or girlfriend plays with or penetrates your anus—or maybe you do it yourself, and you discover how good it feels. Maybe it triggers fantasies of being entered by a cock.
Then again, maybe you, like so many "straight" men, have cuckold fantasies, the "sperm wars" in your balls stirred up by imagining (or actually seeing) your hot wife or girlfriend having sex with another man. Some guys don't stop there; maybe you also imagine yourself having sex—maybe anal sex—with the other man. Maybe you actually do it in real life, and it feels good.
Does that mean you're gay… or bi… or maybe pansexual? Possibly, and that's okay too. Of course, political and religious leaders might have different ideas of what is or is not "okay," but scientifically speaking, there's nothing wrong with or "weird" about same-sex attraction or activity.

When it comes to anal sex, it really doesn't matter what gender you are, if any. Everyone has an anus. And everyone can give and receive orgasmic anal pleasure.

It's certainly natural. Bonobos and many other nonhuman animals have sex with members of the same gender on occasion or even regularly.
As for humans, the first references to male-male anal sex date back to about 4,000 years ago and come into sharper focus about 2,600 years ago with the pottery of ancient Greece, which paved the way to Roman culture where the concepts of homosexuality and heterosexuality virtually didn't exist.  Men and women married to raise families, but both men and women had lovers of either gender.
The rise of Christianity changed things. The book of Genesis in the Judeo-Christian Bible depicts God's punishment of Sodom and Gomorrah as making them burn in a hell on Earth, and Lot's wife turned into a pillar of salt just for turning around to take a look.
The punishment of Sodom led to sodomy laws which criminalized anal sex, with either imprisonment or fines depending on the jurisdiction.  Sodomy laws in Texas, Oklahoma, Florida, Utah, Louisiana, Virginia, Alabama and Kansas, for example, were overturned only in 2003.
Now anal sex with a consenting adult of any gender is perfectly legal in every US territory.
Nevertheless, experiencing these deep feelings and desires for the first time—or even the five hundredth time—can be confusing or disturbing for many men.
Due to their shame, some "straight" married men have secret sex with other men. This is understandable, but very dangerous. If you are doing this, not only are you cheating, you're putting yourself and your partners at risk for sexually transmitted diseases (STDs). At the very least, practice safer sex as explained in more detail below.
How about you? Do you have questions about your anal interests or activities? Do you need to talk about it… but feel uncomfortable talking to most people about such intimate concerns? The Therapists Without Borders of the Dr. Susan Block Institute understand the various nuances of anal desire. Call us anytime you need to talk about it: 213.291.9497.
The P-Spot
Not only do men have the same pleasure-sensing nerve endings in their anuses as women; the guys have something extra: the prostate.
The male prostate is as sensitive as the female G-spot, which is why some of us like to call it the "P-spot."
Located between the base of the penis and the bladder, deep inside the rectum, the prostate is an exocrine gland surrounded by muscles which contract and release during ejaculation and help discharge semen. The prostate is key to both the fluid discharge and the pleasure of orgasm as well as build-up to orgasm. Semen is pumped out of the penis head through the urethra when orgasmic contractions of the smooth muscle squeeze the prostate.
The average young male prostate is the size and shape of a walnut. As a man ages, his prostate tends to grow larger. Men over 60 might have a prostate the size of a plum. The larger the prostate, the more susceptible it is to cancer and other health problems.
An active prostate—one that experiences fairly frequent orgasmic contractions—is generally a healthy prostate. Whether these orgasms occur in a loving relationship, at an orgy or by your own hand matters little to the health of the prostate, as long as it keeps on coming.
While your orgasms are mostly caused by stimulation to the head and shaft of the penis, it is also possible to achieve orgasm purely through stimulation of your prostate gland via deep anal penetration and massage.
Stimulation of your P-spot can also produce a stronger orgasm than purely penile stimulation — described by various men as more intense or ecstatic. This can be done with a penis, a finger (usually a rather long finger), a dildo, butt plug, vibrator or other sex toy for anal penetration or "prostate massage." Butt plugs often have flared ends to prevent them disappearing into your rectum.
Lubrication is key in prostate stimulation or any kind of anal penetration, as explained above.
Milking the prostate is a type of P-Spot massage that draws out the build-up to a deep, full-body orgasm over a long period of time, sometimes more than an hour.  The term "milking" refers to the technique of gentle, squeezing, hand manipulation like you would the udder of a cow during the milking process, as you stimulate the prostate, usually with a sex toy, so that the semen emerges gradually—instead of in the usually quick, short series of ejaculatory spurts—lengthening the pleasure of the experience.
Are you a guy interested being penetrated anally, but afraid to ask the woman in your life to peg you or "milk" your P-spot? She might be more accepting or even enthusiastic than you realize. A survey by Swedish sex toy manufacturer LELO found that 80 percent of women would perform a prostate massage on their partner if asked and 71 percent of straight men have either tried or would try a prostate massager.
Need tips on how to pop the question for a P-spot massage or just want some loving guidance over the phone, through sexting or webcam? Call the P-spot specialists of the Dr. Susan Block Institute anytime you're ready: 213.291.9497. We're here for YOU (and your P-spot).
Anal Sex for Women
Of course, women can receive and enjoy anal sex. However, many women and men still have mixed feelings about penetrating a woman anally.
"But I already have a perfectly good hole!" is a common response many women have to partners who want to try their back door.
Often these women have had uncomfortable, often painful experiences on their first try at anal sex. This terrible first time is usually with a partner who is selfish or ignorant of anal sex etiquette, pleasure and health—or both.
One of the worst ways to introduce anal to a woman is by "surprise" while you're already doing it vaginally from behind. That's bound to either hurt the gal's anus or damage the guy's penis.
Alternatively, there are lots of women and men who enjoy anal sex even more than vaginal sex… if you're doing it right.
Some women like the tight fit, the kinky feeling or the taboo quality of anal sex. Others see it as a form of birth control as you can't get pregnant from anal intercourse. Semen has been known to travel from the anus across the perineum—or "taint"—to the vaginal opening and then find its way to fertilizing an egg, but that is a rare occurrence.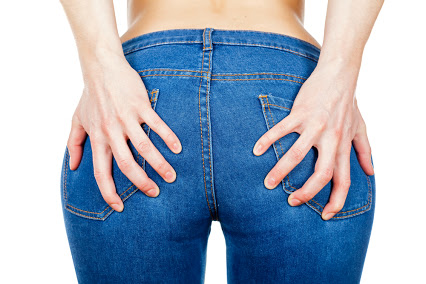 Many sexually active post-menopausal women, whose vaginas are not as self-lubricating as they used to be, report enjoying anal sex more than vaginal.
Women in porn almost always act like they love anal sex—often with very little preparation. Thus, many guys who watch porn are surprised to discover women who actually don't enjoy anal. The best solution for these men is to learn how to have anal in ways that are pleasurable and healthy for their partner(s), as well as themselves. And if their partner still isn't interested, do something else or find another partner.
One no-no in anal sex with women that guys don't have to worry about: Do not pull your finger, cock, toy or anything else out of a woman's ass and then stick it in her vagina. Be clean! Be courteous. Be aware.
Need to learn more about the ins and outs of anal? Call the anal experts at the Dr. Susan Block Institute anytime you need to talk: 213.291.9497.
Gender-Fluid Anal
Not everyone is an asshole. But everyone has one!
Most people, including most transgender people, identify as male or female. But some people don't feel they neatly fit into these traditional categories.
For example, some people's gender blends elements of being a man or a woman, or it's different than either male or female. Some people don't identify with any gender. Some people's gender changes over time. Many of these people call themselves "gender-fluid," "non-gender binary," "non-binary," "queer" or "gender-queer."
This can be confusing for more traditional people, but it helps if you just treat everyone with respect, try to use the correct pronouns and, when in doubt, ask questions politely.
The good news is that when it comes to anal sex, it really doesn't matter what gender you are, if any.
Everyone has an anus. And everyone can give and receive orgasmic anal pleasure.

Kinky Anal
For many people, anal sex is inherently kinky, sometimes in a BDSM (Bondage and Discipline, Dominant/submissive and/or Sado-Masochistic) way.
Anal sex is perfectly natural; no kink necessary. But playing dominant, submissive or other roles can enhance the fun of anal or any kind of sex.
Not everyone who gives anal is dominant, and not everyone who receives is submissive, but that's often the way it goes.
For example, the one giving analingus may feel submissive, like they're surrendering to ass worship, or even being humiliated in a kinky way. That same person might feel even more submissive when being penetrated anally by a forceful, dominant partner, perhaps while tied up or spanked.
Nevertheless, just because you're submissive doesn't mean you have to accept whatever your dominant partner gives you, especially when it comes to your comfort, pleasure and safer sex.
Know your limits and respect your partner's physical and mental limits, whatever they may be.
Anal Safer Sex
Anal sex can be wonderful, but it is one of the most likely ways to spread sexually-transmitted diseases (STDs) or sexually-transmitted infections (STIs).  Whether you're a man, woman or gender-fluid, straight, gay or pansexual, it's important to protect yourself and your partners as best you can against HIV, Chlamydia, genital herpes, gonorrhea, syphilis, Hepatitis A and other STIs, when having anal sex.
Rectal lining is thinner and more delicate than vaginal lining and, because the rectum is at the end of the digestive tract (a highly bacterial environment), it is more susceptible to cuts and abrasions. This means that if you are the receiver or "bottom" you have a higher risk of STIs and HIV from unprotected anal sex than many other types of sexual activity.
While the risk is less for the giver or 'top', HIV can still enter through the opening at the top of the penis (urethra), or through cuts, scratches and sores on the penis.
So just what is "safe" anal sex?
The safest way to have anal sex is probably just with yourself, only using your own toys and nobody else's. Next would be anal with a partner with whom you're monogamous with the understanding that they are monogamous too.
If there is any question of either partner's sexual activity, then latex barriers must be employed. Condoms are the most common form of protection for the penis. Make sure it fits comfortably but snugly and doesn't fall off. You may want to try a few brands and sizes before you find your perfect fit. Some people feel safer using extra-thick condoms for anal sex.
You should also put a fresh "rubber" on any sex toys that you might share.
As explained above, dental dams make analingus or "rimming" a lot safer.
Use water-based lubricant only. Because of similar composition, condoms can rupture when used with oil-based lubricants. Use your favorite flavored lube for analingus.
Why do porn performers so often engage in "bareback" (no condom) anal sex? Because most of them are tested for STIs on a frequent basis. Even so, mistakes get made, and STIs do spread sometimes within the porn industry.
Another way to prevent HIV infection is to take pre-exposure prophylaxis (PrEP), but it is not available everywhere.
If you've had unprotected anal sex and are worried about possible HIV infection, go and see your healthcare professional straight away. You may be able to take post-exposure prophylaxis (PEP) to prevent HIV infection, but it has to be taken within 72 hours to be effective. However, PEP is not a replacement for condoms and isn't available everywhere.
Talk to your partner about protection before you start having anal.  As with any type of sex, it's important that both people are enthusiastic about having anal sex and that no one is feeling pressured or forced into doing anything they don't want to do.
Safer Sex in the Time of Coronavirus
The 2020 spread of COVID-19, a strain of the Coronavirus, has put even greater pressure upon everyone to practice safe sex, including only having sex with your regular partner(s).
The respiratory system-attacking virus spreads through airborne germs, making it imperative for people to stay at least six feet away from each other, cover their mouths when outside, and wash their hands regularly (if they weren't already washing their hands before!). Now with the worry of infecting each other from a close range, the only way to help flatten the curve of infections is to stay at home in isolation except for the essential errand—which puts a damper on casual dates or hooking up.
In this case, if you're really in the mood for having your precious starfish teased, you can always do it to yourself; just make sure your toys, hands, or anything coming in direct contact with the anus is properly cleansed beforehand (the aforementioned idea to put a condom on your toys is a good idea, too).
In the Coronapocalypse, being sanitary is more important than ever.
Additionally, the New York City Department of Health (NYCDOH) lists in their COVID-19 guidelines to "love the one you're self-isolating with," at least when it comes to in-person sex. While phone, webcam sex and sexting are still on the table, they advise limiting your in-person play partners to a "small circle" of people who you trust aren't infected (whom you can trust is another story).
Not-Such-Fun Facts: COVID-19 has been found in semen as well as fecal matter. So for you analinguists out there, NYCDOH guidelines warn: "No rimming" (don't you just love that kinky specificity in a metropolitan health office?). Bareback anal intercourse also appears to be off the table, unless you both test negative and are fluid-bonded.
Not that you could easily have any kind of anal sex anyway—unless your penis is six feet long, or you're using a sex toy on the end of a broomstick.
If you're really determined to have safe anal sex with a partner you're not sure of, the NYCDOH suggests that you "be creative with sexual positions and physical barriers, like walls, that allow sexual contact while preventing close face to face contact."
"Like walls"? Sounds like they're talking about a glory hole!
For some people, all these safety precautions create physical or psychological problems, "ruin the moment" and just don't feel as good as unsafe sex.  But many learn to love taking safer sex precautions for the peace of mind they provide; and in the times of Coronapocalypse, the lives they could save. Don't be reckless!
During the COVID pandemic, it's probably not a good idea to have anal or any kind of sex with new partners, to say the least. On the other hand, it could be a great time to explore anal adventures with your regular partner (as long as both of you are up for it) and/or just with yourself.
Got questions about how to practice "safe, sane, consensual" anal sex? Call the anal experts at the Dr. Susan Block Institute: 213.291.9497.
Anal Sex Fantasies
Sometimes it's best to keep your anal desires in "the erotic theater of the mind."
"Living life to the fullest" works for some, but others prefer to ride in the slow lane, for the sake of their health, family or sanity.
This is where fantasy comes in.
Lots of people are turned on by the fantasy of anal sex, but they don't want to bother with all the safer-sex precautions, logistics, trust issues, cheating and other concerns that you need to handle if you're going to responsibly engage in anal sex in real life.
For instance, maybe you'd like to be the center of a rough, bareback, anal gangbang with the starting lineup of your favorite football team. This is an unlikely real-life scenario, even if you can pay all those footballers' overtime, not to mention get them tested before the big gangbang. But that doesn't mean you can't enjoy the fantasy.
In your imagination, anything is possible, no safety measures are necessary, and you don't even have to be politically correct about it. You can try different anal fantasies on "for size," to see how they play out in your brain and in your bloodstream.  The mind is a multiplex where you can always switch from one fantasy "screen" to another in less time than it takes to stamp your ticket.
"Ain't nothing like the real thing, baby…" is very true. However, tuning into the erotic theater of the mind to satisfy your anal cravings, whatever they may be, allows you to just relax and enjoy yourself, perhaps through masturbation or just meditation—or, as our friend Annie Sprinkle coined the term, "medibation" (meditating while masturbating).
Make sure to have all the toys, tools and lube you need nearby, and enjoy!
And if you need a hand, give us a call.
Here at the Dr. Susan Block institute, we understand that a lot of people might never—or rarely—engage in anal sex in real life, but they like to have a safe place to talk about it.
Our Therapists Without Borders specialize in creating an environment where you can explore the full measure of your anal sexuality, in privacy and without fear. Want to talk about anal sex? Like to try immersing yourself in your anal fantasy through erotic hypnosis? Want help finding your prostate or just inserting that new toy? Need guided anal play? Call us anytime at 213.291.9497.
Should you or shouldn't you experience anal sex in real life or just keep it in fantasy? Maybe you tried it before, but should you do it again… and again? Maybe you just need to have a sounding board to discuss the pros and cons. Then again, perhaps you could use an anal sex coach to help you get ready for the real thing. Or just a helping "hand" to guide you through the ultimate anal sex fantasy.  We're here for you.

Block Institute director Dr. Susan Block is a world-renowned expert in anal pleasure, as quoted in Alternet's 9 Ways to Make Anal Sex More Pleasure: Once You Put Your Mind at Ease, Your Sphincter will Follow.  Dr. Block and our other Anal Sexperts are more than happy to assist you with anal sex advice, as well as fantasies, concerns or questions you may have. Anytime you need to talk, 24 hours a day, the world-famous telephone sex therapists of the Dr. Susan Block Institute for the Erotic Arts & Sciences are just a phone call away, and you can call us at 213.291.9497.
And yes, of course, you can use your butt plug during sessions.
And no, there is no sex therapy or phone sex service quite like ours.
Institute director Dr. Susan Block is a world-renowned expert in anal pleasure, as quoted in Alternet's 9 Ways to Make Anal Sex More Pleasure: Once You Put Your Mind at Ease, Your Sphincter will Follow.  Dr. Block and our other Anal Sexperts are more than happy to assist you with anal sex advice, as well as fantasies, concerns or questions you may have. Anytime you need to talk, 24 hours a day, the world-famous telephone sex therapists of the Dr. Susan Block Institute for the Erotic Arts & Sciences are just a phone call away, and you can call us at 213.291.9497.
---
---
–MORE RESOURCES–
---
---
Welcome to Dr. Susan Block's archival SEX CALLS channel, an intimate world of real people with real issues whose lives are changed by a phone call. In these illuminating, sometimes erotic conversations, sex therapist Dr. Susan Block, a.k.a., "Dr. Suzy," talks with people about their sexual problems and pleasures. These are NOT calls with actual therapy clients; those are absolutely private and confidential. All these calls came in on The Dr. Susan Block Show, broadcasting live on radio & TV (including HBO) since 1992, and on the Internet since 1997. For more recent clips & shows, visit our other channel Youtube.com/DrSusanBlock. Some of our content is censored for YouTube. To see it uncensored, visit DrSusanBlock.com. This channel is sponsored by drsusanblockinstitute.com. To speak privately with Dr. Block or one of our other therapists, call 626-461-5950.
The Dr. Susan Block Institute
Established 1991
For more information, call our recorded line.
We're available 24/7, including all holidays.