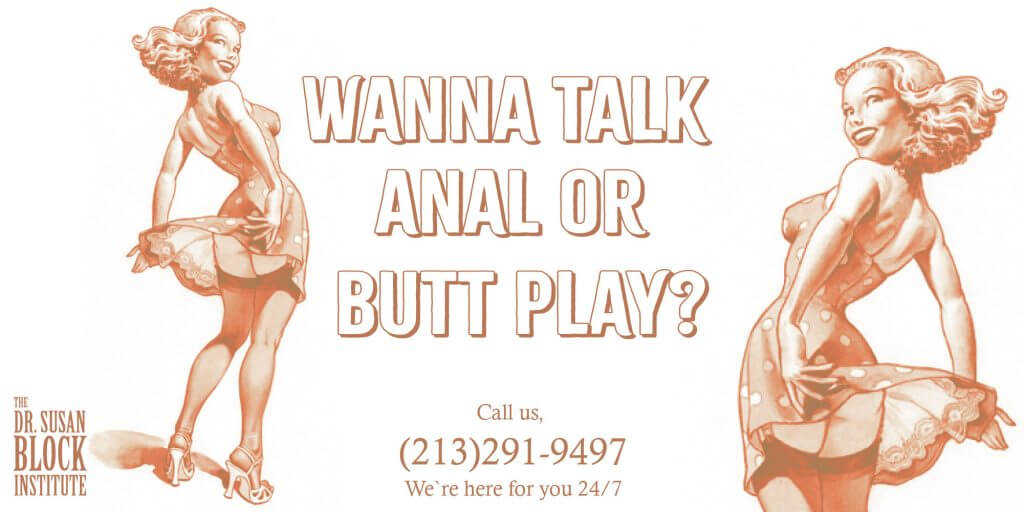 Need to Talk about Anal Sex or Butt Play?
Call Us Now:
213.291.9497
Many consider anal sex to be the "final" physical taboo–and such a deliciously pleasurable taboo it is! Contrary to popular belief, the anus is a two-way street, lined with exquisitely sensitive nerve endings that make penetration and other forms of play feel just heavenly, if performed properly. Conquer your irrational fears, embrace the forbidden erogenous zone and open up the Back Door! Or at least, talk about it with someone who can help…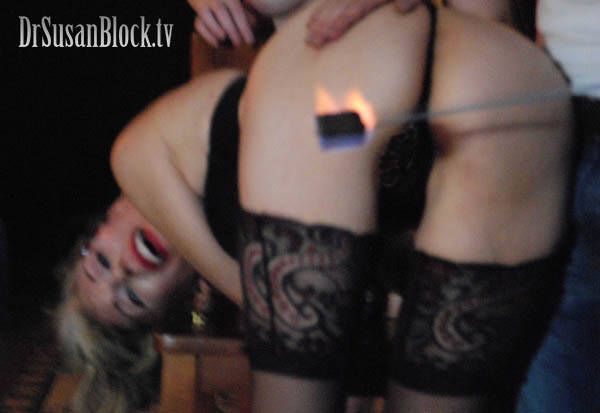 Do you have an unfulfilled anal desire you long to explore? A compelling anal fantasy you'd like to roleplay?
Want to penetrate your own or your partner's anus, but don't know where to begin?
Need to get some facts and advice about the safer sex aspects of anal play?
Need to know what lube to use? How slow to go?
Do you enjoy watching anal sex in porn, but find really having anal sex to be frustratingly different?
Interested in learning about the finer pleasures and health benefits of P-Spot stimulation or prostate massage?
Want to explore anal play in a Guided Masturbation or Erotic Hypnosis session?
Have you had a negative anal sex experience?
Do you want to know how to make anal sex better next time?
Need to talk about anal desire and sexual orientation?
Want to learn about analingus, the best butt plugs, dildos, vibrators, anal beads, strap-ons, shaving cream cans, cucumbers, lubes, enemas, sphincter muscle exercises and relaxation techniques for optimal anal play?
What to find out how to give yourself or your partner an analgasm?
Want to give your partner great analingus?
Want to combine anal sex with spanking or other forms of butt play?
Are you fantasizing about having rough, unprotected, forced anal sex? Want to explore that fantasy during a phone sex roleplay session?
Do you have an anal secret you feel it's about time you shared?
Need to talk to someone about something you can't talk about with anyone else?
You Can Talk To Us.
And yes, of course, you can use your butt plug during sessions.
And no, there is no sex therapy or phone sex service quite like ours.
Institute director Dr. Susan Block is a world-renowned expert in anal pleasure, as quoted in Alternet's 9 Ways to Make Anal Sex More Pleasure: Once You Put Your Mind at Ease, Your Sphincter will Follow.  Dr. Block and our other Anal Sexperts are more than happy to assist you with anal sex advice, as well as fantasies, concerns or questions you may have. Anytime you need to talk, 24 hours a day, the world-famous telephone sex therapists of the Dr. Susan Block Institute for the Erotic Arts & Sciences are just a phone call away, and you can call us at 213.291.9497.
---
---
–MORE RESOURCES–
---
---
Welcome to Dr. Susan Block's archival SEX CALLS channel, an intimate world of real people with real issues whose lives are changed by a phone call. In these illuminating, sometimes erotic conversations, sex therapist Dr. Susan Block, a.k.a., "Dr. Suzy," talks with people about their sexual problems and pleasures. These are NOT calls with actual therapy clients; those are absolutely private and confidential. All these calls came in on The Dr. Susan Block Show, broadcasting live on radio & TV (including HBO) since 1992, and on the Internet since 1997. For more recent clips & shows, visit our other channel Youtube.com/DrSusanBlock. Some of our content is censored for YouTube. To see it uncensored, visit DrSusanBlock.com. This channel is sponsored by DrSusanBlockInstitute.com. To speak privately with Dr. Block or one of our other therapists, call 626-461-5950.