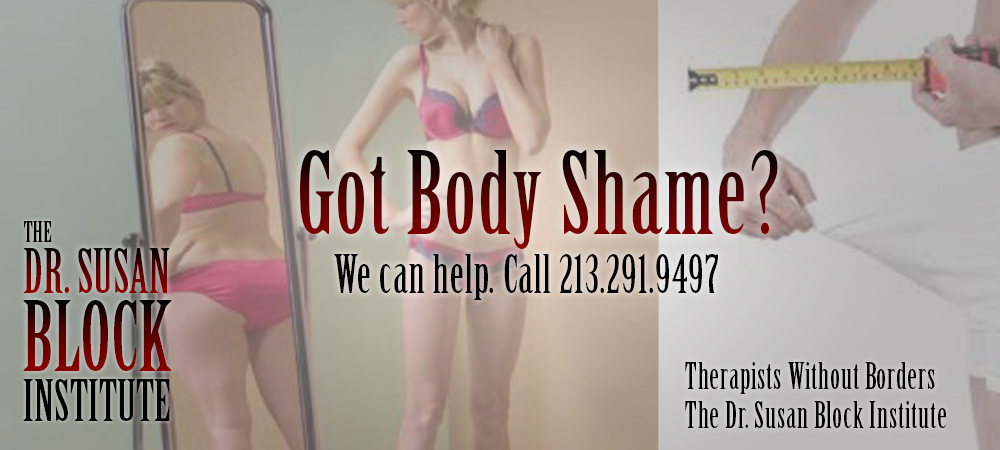 Call Now
213.291.9497
by Dr. Susan Block.
A vital part of good sex involves feeling… well, sexy.  While some of that feeling is purely mental or spiritual, a large part of it is physical. That includes feeling attracted to your partner's body, if you have a partner. And it means feeling good about your own body, whether you have a partner or not.
Do you feel good about your body? Do you feel sexy in your skin? Or do you have "body image" issues that interfere with your ability to relax and enjoy yourself during sex?
Anxious About Your Body… or Body Parts?
"Body image issues" encompass a wide spectrum of concerns and worries that plague women, men and transgender people of all ages, creeds and colors, in every culture around the globe. For most of us, these are relatively trivial concerns, but for some, body image issues morph into body shame, weighing us down to the point that we feel that we can't pursue or enjoy sex at all.
Do you have a body image issue? Perhaps you feel you are too heavy or too thin, too tall or too short. A woman might worry that her breasts are too small or too large, that her thighs are too wide, her butt is too narrow, her face is too old or her feet are too big, and the list goes on.
A man is more likely to be anxious about his height, and an even more common male concern is that his penis is not big enough. Freud said women had "penis envy," but it's more often men who are envious of other men's members, especially when they are larger, or perceived to be larger. This is another body image issue that has a lot to do with perception. Even men with average or above-average-sized endowments may feel deep shame and a sense of humiliation over what they perceive to be sexual inadequacies.
Transgender people might fret that they can't "pass," that they have too much or too little body hair, that they are not feminine or masculine enough to fit the ideal that's in their mind of the gender to which they are transitioning.
While it's good to have ideals in life, some physical ideals can drive us crazy with debilitating anxiety, impossible goals and enervating shame. After all, the ideal is the enemy of the real, especially when it comes to sex and love.
Has someone in authority criticized your body or body parts? Have they judged you, made demeaning comments, touched or lusted after your body inappropriately or uncomfortably when you were a child? Then you're more likely to have body image issues, especially if you're trying to conform to unrealistic ideals.
Hollywood & Porn
There's nothing wrong with enjoying Hollywood entertainment or pornography, and doing so doesn't make you a "romance junkie" or "sex addict." However, both tend to exacerbate our body image issues. Millions of women look at film stars and feel unattractive by comparison. A similar amount of men tend to compare themselves to porn stars, usually coming up short—literally—or so they feel.
Most of us harbor insecurities about how we appear to others, as well as frustration with how we look to ourselves. It's only human to be a bit dissatisfied with your looks and physical attributes, at least sometimes. Everybody has a body, and most of us have body image issues, at least at some point in our lives.
But if your body image issues are interfering with your ability to share and enjoy the pleasures of life, especially the joys of sex, love and affection, you might benefit from getting some perspective by talking about these issues with a good therapist who understands.
The "Therapists Without Borders" of the Dr. Susan Block Institute are here to help you with your body image issues, as well as other sex and relationship concerns, anytime you need to talk 24/7. Call us at 213-291-9497.
Accept Yourself and Your Body
When your mind is tortured, or even just distracted, by your body images concerns, you are not able to enjoy your sexual experience to the fullest. Nor are you the best sex partner you can be.
Through various traditional and unorthodox programs and techniques, including bonobo liberation therapy, life coaching, erotic theater therapy, sensate focus, guided masturbation, erotic hypnosis and more, we can help you to accept your body as it is—with all its so-called "flaws"—so that you can start enjoying better sex and, in the process, become a better, more open and exciting sexual partner.
Need to talk about it now? We're here for you 24/7. Call 213-291-9597 and we will put you through to a therapist who can help you with your body image issues and more.
Body Shame
Do you feel that your naked physical body is "dirty"? Maybe you don't have problems with your body shape or size, but you do have issues of "body shame," perhaps related to a strict, religious upbringing or other anti-sex, anti-body messages from childhood.
Sexual assault, whether in childhood or adulthood, can also tremendously affect our comfort with our bodies. It's hard to feel good about your body when that same body has been used and abused by others, even if that abuse was in the distant past.
Sex-negativity and poor body image issues are completely understandable in a sex abuse or trauma survivor. Just knowing that, however, doesn't make these issues much easier to handle, especially if and when they *ruin* an otherwise positive erotic experience. However, identifying your personal, problematic body image issues is the first step towards healing and empowering your sexual self.
Need to talk about it? Whether you are a survivor of religious, familial or any other kind of sexual abuse, if you want to develop a positive body image and the happy, healthy sex life you deserve, we can help. The caring, knowledgeable therapists of the Dr. Susan Block Institute can guide you toward enjoying a healthier relationship with your body.   And you can call us anytime, 24 hours a day, at 213-291-9497.
What About Changing Your Body for the Better?
Most body image issues are "in your head." But if you're truly obese, anorexic, bulimic or dangerously out of shape, perhaps you should make some changes. None of this means you should put your sex life on hold; on the contrary! Exploring your sexuality at a pace that's right for you can help you to lose or gain weight and get healthier and fit.
Whether your change "for the better" requires moral support during your transgender process, or getting fit and healthy, our therapists are ready to assist you in making your transition to the body you desire, as well as expressing and exploring your sexuality to the fullest in the body you are in right now.
If discussing these topics is difficult for you, rest assured that you are in good hands. Our therapists are here for you, whether or not your body shame is just "in your head." We will help you to have the best, most fulfilling sex and love life that you can have, enjoying your body, yourself and your life.
Let's talk about it. Call us anytime at 213.2991.9497.
The Dr. Susan Block Institute
Established 1991
For more information, call our recorded line.
We're available 24/7, including all holidays.