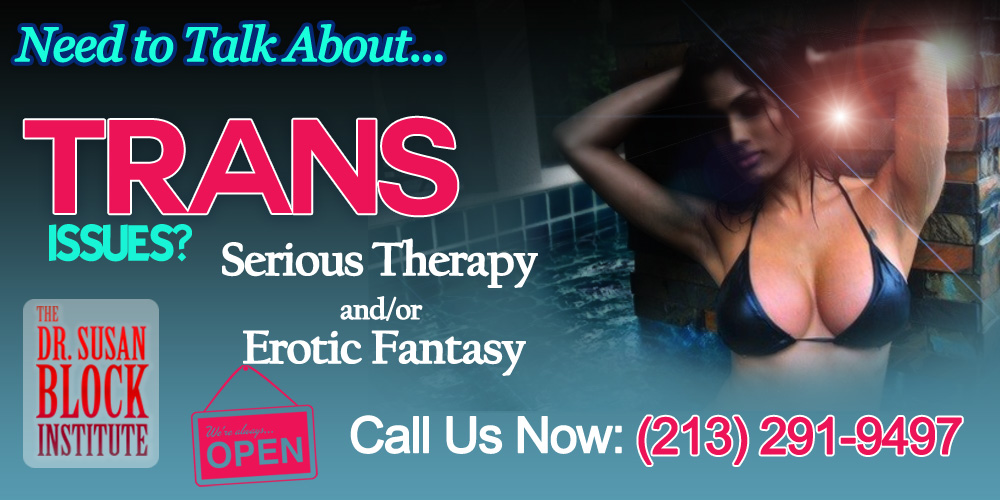 by Dr. Susan Block.
Transwomen are real women. And yet….
There's something special about a beautiful woman who knows first-hand what a man likes.
"Transgender Woman" or "MTF" (male-to-female) are the preferred, polite terms for an individual who "transitions from 'male-to-female,' meaning a person who was assigned male at birth, but identifies and lives as a female," according to the National Center for Transgender Equality. Here at the Dr. Susan Block Institute, we support the use of these terms in most discourse, especially public forums. As advocates, allies, friends and lovers of many in the transgender community, we believe that respect is vital to those in transition, whether MTF or FTM (female to male).
And yet…
We also understand that slang terms can be more erotic for many people. In a way, it's like using the word "cock" instead of "penis," or "slut" instead of "sexually active individual."
Therefore, though we tend to use the more dignified terms while engaging in serious therapy, couples counseling and discussions of real-life transitioning or transgender dating and relationships, we also use the more slang terms, such as "tranny" or "shemale,"  during erotic conversation, e.g., "dirty talk," or fantasy roleplay.
Transwomen, trannies, T-Girls, she-males, chicks with dicks, ladyboys, gender benders,  gals with "something extra"…call them what you will (in consensual, private conversation only please!), but pre-op MTF transgender women are what some would say are "the best of both worlds."
Perhaps you're already imagining… a soft, feminine face with beautiful breasts… and a rock hard rod.
It's no wonder that many people, are erotically drawn to pre-op MTF women—either being with them or becoming one of them… or maybe both.
Whether the idea of touching, sucking, rimming or being anally penetrated by a transwoman—or becoming one yourself—seriously interests or just excites you, transgender fantasies are nothing to be ashamed of.
We also totally understand you may be riddled with confusion and humiliation, tormented by your trans desires which so much of society considers "taboo."
Whether you're a top or bottom, genderfluid, non-binary conforming, a "genderfuck," transboi, transgurl or questioning… or if you are interested in being with someone like that, we're here for you.
Want to explore your forbidden longing to be with a transwoman, but not sure where to start? Gender and "identity politics" have shifted and many people are wondering how to respectfully court, date and have sex with a transgender person. Others just want to enjoy a hot fantasy. We can help you with either one or both.
We can also help if you are seriously considering gender transition for yourself and need to talk with someone knowledgeable about LGBTQ issues. Concerned about looking "passable" or sounding "femme" enough? Have you been outed as transgender at work, or does the possibility of that worry you? Are you and being harassed? Or do you want to spread your wings and fly? Call us. We can help.
Or, on the other hand, if you don't want to transition in real life, but just imagining being a woman turns you on, we can help you enjoy a Trans MTF fantasy beyond your wildest dreams right over the phone. Then again, maybe you have no desire to fully transition, even in fantasy, but you do enjoy crossdressing, role reversal or being feminized. We can help with that too.
No matter what your problem, question or desire, rest assured that your confidentiality is absolutely guaranteed.
Need to talk with someone about something you can't talk about with anyone else? You can talk with us. The world-famous telephone sex therapists of the Dr. Susan Block Institute for the Erotic Arts & Sciences are just a phone call away, available anytime you need to talk, 24 hours a day. You can call us at 213.291.9497.
The Dr. Susan Block Institute
Established 1991
For more information, call our recorded line.
We're available 24/7, including all holidays.