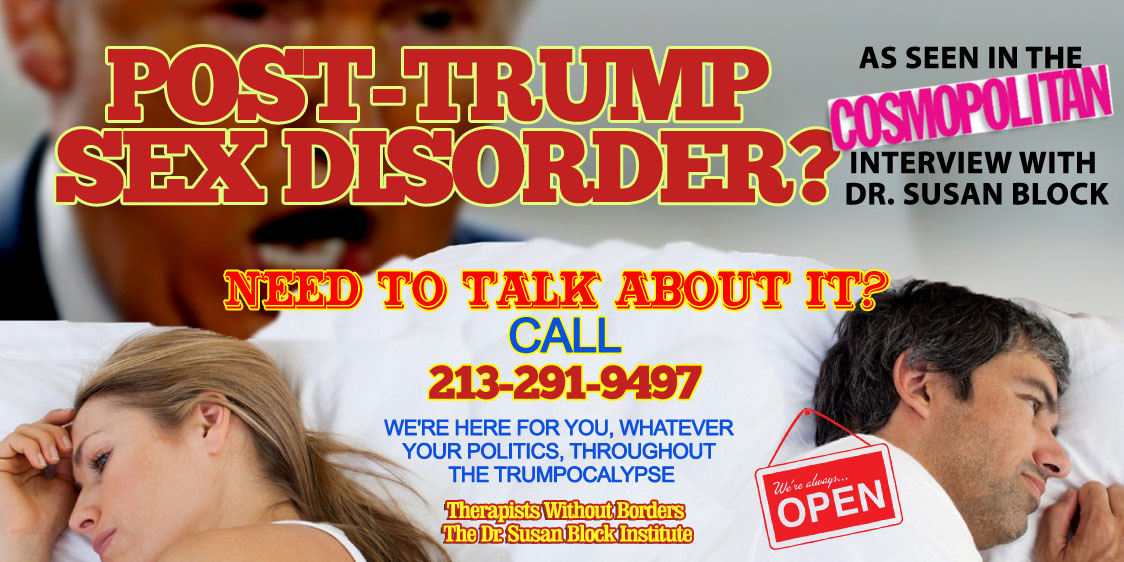 There's a new kind of PTSD: Post-Trump Sex Disorder
Institute Director Dr. Susan Block talks about this topic briefly in the September 2017 issue of Cosmopolitan Magazine as a "sudden and swift aversion to sex caused by the anger, fear and confusion you've absorbed from the current political climate…Women, in particular, have been hit hard by PTSD…When [Trump's] crude misogynistic comments were not just ignored but rewarded with the presidency, it made a lot of us feel horrible…. "
PTSD like this can be pretty grim news for our sex lives, among other things, but there is treatment… at least for your sex life. As Dr. Block advises: Turn off the "alternative facts," and tune into real intimacy.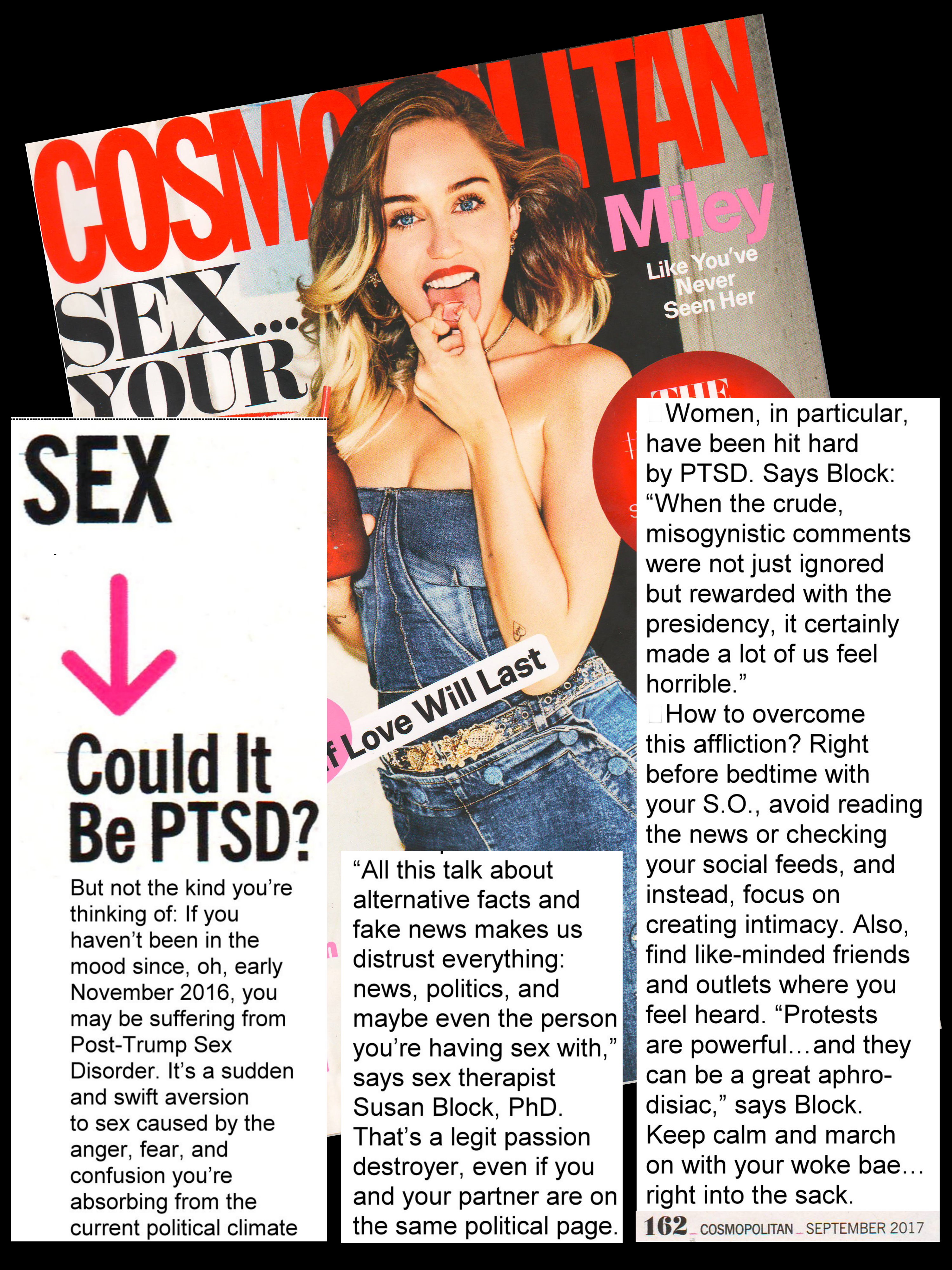 More practical erotic advice for combating Post-Trump Sex Disorder from Dr. Block in Cosmo: "Protests are powerful… and they can be a great aphrodisiac."
Need to talk about your PTSD privately? The "Therapists Without Borders" of the Dr. Susan Block Institute are here for you, providing telephone sex therapy, webcam, sext therapy and relationship counseling throughout the Trumpocalpyse. Call us at 213-291-9497 anytime.
Read Dr. Suzy's "Post-Trump Sex Disorder(s)"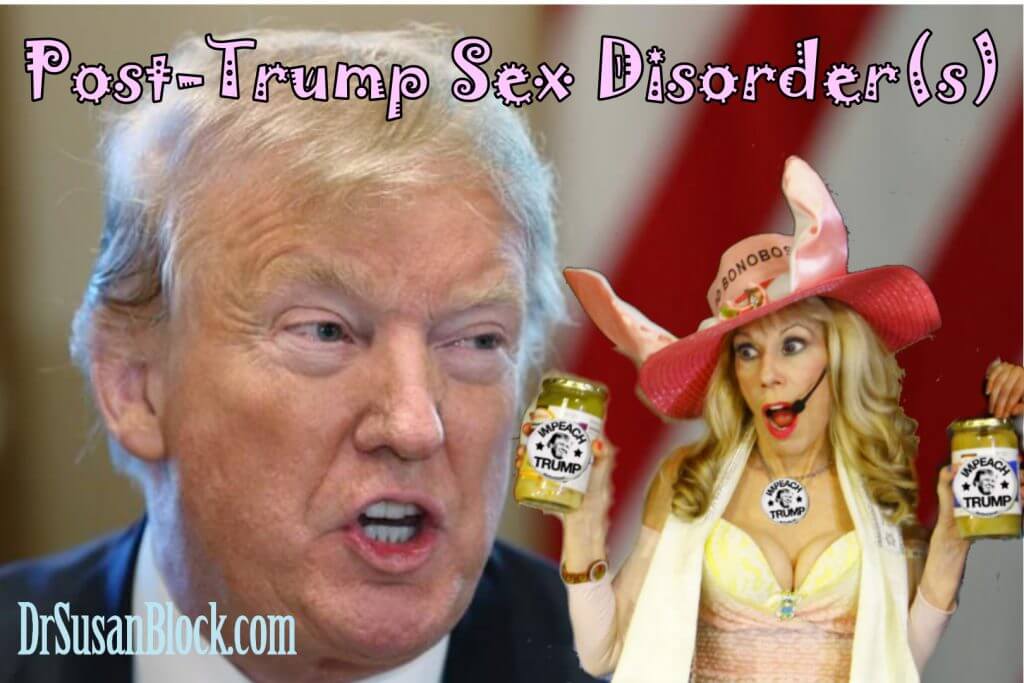 READ CHAUNCEY DEVEGA'S INTERVIEW with DR. SUSAN BLOCK on POST-TRUMP SEX DISORDER & Related Topics in SALON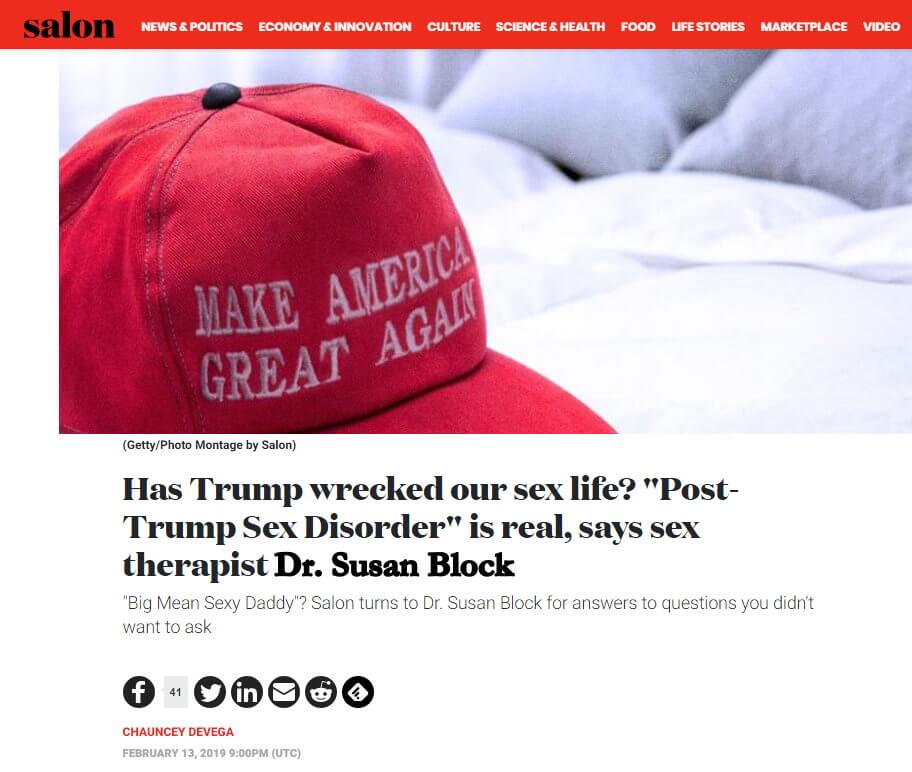 Perhaps you need more personalized ideas for putting healthy distance between the "fake news" and your real sex life. Maybe you need a pep talk with an emphasis on female empowerment, or a fantasy roleplay scene in which the erotic and/or political tables are turned. Then again, perhaps you are a Trump supporter who fantasizes about nonconsensual "pussy-grabbing" and/or "fire and fury," and you crave the spanking or other type of humiliation that's coming to you.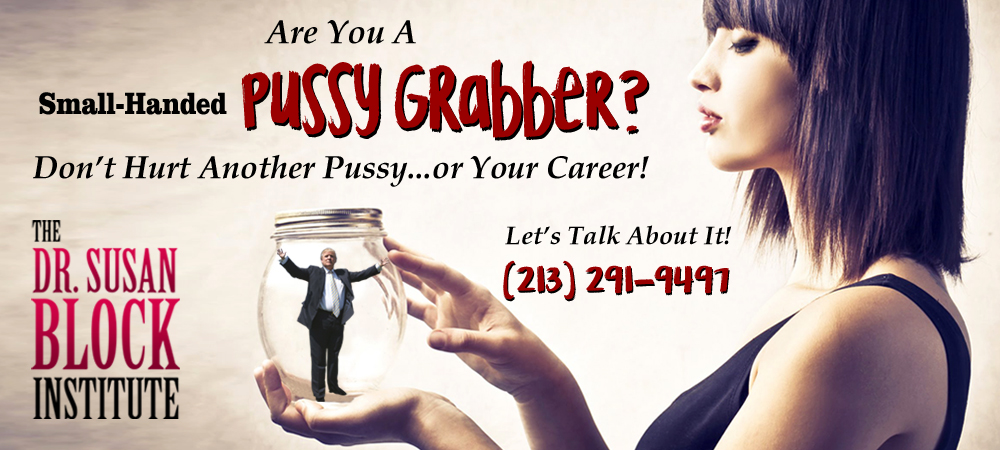 Regardless, rest assured that your privacy and confidentiality is absolutely guaranteed.
Need to talk with someone about something you can't talk about with anyone else? You can talk with us. The world-famous telephone sex therapists of the Dr. Susan Block Institute for the Erotic Arts & Sciences are just a phone call away, available anytime you need to talk, 24 hours a day. You can call us at 213.291.9497.
The Dr. Susan Block Institute
Established 1991
For more information, call our recorded line.
We're available 24/7, including all holidays.