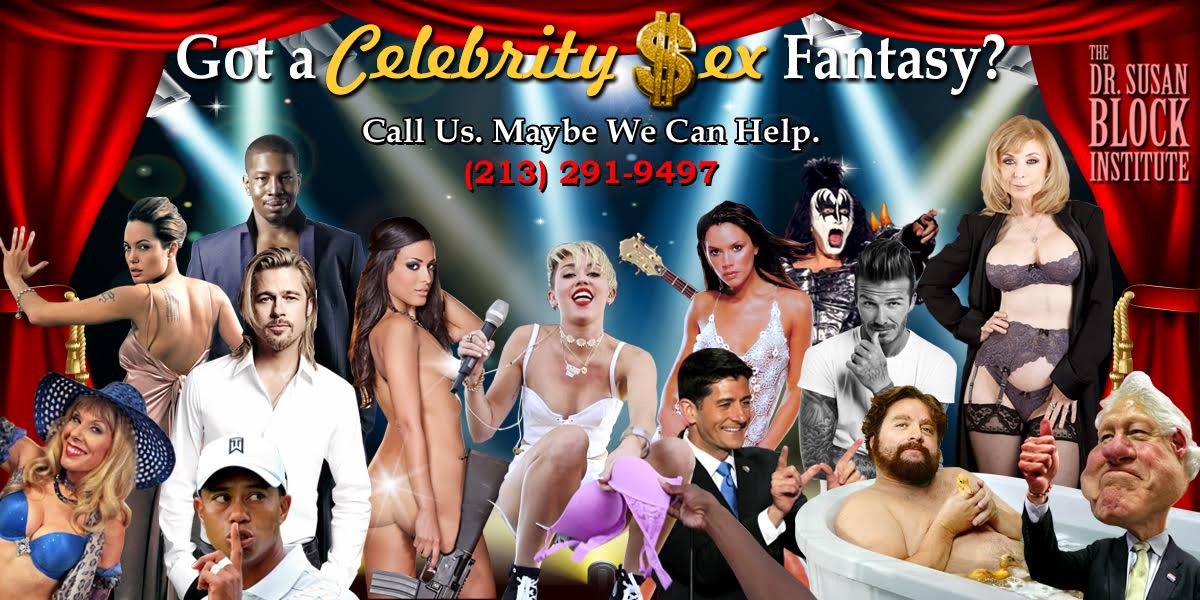 Call Now
213.291.9497
by Dr. Susan Block.
Do you have a secret crush on a sexy celebrity? You are not alone. Celebrity fantasizing is extremely common. Studies show that up to thirty-three percent of the human population fantasizes about famous people when masturbating. Sexual fantasies about well-known figures in film, music, politics, YouTube, fashion, sports or porn can be exciting, arousing, vicariously glamorous and sometimes even empowering. In many cases, partners can enjoy lighthearted celebrity sex fantasies together.  But for some, fantasizing about celebrities can cause tremendous shame, obsessive desires that can be difficult to manage, as well as disruption or inhibition of real-life love and happiness.
Why do you fantasize about famous people?
"But WHY am I sexually obsessed with this celebrity?" you may ask, and there are many possible answers to this question. Perhaps the object of your obsession reflects your personal ideal of what you'd like in a partner.  Then again, it could also be that the celebrity represents the opposite of the values than you were raised to uphold, which makes them "forbidden fruit," different, desirable, erotically exotic and enticingly unattainable.  
You may feel that you know your favorite famous person better than you know your own real-life lover(s), even though you actually don't know your beloved celebrity at all. The sheer accessibility of public figures – images, videos and details about their private lives – coupled with their actual, physical inaccessibility (some are surrounded by bodyguards) provides fertile ground for sexual fantasies to blossom.
With pornography so pervasive, it's no wonder than many people's fantasies revolve around adult performers, maybe even more than mainstream celebrities. Moreover, with porn stars, you get to know even more physical details, especially regarding their genitalia and erotic responses. Watching people have sex, often in close-up, as you masturbate, can make you feel incredibly close to the performer, without knowing him or her at all.
Then again, you might have intense sexual fantasies about celebrities who do not try to present themselves in an erotic light, for example, newscasters, daytime talk show hosts, famous doctors, religious leaders or professional athletes. The sky's the limit when it comes to imagining sex among the stars.
However, not all celebrity fantasy is about having sex. Many people imagine platonic "special friend" relationships with famous people, or even familial ones.  Again, there's nothing inherently wrong with this, and everybody who watches a film or follows someone they don't know on social media is, to some extent, fantasizing about celebrities. It's when the fantasy gets "out of control" and wreaks havoc with your reality, that the illusions can become a problem for you or others.
Another form of celebrity fantasy is to imagine that you are the famous person that you admire. This could be an actor, a rock star, a porn star, a politician or a preacher. You might imagine living that person's life instead of your own and even having sex as that celebrity, instead of as yourself. Very often, celebrity fantasies like these can be empowering, as the celebrity becomes a kind of role model in your mind. This sort of roleplay can enhance your sexual prowess and confidence. However, constantly imagining you are someone else can inhibit you from enjoying your own life.
Whether sexual, platonic, romantic or pornographic, if your celebrity fantasies are causing problems in your life, and you feel you need to talk about them, the therapists of the Dr. Susan Block Institute are here for you, 24/7, wherever you are, and whatever the nature of your celebrity fantasies. We can help you sort through whatever problems might arise from them, or if, on the other hand, you feel you don't have problems with your celebrity fantasies, we can help you to explore them in various ways, including roleplay in the Erotic Theater of the Mind, over the phone or via webcam, helping you to use your celebrity fantasies to enhance your own sexuality, and maybe even improve your life.  Call us anytime you need to talk at 213-291-9397.
Who knows, we might even be able to get you together – on the phone, cam or in person – with the celebrity of your dreams. We know a lot of people in Hollywood and around the world, and we've done it before. No guarantees, but it's also true that almost everyone has a price… especially celebrities.
What if your celebrity fantasies are ruining your life?
Does your fantasy of a spicy threesome with David and Victoria Beckham make your real sex life pale in comparison? With Brangelina broken up, do you dream or making either of them whole again, to the point that what happened to them is on the verge of happening to you?
Perhaps you're more dazzled by the more flagrant allure of porn stars. Is your interest in penetrating every hole of Penthouse Pet Layla Sin or your MILF fantasy with Nina Hartley putting a damper on your desire for your real life partner? Do you want to play with Isiah Maxwell's 11 inch joystick so bad that you can't find joy in what you have?
Maybe politicians turn you on. Do you imagine exchanging tighty-whitey shots with Anthony Weiner? Or maybe you yearn to have your own 'Lewinsky' moment, but include Hillary in the party this time? Even if you want to hump Trump… no topic is off limits in the Erotic Theater of the Mind. Call us anytime at 213-291-9497.
Then again, maybe your constant fantasizing about Kim leaving Kanye to start a new family with you is ruining the family you actually have. Would you rather masturbate alone to your fantasies about your crush than share intimacy with your partner? Do you find that you can't get aroused without focusing on your fantasy? No, it doesn't mean you're a "sex addict." But you might need some experienced and understanding help with sorting things out, which we can provide here at the Block Institute.
Some other markers to help you decide if you need help are:
– if you can't concentrate on your work because your mind is filled with your favorite celebrity
– if you shun most social contact, preferring isolation so you can be alone with your fantasy
– if you find yourself feeling very emotional about your celebrity crush, such as being jealous of their real-life partner, angry that they never respond to you on social media or depressed that they are not part of your real life
– if you are spending hours stalking your crush online or in real life, trying to physically go places where you think they will be
– if you feel guilty about your fantasies, as if you're cheating on your actual partner
Though celebrity fantasies are usually harmless and can even be beneficial, "celebrity worship syndrome" (defined, in part, by the above markers) is an obsessive disorder in which the "worshipper" becomes perilously involved with the details of a celebrity's personal life. Obviously stalking your favorite famous person is dangerous, criminal and could land you in jail. But the fallout from your celebrity obsession could be more subtle than that.
Whether your erotic obsession is with Bonnie Rotten or Pope Francis, if that "ideal" is keeping you from connecting with someone real, remember: The Ideal is the Enemy of the Real. And consider: you might benefit from some therapy.
If your fantasies are becoming problematic for you, your loved ones—or the celebrities themselves!—the therapists of the Dr. Susan Block Institute are here to help. Call us anytime at 213.291.9497.
What if your fantasies are contrary to your sexual orientation?
Does Woody Harrelson give you a woody even though you're straight? Or maybe a certain 'real housewife' has you secretly questioning your relationship with your real husband. Enjoying homoerotic celebrity fantasies does not necessarily mean that you'd be interested in pursuing a same-sex relationship in real life. Then again, it just might…
One reason you could have same-sex celebrity fantasies is that many cultures and social constructs consider homosexuality unacceptable, and engaging in something taboo can be exciting.  On the flip side, if you identify as gay, but fantasize about straight sex with celebrities, your natural bi-curiosity does not necessarily mean that is your "true" sexual identity. That's one of the benefits of celebrity sex fantasies: they help you to explore your sexual fluidity with someone you feel like you know, even though you really don't, in the Erotic Theater of the Mind.
Need to talk about it? Our therapists are available to help you explore. Call us anytime at 213-291-9497.
Fantasizing about celebrities can be a normal and beneficial sexual outlet whether you're single or married, male or female, young or old, straight, gay, bisexual or transsexual. There are healthy ways to explore your dreams and desires, no matter how outrageous or out-of-reach they might seem in your everyday life.
The therapists of the Block Institute provide a safe, comfortable and absolutely confidential environment to experiment with your favorite celebrity fantasies any which way you like. There are healthy ways to indulge in your fantasy life without doing harm in your real life. Imagine the fun of creating a movie in your mind with you as the star and your celebrity crush as the erotic interest – and of course you get the girl (or guy)! The experienced and understanding sex therapists at the Dr. Susan Block Institute can play out your fantasies with Erotic Theater Therapy, used in combination with other more traditional forms of sex counseling, helping you to enjoy living your Hollywood sex dream in your mind and still keep your real life on track. 
Whatever your desires, questions or concerns, we're here to help, 24 hours a day.  Call us anytime at 213-291-9497.
The Dr. Susan Block Institute
Established 1991
For more information, call our recorded line.
We're available 24/7, including all holidays.