Are you interested in interracial sex?  Do you prefer sex with partners of different races than yours—or do you at least like to imagine it? Do you have decidedly politically incorrect fantasies about exotic damsels or hyper-sexual alpha males from backgrounds, cultures or races other than your own?  Our Interracial Phone Sex Therapists are here 24/7 to talk with you about your deepest, most taboo desires, problems, pleasures, fantasies and fetishes. We are compassionate, knowledgeable, sexy, caring, and totally discreet. And no, there is no other phone sex or sex therapy service quite like ours when it comes to talking about interracial sex.
For information call 213.291.9497
 In an era of "race-blind" PC culture, why does the thrill of interracial sex continue to captivate so many of us? Though talking about it has become passé—at least in public—it's deeply embedded in our cultural thinking to imagine some races as earthier, bigger and "better" at sex; they're imagined to be more physical, masculine, dominant, confident or perhaps more animalistic.  Conversely, stereotypes have encouraged us to consider some races as more submissive or feminine. Whether it's true or not, the fantasy of a big black cock or a tiny Asian girl certainly stirs a lot of libidinous imaginations. Do you have "yellow fever?" Or perhaps it's the spicy latin flavor that makes you hot, hot, hot? Do you have a "thing" for natural blondes?  Of course, "once you go black, you never go back"—not after a huge black mandingo, that is.  Why are high-contrast images of blacks on blondes so popular?  Maybe you have bisexual interracial fantasies.  Or do you like to imagine your spouse or lover engaged in super steamy interracial sex, perhaps in a threesome, or with you as the cuckold?  Perhaps you eroticize the evil old master or mistress/slave relations of plantation days.  We don't agree with nor do we want to encourage these stereotypes.  After all, the most important fact is that we are all part of the human race.  But we do want to help you to understand your desires and decide whether or not to act on them.  We also enjoy helping you to act out your interracial desires—no matter how outrageous, bizarre, politically incorrect or just plain wicked they might be—through phone sex fantasy roleplay.  And you can call us anytime at 213.670.0066.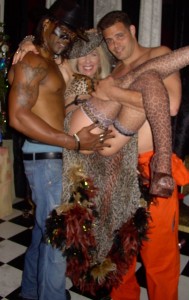 Interracial sex has had a long and fascinating history.  America's third president and writer of our Declaration of Independence, Thomas Jefferson, is said to have had an intimate sexual relationship with his slave Sally Hemings, siring several children with her.  Some of Jefferson's writings express his hope that Caucasians and Native Americans would interbreed and form an integrated race of people rather than engage in violence—clearly, he preferred his "Indian Wars" to happen in the bedroom. Nevertheless, interracial sex was illegal as early as 1691. Anti-miscegenation laws remained intact for many years because, according to some historians, the slave class had to be neatly distinguishable from the free classes. Even after slavery was abolished, interracial sex remained socially unacceptable. Meanwhile, rumors and stereotypes circulated around black male sexuality, propagating the idea that African-American men have bigger penises and greater sexual stamina and appetite. Today, interracial porn is a best-selling genre, with the majority showing a black man having sex with a white woman. Is it the intriguing visual contrast of ivory and ebony, the implied conquest, the tortured history or just the taboo quality of the interracial sex that turns some of us on so much?  If you need to talk about your interracial fantasies or desires, call us at 213.670.0066.
With so much interracial sex happening in the real world, Jefferson's fantasy may come true on an even larger scale than he imagined.  More and more people are clicking the box that says "mixed" on those forms that ask for your race.  Eventually, even the idea of "race" will cease to exist, and we will all be mixed.  But right now, the contrast of the human races in terms of color, size and other features—real or imagined—captivates a great many of our sexual fancies.  Race is a subject that makes many people uncomfortable, but at the Dr. Susan Block Institute for the Erotic Arts & Sciences, no subject is off limits for discussion, therapy or fantasy role-play. Maybe you can't talk to anyone else about these things, but you can talk to us.  We are here for you right now. Call our Interracial Phone Sex Therapists at 213.670.0066.