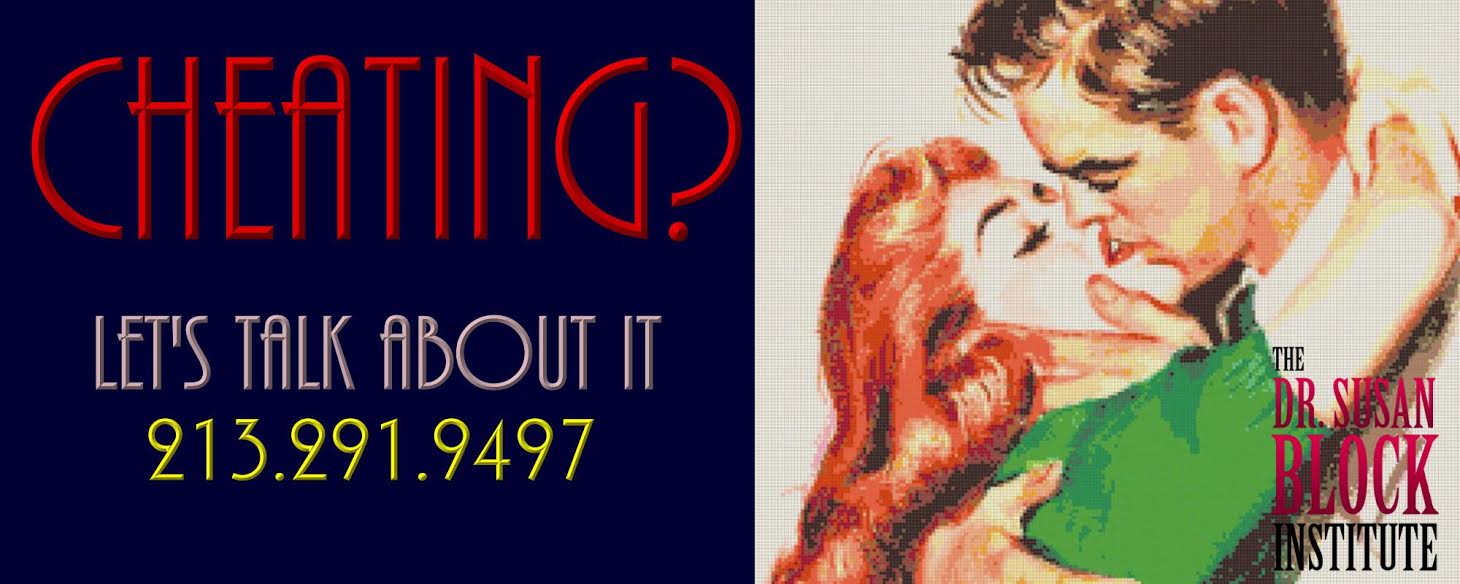 Call Us Now
213.291.9497
 Are you thinking about cheating?

Are you currently engaged in a secret sexual affair? Or maybe you're just curious, seriously considering having extra-marital sex, but it hasn't happened… yet.  Then again, perhaps you'd never actually do it, but you can't help fantasizing about it. Or is it the other way around: Do you think your spouse is cheating on you?  How do you feel about it? Devastated? Jealous? Enraged?  Excited? Aroused? Confused? Need to talk about your feelings?  Need help figuring out what to do, if anything?
The telephone sex therapists of the Dr. Susan Block Institute understand the thrill and the guilt, the dread and desire, the fantastic excitement and real life repercussions of infidelity, adultery, betrayal, duplicity, cuckoldry and cheating. Let us give you the kind of help you need right now. We're open 24/7.  Call us now or anytime you need to talk:
Need more information before you call? Keep reading to learn the different ways that "Cheating Phone Sex Therapy" with the Block Institute can help you.
 Are you currently cheating?
Are you now having an affair now and need to talk to someone about it? Are you sexually involved with a friend, co-worker or someone you met online, unbeknownst to your spouse?  Perhaps you're secretly seeing a "professional," such as an escort, mistress, masseuse or dominatrix. Are you committed to keeping your marriage (or other serious relationship) going, but driven by this insatiable urge to "cheat"? Is it the irresistible chemistry of your lover? Is it because your spouse will not have sex with you, or at least not in the way you want to have sex?  Or is it the taboo thrill of adultery itself that sexually excites you in ways your marriage alone never does?
Regardless of your reason for cheating, the burden of leading a double life is bound to cause you anxiety. Do you need to talk about it? We at the Block Institute are not here to judge you. We're here to help. That might mean helping you to better understand and cope with your desire to cheat, whether it's due to fixable problems with your spouse, your own natural promiscuity or something else. If you want to stop, we can help you to stop cheating. If you don't, we can help you negotiate your secret life with your more public life. Then again, maybe you just need an understanding, open-minded ear to listen to your story with compassion and empathy. Whatever you need to talk about, we're here for you.  Call us at 213.291.9497
 Do you think your spouse is cheating on you?
Are you suspicious that your spouse is having an affair? Are you wondering if the rumors of infidelity are true? Need help trying to determine if your suspicions are valid?  Are you unsure of the next step to take and want a plan of action? Your sense of betrayal, hurt, rage, excitement and confusion can be so overwhelming that it feels impossible to think, let alone act rationally. Experiencing a wide range of feelings–from fear to envy, anger to arousal, sadness to relief, aggression to depression, rage to lust–is entirely natural. If you need help dealing with these conflicted feelings, or figuring out what's really going on and/or deciding what to do about your suspected cheating spouse, the telephone sex therapists of the Dr. Susan Block Institute are here to help.  Call us at 213.291.9497
Are you considering having an affair?
Are you seriously thinking about looking outside your marriage for something you feel is missing: the thrill of sex with someone new? Are you desperately yearning for the kind of sex you can't have with your spouse? Do you troll Ashley Madison, escorting websites or your Facebook friend list, on the verge of getting into an extramarital affair? Do you need to weigh the pros and cons of cheating with an experienced expert who won't judge you, but will help you make some important decisions about your sex life? Of course, society frowns upon cheating—and for many good reasons. But sometimes having an affair is the "right" thing to do for various reasons, one of which might be that your sinking sex life is in serious need of a lifeboat. Sometimes, oddly enough, it can even save your marriage. Then again, maybe you're open to the idea of re-igniting the spark in your marriage. Dr. Block is an expert at "making marriage feel like an affair."  Whatever your personal concerns and desires are, if you are considering having an affair—or not—we can help.  Call us anytime you need to talk at 213.291.9497
 Do you fantasize about cheating?
Do you dream of having an affair, but want to steer clear of cheating in real life?  Does the fantasy of hot-blooded adultery turn you on, even though you're pretty sure the reality of doing it would turn your stomach, not to mention destroy your marriage? Do you think about having hot sex with people other than your spouse when you make love or masturbate?  Fantasizing is not actually cheating, of course, but it can feel almost as exciting as cheating–and it's a whole lot safer.
Have you ever used phone sex to role-play adulterous fantasies? Would you like to try?  Phone sex fantasy roleplay is an effective, exciting, discreet way to enjoy many of the erotic thrills of an affair without actually "having" one.  Phone sex is a relatively prudent expression of what Nathaniel Hawthorne called "lawless passion." If you're going to have an affair, it's better (and safer) to do it on the phone than in the flesh. At least, you won't get an STD. And at best, you'll get inspiration and ideas to improve your love life with your spouse without entangling your body, not to mention your body fluids, with somebody else's. In any case, you won't get lipstick on your zipper, or semen on your dress.
The relative safety of phone sex often involves deeper, more complex feelings than concern over STDs. The phone is a stage upon which you can act out your wildest fantasies, a telephonic erotic "Theatre of the Mind" that allows you to safely explore dangerous, taboo desires. Whatever the nature of your adulterous fantasy, we're here to help you to express it, enjoy, contain  and deal with it in as positive a way as possible with the least danger to your marriage, work, family or any aspect of your "real life."
Is phone sex cheating?  Not inherently. Though if you keep your phone sex a secret from your partner, you feel like you're cheating, and if you feel like you're cheating, you probably are. But if you feel compelled to embark upon an affair, and you want to keep things as safe as possible, better to share your lawless passion chaperoned by your telephone.  For phone sex fantasy roleplay, call us anytime at 213.291.9497
 Do you fantasize about your wife—or future wife—cheating on you?
It goes against conventional wisdom that a married man–or even a divorced or single man—would be excited by the fantasy of his wife—or future wife, girlfriend or ex–cheating by "cuckolding" him.  But this type of cuckold fantasy is a lot more common than you might realize, and it is one of the areas in which the telephone sex therapists of the Block Institute specialize. So if you find yourself aroused by cuckold fantasies like this, rest assured you're not alone.
Besides being about your wife having an affair with another man, this type of cuckold fantasy can be loving or wild, sensuous or kinky, or a combination.  It may involve domination, voyeurism, bisexuality, humiliation, interracial sex, feminization, penis size fetishes, striptease, bondage, teasing, oral, anal and many other types of sex that certainly do "spice up" that sacred marital bond—even if you never do any of it in real life. For more information about your cuckolding or hotwifing desires, see Dr. Block's article on "sperm wars."
Whether or not you act on these desires, it's always a good idea to talk about them to someone knowledgeable.  Dr. Block can help you to understand your feelings in order to determine what you might want to "act out," and what is better kept in the realm of fantasy. Sometimes you just want to leave reality for the moment and enter the magical erotic world of fantasy roleplay, and you can do that with Dr. Block or one of our cuckold phone sex therapists.
And yes, of course, you can masturbate (if you want), during sessions.  And no, there is no other phone sex or sex therapy service quite like ours.
Call us anytime at 213.291.9497.
The Dr. Susan Block Institute
Established 1991
For more information, call our recorded line.
We're available 24/7, including all holidays.