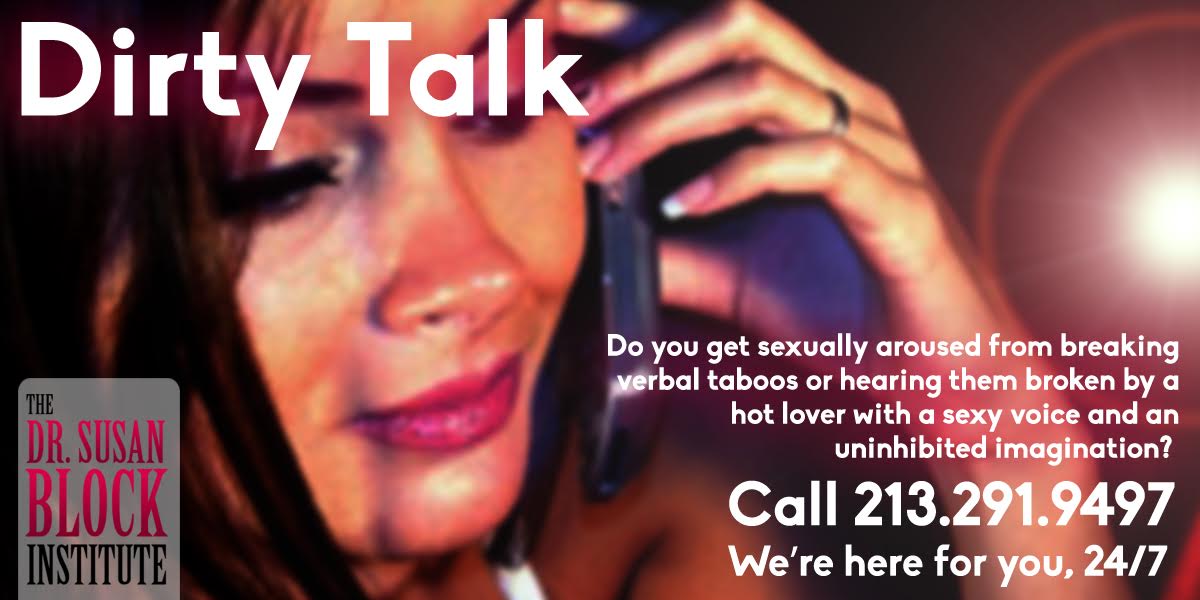 For 24/7 Information, Call 213.291.9497
Do you like to "talk dirty"? Do you get sexually aroused from breaking verbal taboos or hearing them broken by a hot lover with a sexy voice and an uninhibited imagination?  Many people are offended, insulted, shocked or just put off by "dirty talk," so-called "four-letter words," "obscene," "indecent" or "vulgar" sexual terminology.  Of course, this offensive aspect of talking dirty is a key reason that so many other people find it to be highly erotic.  Sometimes we need to be "bad" to feel good, and using "forbidden" words and phrases for various sexual activities is an easy, relatively harmless way to get that naughty, nasty, or even filthy feeling that can make you feel so fantastic.
 Here at the Dr. Susan Block Institute for the Erotic Arts & Sciences, we understand the sexual, healing power of talking dirty.  Though we are, for the most part, educated, empathetic, verbally adept and considerate, we also believe that dirty talk can be a valuable component of fantasy role-play, BDSM play, relaxation and/or guided masturbation.  And some of us just love it!  So…need to talk dirty, hear dirty talk, learn to talk dirty or get tips on how to get your lover to talk dirty with you?  Call us now or anytime at 213.291.9497.
For some people, "talking dirty" is like speaking an exotic, intensely sexual language.  Just as traveling to a foreign land can ignite a romance in a flagging libido, so can "dirty talk" provide a "brain vacation" that carries you away from the stressful and tedious reality of politically correct discourse, taking you to a place where you can say all that is usually forbidden and let loose the wild lover within you as you experience the erotic pleasure that you usually repress.
Of course, a page about "Talking Dirty" isn't complete without some dirty words.  So here's a list of just a few of the more popular ones (starting with the late great George Carlin's famous "seven dirty words" you can't say on TV).  WARNING: If  you are under 18, or if real "dirty talk" with real "dirty words" offends you, do not read any farther….
fuck
cunt
piss
shit
cocksucker
motherfucker
tits
pussy
twat
hole
slit
cock
dick
balls
ass
asshole
whore
bitch
slut
etc.
If you don't see your favorites, give us a call at and let us know what we should add!
Whether you need to talk dirty, clean, clinical, intellectual, sensual, romantic, analytical, playful or wild, we're here for you.  Give the world-renowned sex therapists of The Dr. Susan Block Institute a call anytime you need to talk.  For information, call 213.291.9497
The Dr. Susan Block Institute
Established 1991
For more information, call our recorded line.
We're available 24/7, including all holidays.