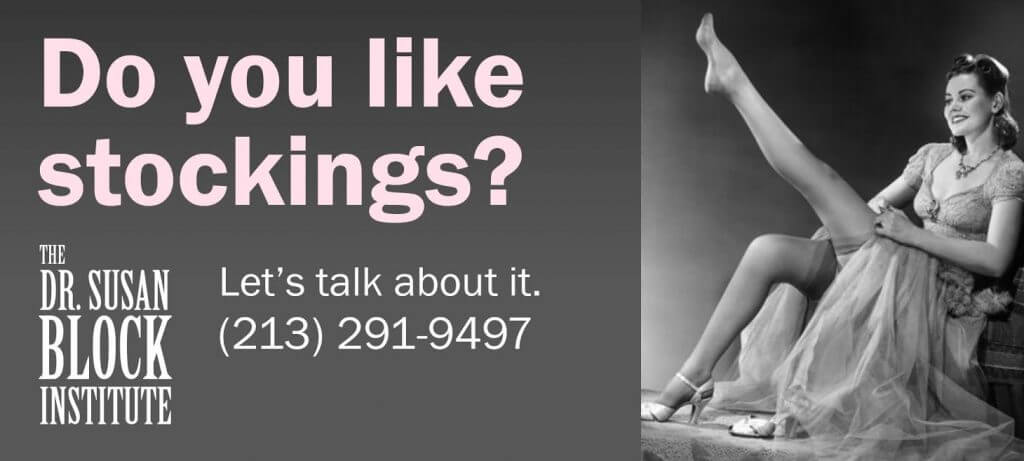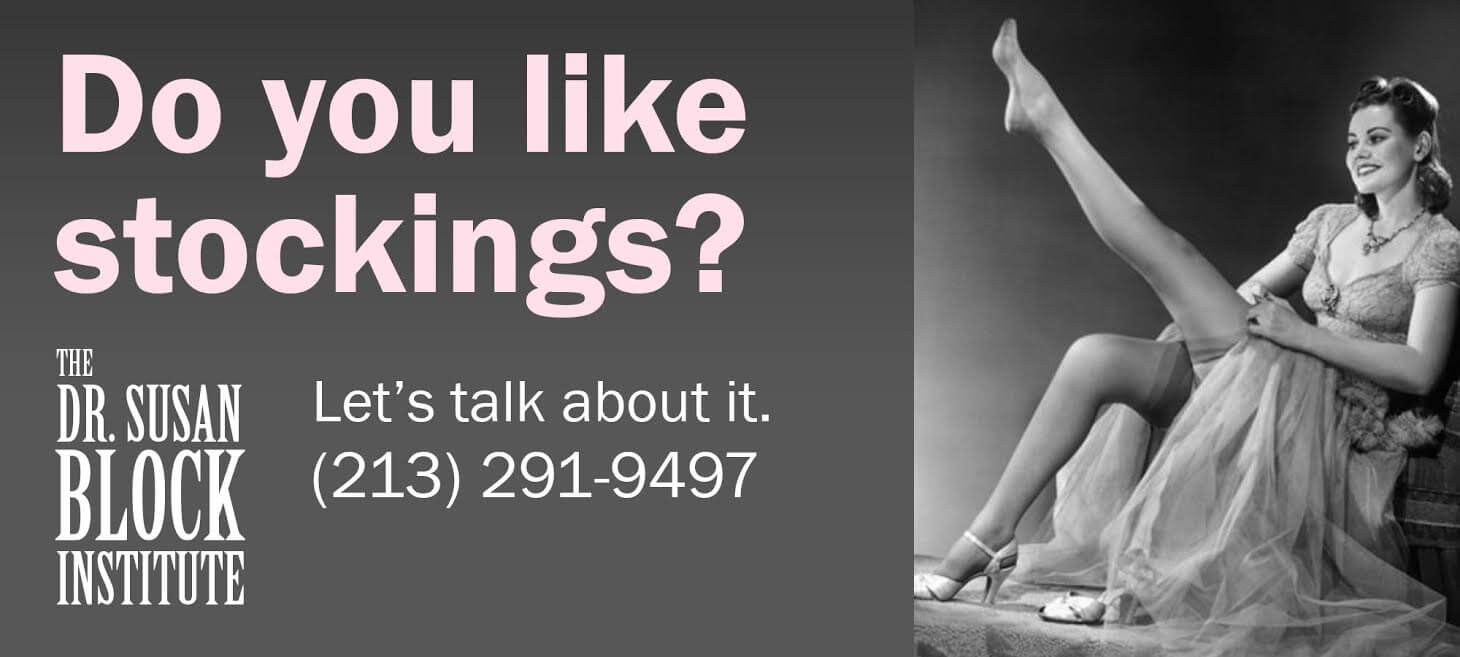 Call Us Now:
213.291.9497
 Don't you love the way a pair of fine, silky-smooth nylons accentuates the length and shape of a gorgeous pair of legs ending in a hot set of high heels—or maybe just sexy "stocking feet"? Do you like naughty garters and old-fashioned, back-seamed stockings or lace-trimmed thigh highs? Perhaps you prefer the fuller coverage of classic pantyhose completely encasing legs, crotch and buns in a tight but ever-so-flexible "second skin" of sheer nylon.
 Do you need to talk about your feelings about nylons, stockings or pantyhose?  Call the Block Institute at 213.291.9497.  Several of our telephone sex therapists are experts in this area of fashion and fetish.
 There are so many ways to enjoy the sensual, sartorial magic of fine hosiery…
 Stockings incite our senses of sight, touch and smell.  Maybe you long to worship, touch, stroke, kiss or sniff feminine feet and legs wrapped like presents in silky nylon or teasing fishnets. Or is it the sight of a charmingly round rump peeking out from above a pair of saucy thigh-highs under a short skirt that arouses you?  A pair of sweet, innocent, white knee socks under a school uniform?  Or a slinky catsuit or bodystocking sheathing everything in translucent hosiery?
 Nude, black or multi-colored, pantyhose conceals as it reveals all that is forbidden below the belt.  Perhaps you enjoy the feeling of silky, ultra-sheer pantyhose on your own legs and crotch. Or maybe you just like to play with stockings, wrapping them around your most sensitive body parts for that ineffable, erotic sensation.
 Of course, ladies who like to wear nylons usually have no problem putting them on, showing them off and finding partners with whom to enjoy them.  Most men like ladies in nylons. But what about men who like to wear them?
 That wonderful feeling that so many men get from playing with or wearing "ladies'" hosiery can be tremendously arousing, extremely relaxing or an intensely pleasurable combination of arousal and relaxation.  Maybe you started playing as a child or teenager with your mother's, sister's or aunt's stockings or pantyhose, or perhaps you were inspired by your first girlfriend, a special lover, lingerie catalogue or some other catalyst.
 Do you need to talk about it with someone who "gets" it?  Talking about the source of your feelings for nylons can help you to enjoy them in healthier ways.  It can also be very exciting.  Call our 24-hour Hosiery Help Hotline at 213.291.9497.
 It's important to talk about this with someone who understands, because in addition to the pleasurable feelings, the stocking or pantyhose lover—or fetishist–may also have feelings of deep anxiety, confusion,  guilt or shame about his nylon desires.
One source of this anxiety lies in the fact that contemporary society considers fine hosiery to be for *women only* to wear.  It hasn't always been so.  In the 18th century, many very manly men (like George Washington, Thomas Jefferson and our other Founding Fathers) wore silk stockings and high heels on a regular basis without any fear of being considered effeminate. In the future, hosiery for men might well make a fashion comeback.
But at the moment, society tells men who enjoy wearing stockings and pantyhose that there is something too feminine or just plain *wrong* with them.  Sometimes that makes a man's hosiery fetish even stronger, spicing up the natural pleasures of sheer nylon with the erotic zing of crossing the threshold of the taboo.
But it can also exacerbate anxiety, guilt and shame.  Many men are so ashamed of their stocking fetish that they feel they can't or won't share it with anyone, even their own wives.
 Everyone deserves privacy, especially in that most private of realms, the world of sexual desire.  But keeping strong fetish feelings all to yourself can be very stressful and confusing.  Of course, it can be dangerous to tell people you know, even—or perhaps especially–people who love you.  Talking to an understanding sex therapy professional is usually your best bet.  Call the Block Institute at 213.291.9497.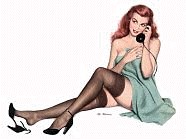 We can help you grapple with the important questions.  "Why do I like this so much?" you may wonder. "Am I a stocking fetishist or pantyhose addict? Can I stop or should I embrace my  fetish?  Does this mean I want to be a woman or just that I like to wear nylons?  Does this mean I want to be with men?  Or do I just want a woman to accept me for me nylon fetish?  Can I share this with someone I love or is this just a private indulgence?"
 Unlike most sex therapists, we can also help you to enjoy the sheer fun of your stocking or pantyhose fetish through fantasy exploration, role-play, guided masturbation, nylon play, stocking shopping therapy and erotic hypnosis.
 Call 213.291.9497, any time, day or night.
The Dr. Susan Block Institute
Established 1991
For more information, call our recorded line.
We're available 24/7, including all holidays.