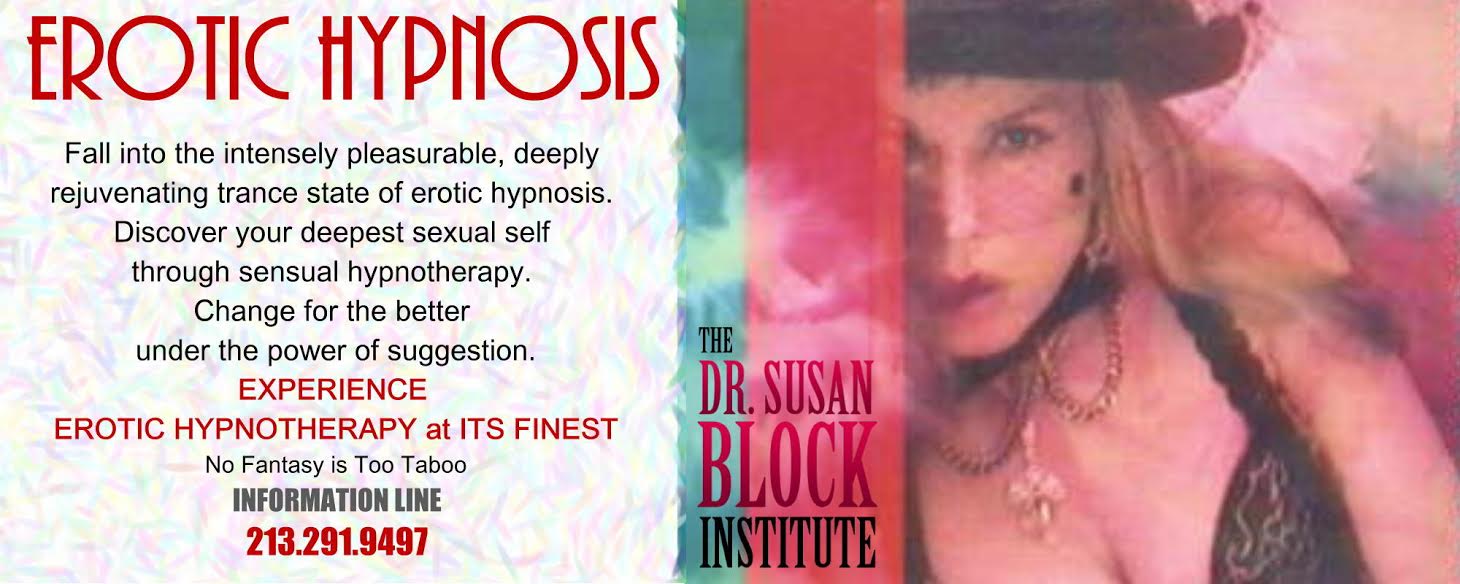 Call Us Now:
213.291.9497
Erotic Hypnosis & Hypnotherapy by Phone
Would you like to experience Erotic Hypnosis at its finest? Let world-renowned sexologist and erotic hypnotherapist Dr. Susan Block, or one of the Block Institute's other therapists, take you on an exciting yet relaxing journey into the deepest parts of your sexual psyche, the Erotic Theater of the Mind. She (or he) will put you into a sensuous trance state that opens your heart to your truest, most personal desires.
Did you know that your most powerful erogenous zone is right between your ears, deep inside your mind? There's a multiplex of movies playing in the Erotic Theater of your mind, and each one has a special sexy message just for you. With erotic hypnosis, you can access the hidden secrets of your sexuality to achieve your very highest levels of arousal, climax and relaxation, as well as erotic actualization.
Escape the stress, superficiality, hypocrisy and the tension of the everyday.  Make positive changes, deep transformations you might never make on your own, with the help of erotic hypnosis. Go under the spell of a powerful feminine (or masculine) voice, an aural adventure. The world-famous telephone sex therapists and erotic hypnotherapists of the Dr. Susan Block Institute for the Erotic Arts & Sciences are available 24 hours a day. For information, call 213.291.9497.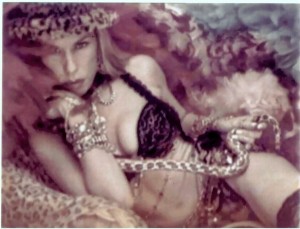 Fall into the intensely pleasurable, deeply rejuvenating trance state of erotic hypnosis. Discover your deepest sexual self through sensual hypnotherapy. Change for the better under the power of suggestion, with the help of special "trigger words" created just for you that will extend your hypnotherapeutic experience into the everyday.  Experience "Guided Fantasy." No Fantasy is Too Taboo.
Do you long to surrender your will, at least temporarily, to the hypnotic erotic mind control of a beautiful powerful mistress or master? Be the total sex god, goddess, slut, slave or object of desire you've long dreamt of being. Experience the therapeutic effect of hypno conditioning. Reduce stress, gain confidence, lose inhibitions, explore fetishes, prolong erections, intensify orgasms, increase carnal desires, unleash the animal within you, release your sexual potential. Awaken that erotic part of you that is usually only awake when you are asleep, under the tremendous power of erotic hypnosis.
Now Playing on DrSuzy.Tv: HYPNOTIST Jacqui Holland on The Dr. Susan Block Show!
See Institute director and chief erotic hypnotherapist Dr. Susan Block, with Danièle Watts, Chef Be*Live on THE DOCTORS with Dr. Travis Stork, Dr. Nita Landry and Dr. Drew Ordon discussing erotic hypnosis & hypnotherapy right here
To Speak With Dr. Susan Block or one of our other erotic hypnotherapists, Call 213.291.9497.
The Dr. Susan Block Institute
Established 1991
For more information, call our recorded line.
We're available 24/7, including all holidays.