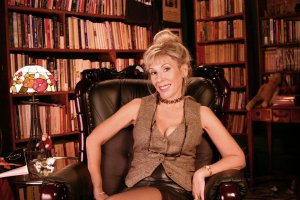 Call Us Now:
Are You Quick On The Trigger, Sexually Speaking?
Find yourself coming before your partner's even gotten going?
Want to learn to slow down, enjoy sex more and satisfy your partner?
Want to enjoy more passionate lovemaking & bigger orgasms, instead of inadvertently shooting your wad before you can say "Oops, I did it again"?
Call the Dr. Susan Block Institute
Free 24-Hour Sex Therapy Info Line:
213.291.9497
"Over the years, I have "ejaculation-trained" thousands of men from all over the world. And no, I haven't had the pleasure of having sex with all of them. Most ejaculation training takes place over the phone during the process I call telephone sex therapy. Through deep relaxation, guided masturbation, anatomical education,  erotic hypnosis, PC muscle exercise training,  tease and denial,  sensate focus, fantasy roleplay, the stop-start technique other methods, I help men of all ages last longer, please their partners and climax with much bigger, more orgasmic ejaculations than they ever experienced as Sexual Quick Draw McGraws."
Susan Block, PhD
For more info on how to deal with premature ejaculation, read Dr. Susan Block's
PREMATURE EJACULATION COMBAT TIPS & TECHNIQUES.
Interested in Guided Masturbation by Phone or by Webcam? 
Call
The Dr. Susan Block Institute
The Orgasm Specialists
Free 24-Hour Sex Therapy Info Line: 213.291.9497

The Dr. Susan Block Institute
Established 1991
For more information, call our recorded line.
We're available 24/7, including all holidays.