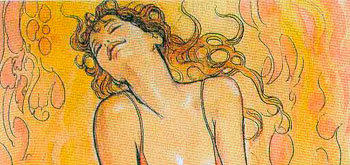 Call 213.291.9497

Virgin, huh? That's got to be tough. Whether by choice or by circumstance (or both), the overwhelming mythology we subscribe to in today's society is that it's the norm to lose your virginity by the time you're out of your teens. Even as prudish, vanilla, hypocritical, and somewhat oppressed as some parts of this society may be, this is the undercurrent of the modern world. Maybe it shouldn't be that way, and maybe some people are happy as virgins. Maybe you're one of them! Even so, if you've reached your 20s and you still haven't had sexual intercourse, for better or worse, you're considered "outside the norm."
This has to impart some psychological toll. You might feel like a throwback, an outcast, a loser, confused or just plain frustrated.  Maybe you want desperately to lose your virginity, but don't know how, under your circumstances. Maybe you're not so eager, but you still want to talk about your feelings, desires and options with someone who understands and isn't going to judge you or make you feel awkward. Perhaps you're not sure what you want; you just know you need to communicate, to sort it all out.  But you'd feel weird talking about this to friends or family, let alone clergy, and understandably so.  You may not even feel comfortable discussing this with a regular therapist or counselor.  But you know you need to talk about it with someone with expertise and compassion, someone who can help you.
That's what we're here for at The Dr. Susan Block Institute. We're cutting-edge sex therapists, and we talk to all types of people, with all types of sexual problems, issues, questions, kinks, desires, fantasies, fetishes and hang-ups. In fact, some of us have been through many of these issues ourselves. We speak from personal experience as well as professional expertise.  Dr. Susan Block and her team has helped thousands of men and women from all over the world, including a number of sexual virgins.
If you want to "lose" your virginity, we can help you to find an appropriate and desirable sexual partner, just as we've helped so many others in similar situations—sometimes after decades of trying with no luck (some of these have gone on, in fact, to become sexual dynamos)!
If, on the other hand, you want to remain a virgin—perhaps until marriage or maybe for life—we can help you to cope with your sexual feelings, frustrations, beliefs and fantasies in a positive, pleasurable and enlightening way.  Just because you stay a virgin doesn't mean you have to be sexless or lonely. No matter what your particular situation, being a sexual virgin shouldn't be a life sentence to emotional solitary confinement.
Does being a virgin or the fantasy of being a virgin, or perhaps being "deflowered," turn you on?  What about the other side of the virgin sex coin? Do you have a "virgin fetish"? Do you want to do the deflowering? Does the sexual inexperience and erotic innocence of virginity turn you on? The "virgin fetish" has captivated the erotic minds of billions of men and quite a few women since the dawn of civilization. It's one of humanity's more common fetishes. And yet it can be extremely problematic, since once you've deflowered your virgin, he or she is no longer a virgin. So where do you go from there? Fantasy roleplay is a safe and exciting alternative. Therapy to help you understand where your virgin fetish comes from and how to handle it, also helps
Whatever your circumstances, whether you are a virgin, you fetishize virgins or you just had sex in the tiny WC of Virgin Airlines, whether you want to make a change, explore a fantasy or you just need to talk, you can talk to us.  For telephone sex therapy, webcam, sext therapy from anywhere in the world, or for in-person counseling at our offices in Los Angeles, you can call us anytime.  We're here for you every day, 24 hours a day, seven days a week.  Call us now!  Whenever you need to talk, you can call the sex therapists of the Dr. Susan Block Institute at 213.291.9497.
The Dr. Susan Block Institute
Established 1991
For more information, call our recorded line.
We're available 24/7, including all holidays.