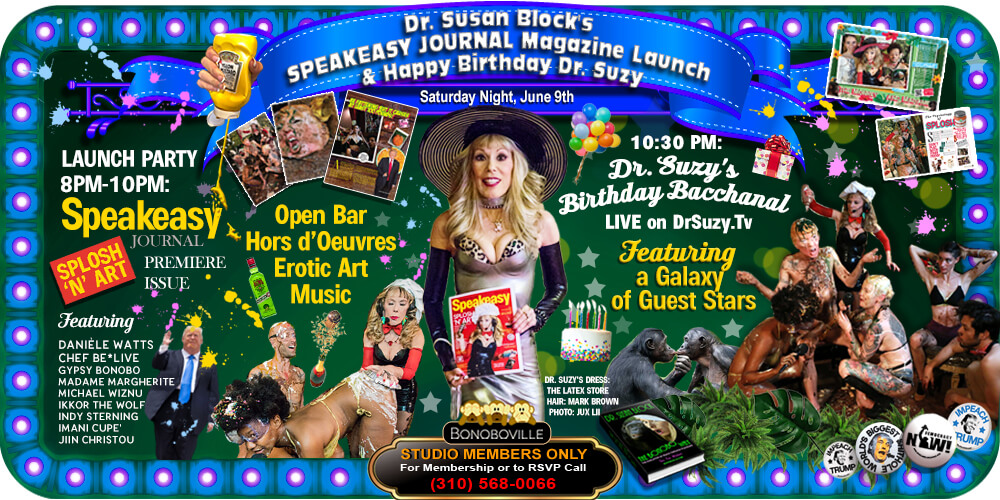 This Saturday night, June 9th, 2018, The Dr. Susan Block Show goes bonobos for our very own Dr. Susan Block as we celebrate her birthday in style! Before we get to the on-air Birthday Bash, we start the evening off from 8pm to 10pm with the Birth of a Magazine, a launch party for Dr. Suzy's new Speakeasy Journal! Filled with unique, erotic, and engaging pictures and articles, the magazine is perfect for all sapiosexuals. The first edition: "Splosh 'n' Art" features Daniele Watts, Chef Be*Live, Gypsy Bonobo, Madame Margherite, Imani Cupe', Michael Wiznu, Ikkor and more.
Joining our host and Bonobo Way author Dr. Suzy for the show will be her husband, executive publisher and "reader-written publishing" pioneer, Capt'n Max, plus a bevy of All-Star guests including Goddess Phoenix, Lexi Lore, Madame Margherite, Rhiannon Aarons, Mistress Kara, Lexi Mansfield, Janelle Hopkins, Jezebel Sweet, Ron Jeremy, Daniele Watts, Chef Be*Live, Rocky Foxx, Lillith Lust, Surka Noelle, Jack Friday, Christianna Cinn, Chynna Doll, Jesse Prather, Tyler Daniels, Professor Oni, Danni Dawson, Moushumi Ghose, Wry Mantione, Deryk Wilder, Shana Lay, Selina Minx, Imani Cupe', Greg Friedman, Madam Raven Rae, Slave Winnie, Mistress Tara Indiana, Shaminatrix Missy Galore, Isiah Maxwell, Nori Carter, FreekBALL, Frank Thomas, James McGuffin, Nicole Samrand, Riz Story and more, including Dr. Suzy's fabulous Ass. Producer Phoenix Dawn and Bonoboville's star hip-hop artist Ikkor the Wolf.
Dr. Susan Block's Speakeasy Journals are based on the history, philosophy, therapy, politics, photography and archives of The Dr. Susan Block Show, spanning 30 years of broadcasting and performance art. The theme of this premiere print edition is "Splosh 'n' Art," featuring a Commedia Erotica cast of artists, exhibitionists, vegan chefs, junk food lovers and FemDoms, showcasing the convergence of food and sex through art and kink. "Sploshing" is erotic food play. Sploshers spray, drip, dump, rub, mush or cover each other in foods of different flavors and textures. As you'll see, things get a little messy. But that's the beauty of splosh… and art. This issue explores such delicious subjects as playing with food, the psychology of splosh, faux cannibalism, "sploshgasms" and (of course) sploshing Trump. This first issue is a must for collectors of print media, researchers, human sexuality students, art enthusiasts, adventurous couples, think-outside-the-boxers, political resisters, food fetishists and splosh lovers. It's unique, fun, informative, and a great way to spice up your sex life! All issues of Dr. Block's Speakeasy Journal are dedicated to saving one of humanity's closest living relatives, our kissing cousins, the highly endangered, "make love not war" bonobo apes.
Click Here to RSVP to attend the Speakeasy Journal Launch Party and Live DrSuzy.Tv Show in the "Speakeasy" studio audience this Saturday, or call 626.461.5950 (you can call anytime; someone is always here). Studio doors open at 8pm. Studio Members FREE. Membership Has Its Pleasures.
If you are a journalist, media personality or blogger and would like to review Dr. Susan Block's Speakeasy Journal and/or attend the launch, call 626-461-5950 and ask for Dr. Block's administrative assistant, Roxanne Milner.

"Dr. Suzy's B-Day & Speakeasy Magazine Launch Party" will broadcast LiVE from Bonoboville on The Dr. Susan Block Show this Saturday night, June 9th, 2018, 10:30pm-Midnight PST. It can be viewed on DrSuzy.Tv or in Bonoboville where you can also chat live in the Bonoboville Studio. This show and all past shows can be viewed in archives on DrSuzy.Tv and can be heard free on DrSusanBlock.com.
Call-In During the Live Broadcast: 1.866.289.7068. Tweet comments and questions to @RadioSUZY1 and @DrSuzy. 
This week's live broadcast sponsored by Sybian, Condomania, Glyde America ALL-VEGAN Condoms, Motorbunny, Agwa Cocoa Leaf Liqueur, Cannabelly & JuxLeather.
The Dr. Susan Block Show is produced by The Dr. Susan Block Institute for the Erotic Arts & Sciences, an international center for sexual expression, therapy and education, based in LA, founded in 1991 by Susan M. Block, PhD, world-renowned Yale-educated sexologist, best-selling author and host of HBO specials. The Institute's mission is to help individuals, couples and communities enhance their sexuality and improve their lives based upon Dr. Block's philosophy of Ethical Hedonism and The Bonobo Way of Peace through Pleasure. A portion of all proceeds goes to help save the highly endangered "make love not war" bonobos from extinction in the Congo and to promote the Bonobo Way around the world.
Enjoy a BONOBO SPRING


The Bonobo Way: The Evolution of Peace through Pleasure is the ultimate antidote to the fear and hatred that is driving us apart. Give it to someone you love, even if that someone is you.

The Dr. Susan Block Institute
Established 1991
For more information, call our recorded line.
We're available 24/7, including all holidays.