by Dr. Susan Block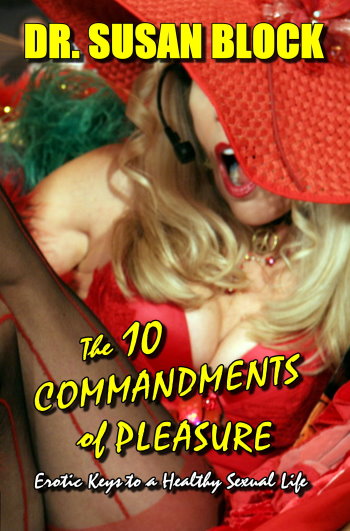 NEW & REVISED EDITION NOW ON SALE for
OUR DISCOUNT HOLIDAY PRICE of $22.95
ORDER BY PHONE 24/7:
Call
Get The 10 COMMANDMENTS of PLEASURE on KINDLE
The Dr. Susan Block Institute is Pleased to Announce the Third English-Language Edition of Dr. Susan Block's Critically Acclaimed, Best-Selling, 5-Star Bible of Sex, Love and Peace on Earth: The 10 Commandments of Pleasure
This Gorgeous Full-Color Cover Third Edition Features NEW Chapters not in the First or Second Editions, such as Geyser of Desire: Female Ejaculation and Sperm Wars. The Third Edition also includes updates to several chapters, such as The Bonobo Way, G-Spot Hunting, and The Male P-Spot, plus more yummy Recipes for Sweet Tastin' Semen !
Praise the Lady! And The Book…
"Dr Susan Block's 10 Commandments of Pleasure are the best to come around in the past 2000 years. Bravo!"
Nina Hartley, adult film actress & sex educator
"Thank you, Dr Suzy, for showing me that sex education can be sexy."
Sheila Nevins, Executive VP, Director of Late Night, Documentary and Family Programming HBO
"The 10 Commandments of Pleasure is a masterpiece. A must-read for all! Thank you, Dr. Suzy, for providing us with an alternative to the horrible Dr. Laura."
Reverend Bob Bookburn, WPEB-FM, Philadelphia
"Dr. Susan Block is America's hottest sex therapist, dispensing wisdom from her boudoir and taking the bonobo chimps as her model for the perfect sexual philosophy. Her extremely enjoyable, informative book, The 10 Commandments of Pleasure, tells us how we can find the same person horny the rest of our lives."
Jan Birks, Forum Magazine
"Dr. Block's book is a pleasure seldom equaled…a jewel of arousing, practical and refreshingly accurate information that ought to be at the bedside of every couple in America."
Dr. Robert McGinley, President of The Lifestyles Organization
"Dr. Susan Block is a genius…She has helped thousands become more sexually satisfied with her TV show and her book The 10 Commandments of Pleasure… She is my idol."
Laura Moore, Sex Heals, Penthouse Magazine
"If I were Queen for a Day, I'd make The 10 Commandments of Pleasure mandatory reading!"
Sharon Peters, Libido Magazine
"Thank God for sexpert Dr. Susan Block, who has the courage to continuously affirm her deeply-held faith in fishnet stockings and other family values…Dr. Block is one of the nation's leading sexologists, and a very bright and funny woman to boot."
Robert Scheer, The Los Angeles Times
"Dr. Susan Block's 10 Commandments of Pleasure is playful, profound and utterly sensible–a charmingly taught cure for sexual stupidity that's bound to raise the nation's erotic IQ"
Dr. Carol Queen, Author and Director of the Center for Sex and Culture
"Any man who follows Dr. Suzy's 10 Commandments of Pleasure will have women eating out of his hand. Any woman will have men groveling at her feet."
Dr. Tracy Cabot, Author of How to Make a Man Fall in Love with You
"This is a good fucking book! And a fucking good book!"
Richard Pacheco, The Spectator
"Brilliant, sexy and deliciously intellectual."
Art Kunkin, The LA Free Press
"If you require a new suit, you seek out a great tailor. If you need surgery, you track down the finest doctor… When it comes to love, sex and relationships–nobody dishes it up better than Dr. Susan Block."
Robin Leach, TV host of Lifestyles
"Dr. Block is the Erin Brockovich of the Bonobo."
Deirdre Guthrie, Salon Magazine
"Dr. Suzy is the 21st century Masters & Johnson."
Ellen Thompson, AVN Magazine
"Read a commandment a night. It will give you new ideas that will rock your lover's world… Dr. Block speaks directly, for which I heartily applaud her."
Kris Booth, about.com
"Excellent and very much worth the money! Awesome! I'm in my 40s and this tape taught me new things to make my husband happy and he's noticed the difference. It also was right-on in telling the woman's point of view for my husband to hear; this tape said things I hadn't been able to. It's a great couple communication tool. Enjoy!"
FIVE STARS Amazon
"Sane, Funny, Informative. A wonderful book that looks at sexuality with much needed sanity. Dr. Block is funny, sexy, and gives much needed direction for any couple or single person. A "Great Read", and must for anyone who is interested in sexuality"
FIVE STARS Amazon
"Dr. Suzy is the best!"
Ron Braverman, CEO, Doc Johnson
"This book has changed my life! I was a sexual miscreant, but after delving into Dr. Susan Block's masterpiece, I emerged a sexual dynamo, crackling with the newfound libidinal energy unleashed through her techniques. If you'd like to give your sex life a swift kick in the pants, this book is for you!"
FIVE STARS AMAZON
"Dr. Susan Block is the most popular seminar leader at Lifestyles Conventions…Copies of her book The 10 Commandments of Pleasure are passed around the beach…Refuting those who call hedonists mindless and Godless, Block reconfigured some age-old irreconcilables by claiming the lifestyle did not necessarily take one away from spirituality or from leading the kind of unselfish, "good" life that benefited oneself and humanity…The extremely colorful Block had even applied evolutionary logic to Cyrenaic thought, coining the term 'primemates' to describe the happy halves of a hedonist marriage and establishing the Block Bonobo Foundation "to educate individuals in The Bonobo Way, that is, how these chimps use sex to create and maintain peace through pleasure in their societies."
Terry Gould, "The Lifestyle: A Look at the Erotic Rites of Swingers"
"Yum! It really works and works and works!"
Max Lobkowicz-Filangieri, Dr. Block's husband 🙂
Dr. Susan Block's 10 Commandments of Pleasure is a Literary Guild Selection, a Doubleday Book Club Selection and a Doubleday Health Book Club Selection.
The power to give pleasure is the greatest power you have. Give the Gift of Pleasure in this beautiful, classic, unforgettable book to your lover, your husband, a friend, your cousin, your hairdresser, your congressperson, or just savor it yourself. A brilliant, irreverent, yet warm, ultra-sensual and super-helpful classic that guides the reader in leading an erotic, healthy sexual life, giving and receiving pleasure.
Order Dr. Susan Block's 10 Commandments of Pleasure by Phone Anytime 24/7:
Call
[AMAZONPRODUCT=B002AD5LF4]