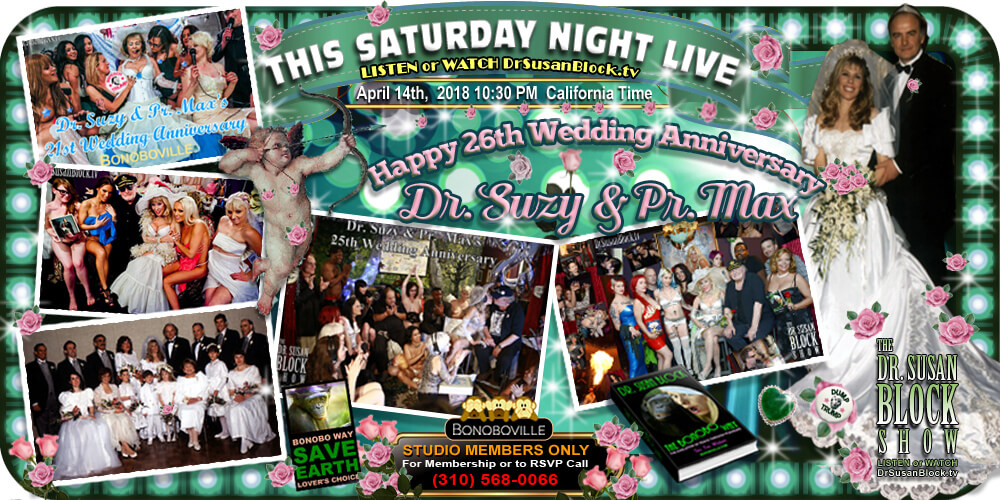 Saturday night, April 14th, The Dr. Susan Block Show will celebrate international sexologist and Bonobo Way author Dr. Susan Block and publisher/producer Pr. Maximillian R. Leblovic di Lobkowicz di Filangieri's 26th Wedding Anniversary. Joining the couple live in-studio will be a star-studded special guests, friends and lovers, including Lexi Lore, Bryan Jameson, Christina Hepburn, Kristen Kraves, Chef Be*Live, Daniele Watts, Rhiannon Aarons, GasMaskGirl, Jezebel Sweet, Goddess Lilith, Mistress Porcelain Midnight, Elena Rayn, Lexi Mansfield, Tammie Parrot, Professor Oni, Dr. Scott Barry Kaufman, Barry Fisher, Janelle Hopkins, Del Rey Bonobo, Alex More, Laira Roux, Mistress Kara, Jack Friday, Surka Noelle, Mistress Mina, Goddess Mpenzi, Bratty Wolfie, Monica Raven, Christina Dupree, Madame Mina, Vanessa Block, Jil Chrissie, Danni Dawson, Goddess Soma, Moushumi Ghose, Ikkor the Wolf, John Barrymore, Jux Lii, Madame Margherite and of course, Phoenix Dawn, plus more TBA.

Click Here to RSVP to attend this show in the "Speakeasy" studio audience this Saturday, or call 626.461.5950 (you can call anytime; someone is always here). Studio doors open at 9:30 pm. Studio Members FREE. Membership Has Its Pleasures.
The Dr. Susan Block Show is produced by The Dr. Susan Block Institute for the Erotic Arts & Sciences, an international center for sexual expression, therapy and education, based in LA, founded in 1991 by Susan M. Block, PhD, world-renowned Yale-educated sexologist, best-selling author and host of HBO specials. The Institute's mission is to help individuals, couples and communities enhance their sexuality and improve their lives based upon Dr. Block's philosophy of Ethical Hedonism and The Bonobo Way of Peace through Pleasure. A portion of all proceeds goes to help save the highly endangered "make love not war" bonobos from extinction in the Congo and to promote the Bonobo Way around the world.
GET THE BONOBO WAY


The Bonobo Way: The Evolution of Peace through Pleasure is the ultimate antidote to the fear and hatred that is driving us apart. Give it to someone you love, even if that someone is you.

The Dr. Susan Block Institute
Established 1991
For more information, call our recorded line.
We're available 24/7, including all holidays.