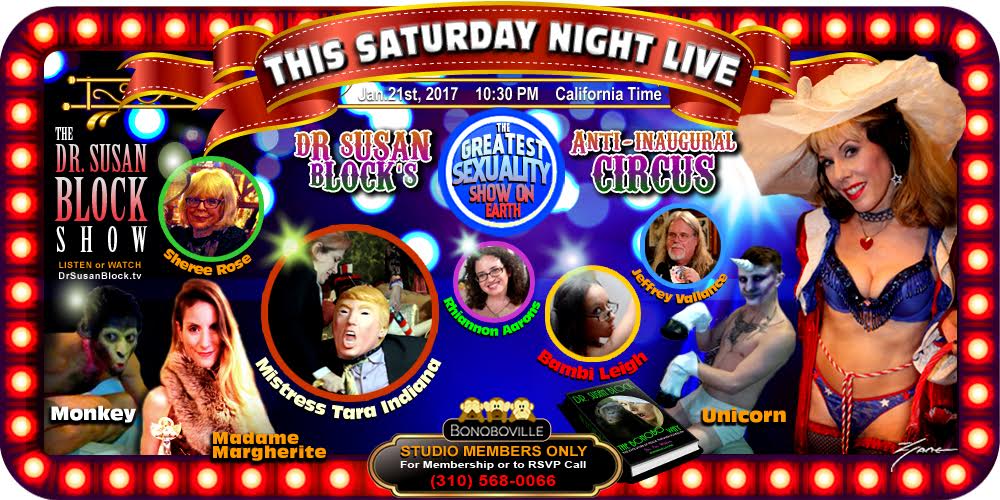 This Saturday night, January 21st, The Dr. Susan Block Show will hold an Anti-Inaugural Circus. After over 125 years, Ringling Bros and Barnum and Bailey Circus, "The Greatest Show on Earth," is closing, but the "The Greatest Sexuality Show on Earth," The Dr. Susan Block Show, now going into its 33rd great year, is still going strong. Of course, the circus that is just now "coming to town" is the new Trump Administration, and what they appear poised to do to the environment, including many endangered species, will make the Ringling Bros. look like PETA. 

Joining international sexologist and Bonobo Way author Dr. Susan Block, and Capt'n Max this Saturday under the "Big Top" of the Womb Room will be a veritable circus of exciting mistresses and submissives, artists and exhibitionists, U.S. Presidential candidates and wild human animals. In the first ring will be roleplay fetish specialist and human animal trainer Madame Margherite and "Monkey" Andres Rey Solorzano, winners of the 2016 SUZY Award for "Best Animal Act," plus an Elephant and a Unicorn who will perform circus tricks. In the next ring will be U.S. Presidential Candidates Mistress Tara Indiana, winner of the 2016 SUZY Award for "Best Presidential Candidate," and Jeffrey Vallance, winner of "Funniest U.S. Presidential Candidate," weighing in on the Inaugural Circus. In the third ring will be artist/Mistresses Sheree Rose ("Best Blast from the Past" winner) & Rhiannon Aarons ("Best Boobie Cake Plate" winner),  authors of the soon-to-be-released Book of Medicine.  Also joining us will be DrSuzy.Tv virgin and Dominion submissive Bambi Leigh + Gypsy Bonobo and Jacquie Bl Live-Tweeting by Del Rey @RadioSUZY1
No doubt, our entertainment will be more A-List than Trump's!
Click Here to RSVP to attend this show in the "Speakeasy" studio audience this Saturday, or call 626.461.5950 (you can call anytime; someone is always here). Studio doors open at 9:30 pm. Studio Members FREE. Membership Has Its Pleasures.
"The Anti-Inaugural Circus" will broadcast LiVE from Bonoboville on The Dr. Susan Block Show this Saturday night, January 21st, 2017, 10:30pm-Midnight PST. It can be viewed on DrSuzy.Tv or in Bonoboville where you can also chat live in the Bonoboville Studio. This show and all past shows can be viewed in archives on DrSuzy.Tv and can be heard free on DrSusanBlock.com.
Call-In During the Live Broadcast: 1.866.289.7068. Tweet comments and questions @RadioSUZY1 and @DrSuzy. Listen Free or Watch the live show at DrSusanBlock.Tv.
This week's live broadcast sponsored by Sybian, Condomania, Glyde America ALL-VEGAN Condoms, Agwa Cocoa Leaf Liqueur, Ron de Jeremy Rum & JuxLeather.
The Dr. Susan Block Show is produced by The Dr. Susan Block Institute for the Erotic Arts & Sciences, an international center for sexual expression, therapy and education, based in LA, founded in 1991 by Susan M. Block, PhD, world-renowned Yale-educated sexologist, best-selling author and host of HBO specials. The Institute's mission is to help individuals, couples and communities enhance their sexuality and improve their lives based upon Dr. Block's philosophy of Ethical Hedonism and The Bonobo Way of Peace through Pleasure. A portion of all proceeds goes to help save the highly endangered "make love not war" bonobos from extinction in the Congo and to promote the Bonobo Way around the world.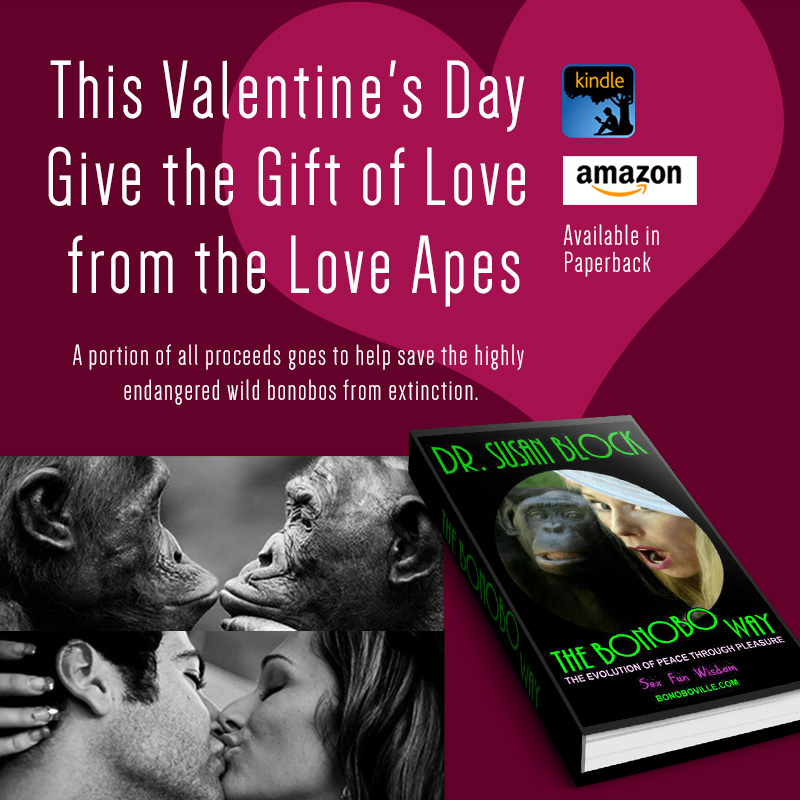 GIVE THE BONOBO WAY for Valentine's Day!

The Bonobo Way: The Evolution of Peace through Pleasure is the ultimate antidote to the fear and hatred that is driving us apart. Give it to someone you love, even if that someone is you.

Learn about LUPERCALIA the Original Valentine's Day, with Dr. Suzy!
The Dr. Susan Block Institute
Established 1991
For more information, call our recorded line.
We're available 24/7, including all holidays.