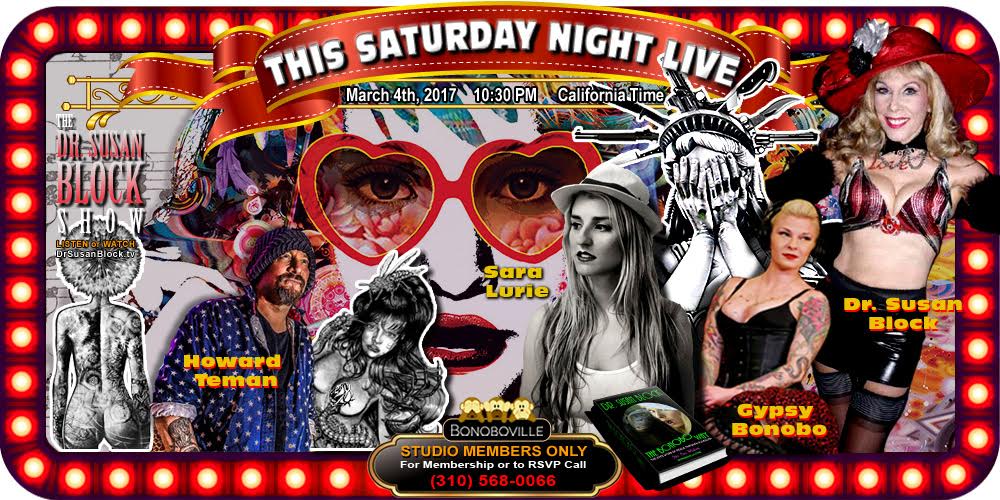 This Saturday night, March 4th, The Dr. Susan Block Show will explore the intersections of art, sex, death and tattoos. Joining international sexologist and Bonobo Way author Dr. Susan Block will be mixed-media artist, Sara Lurie, who explores sex and the erotic side of life through her artwork, and tattoo and poster artist Howard Teman, as well as our own tattooed princess Gypsy Bonobo, rap artist Ikkor the Wolf; and more TBA. This show is assistant-produced by Johnny Jungle and Clemmy Cockatoo. BREAKING NEWS: The fabulous Amor "Baby Block" Hilton, winner of the "Most Adorable" 2016 SUZY Award, will also join us.
Click Here to RSVP to attend this show in the "Speakeasy" studio audience this Saturday, or call 626.461.5950 (you can call anytime; someone is always here). Studio doors open at 9:30 pm. Studio Members FREE. Membership Has Its Pleasures.
The Dr. Susan Block Show is produced by The Dr. Susan Block Institute for the Erotic Arts & Sciences, an international center for sexual expression, therapy and education, based in LA, founded in 1991 by Susan M. Block, PhD, world-renowned Yale-educated sexologist, best-selling author and host of HBO specials. The Institute's mission is to help individuals, couples and communities enhance their sexuality and improve their lives based upon Dr. Block's philosophy of Ethical Hedonism and The Bonobo Way of Peace through Pleasure. A portion of all proceeds goes to help save the highly endangered "make love not war" bonobos from extinction in the Congo and to promote the Bonobo Way around the world.
GIVE THE BONOBO WAY TODAY!


The Bonobo Way: The Evolution of Peace through Pleasure
is the ultimate antidote to the fear and hatred that is driving us apart.
Give it to someone you love, even if that someone is you.

The Dr. Susan Block Institute
Established 1991
For more information, call our recorded line.
We're available 24/7, including all holidays.