Honoring Excellence in Broadcast Artistry & Exhibitionism
This Saturday's live broadcast of The Dr. Susan Block Show will reflect upon another extraordinary year's journey down the path of peace-through-pleasure and honor those that made it interesting and orgasmic! Tune in live to international sexologist Dr. Susan Block, Capt'n Max, Trixie Plenty and other members of the DrSusanBlock.tv staff, as we remember 2013 and bestow awards upon our most memorable guests for "Sexiest Sex Researcher," "Most Intelligent-Sounding Porn Star," "Most Orgiastic Author," "Truest Libertine," "Kinkiest Committed Couple," "Most Bonobo-Friendly Author," "Sexiest Mainstream Performer," "Best Female Ejaculator," "Best Male Ejaculator," "Best-Dressed Guest," "Hottest Post-Show Sex," "Best Boob Job," "Sexiest Promoter," "Most Erotic Artist," "Wildest Committed Couple,"  "Most Orgasmic Sybian Rider," "Most Fanatic Foot Fetishist," "Best Lollipop-Licker," "Most Mesmerizing Pole Dancer," "Most Obnoxious," "Most Enlightening Sex Educator," "Hottest Hair," "Best Exhibitionist," "Most Blasphemous," "Most Morbid," "Most Impressive P-Spot Stimulator," "Best Peter Piper Holder," "Most Dangerous Sex Act," "Most Intimate Interview," "Greatest Erotic Entertainment Longevity," "Most Bonobo," "Most Adorable," "Best Sex Play," "Best Bonoboville Caricaturist," "Most Royal Without Being Spoiled," "Most Family-Oriented Porn Star," "Best Sex Toys," "Sharpest Whip," "Wildest Bartender," "Most Gracious," "Most Intoxicated" and more. In order to win, you need to have been a guest on The Dr. Susan Block Show in 2013.

"The DrSusanBlock.tv awards honor excellence in broadcast artistry and exhibitionism, recognizing erotic performance, sexual intelligence and Weapons of Mass Seduction," explains Dr. Block. "They celebrate 'peace through pleasure' in all kinds of weather, and they pay tribute, with humor and deep respect, to those of us who work and play in the field of sexuality. For the sake of better sex education, more high quality sexuality research and development, more interesting and entertaining pornography and erotica, a more sex-positive aesthetic and a more bonobo ethos, we present these awards."
The DrSusanBlock.TV Awards will air live December 28th, 2013, 10:30pm-Midnight PST on The Dr. Susan Block Show.
Listen FREE on your computer at DrSuzy.Tv or your phone at http://m.drsuzy.tv.
Call-In: 1.866.289.7068 or 626.461.5950. Tweet comments and questions @RadioSUZY1.
For a list of last year's winners, go to http://bloggamy.com/awards/.
Watch the Live Show and past shows and clips at DrSusanBlock.Tv (for as little as $5.95!)
Coming Up: January 3-5, 2014: Dr. Susan Block will join a galaxy of older TV stars, film legends (both mainstream and adult) and some of the world's hottest MiLFs and GiLFs at THE HOLLYWOOD SHOW, the world's biggest celebrity autograph and memorabilia convention, at the Loews Hotel. Dr. Block will conduct interviews with several of the stars, as well as sign copies of her book The 10 Commandments of Pleasure: Erotic Keys to a Healthy Sexual Life.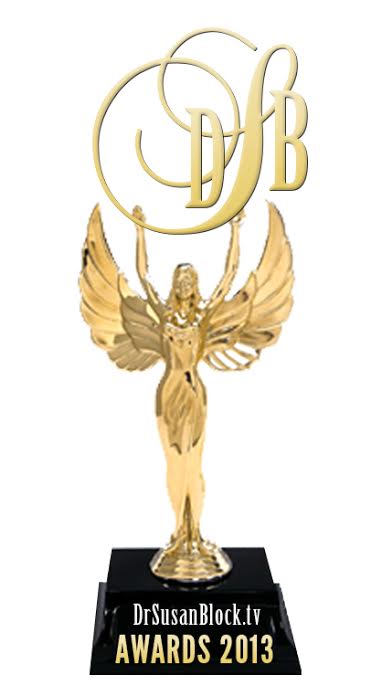 The Dr. Susan Block Show is produced by The Dr. Susan Block Institute for the Erotic Arts & Sciences, an international center for sexual expression, therapy and education, based in LA. Founded in 1991 by Susan M. Block, PhD, world-renowned Yale-educated sexologist, best-selling author and host of HBO specials, the Institute's mission is to help individuals, couples and communities enhance their sexuality and improve their lives based upon Dr. Block's philosophy of Ethical Hedonism and The Bonobo Way of Peace through Pleasure. A portion of all proceeds goes to help save the highly endangered "make love not war" bonobos from extinction in the Congo and to promote the Bonobo Way of Peace through Pleasure around the world.