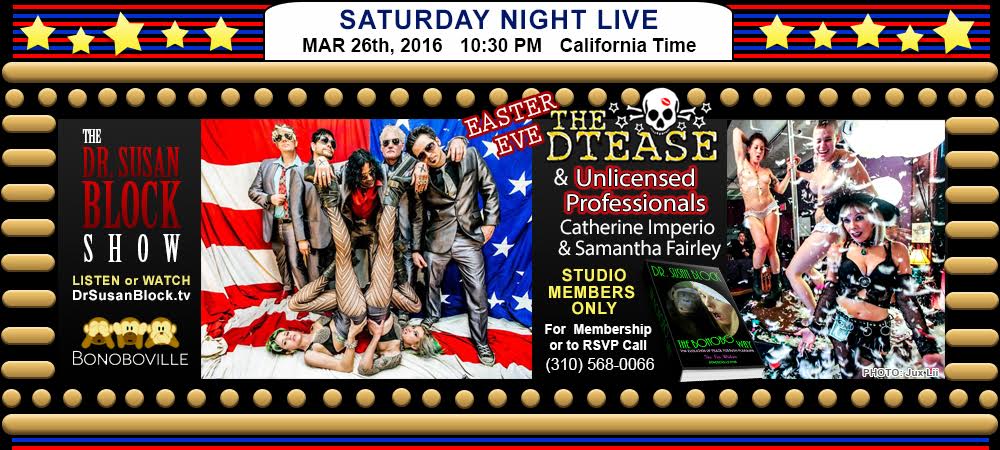 This Saturday night, March 26th, The Dr. Susan Block Show will celebrate Easter Eve with a scintillating "SEX ROCK RES-ERECTION." Joining international sexologist and Bonobo Way author Dr. Susan Block live in-studio will be sensational glam/punk/sex-rock band extraordinaire The DTEASE, accompanied by the super sexy, funny and fun DTEASERS (aka the Unlicensed Professionals), that dynamic duo of Punk Rock Renaissance Woman Catherine Imperio and Punk Princess Samantha Fairley.
The DTEASE, featuring the dashing, guitar-smashing Wilson Gil (lead vocals), wowed us at the old Downtown Speakeasy in Stagebrother and the DTease, winning the 2012 SUZY Award for "Sexiest Musical Performance," and they are sure to RES-ERECT our excitement this Easter Eve.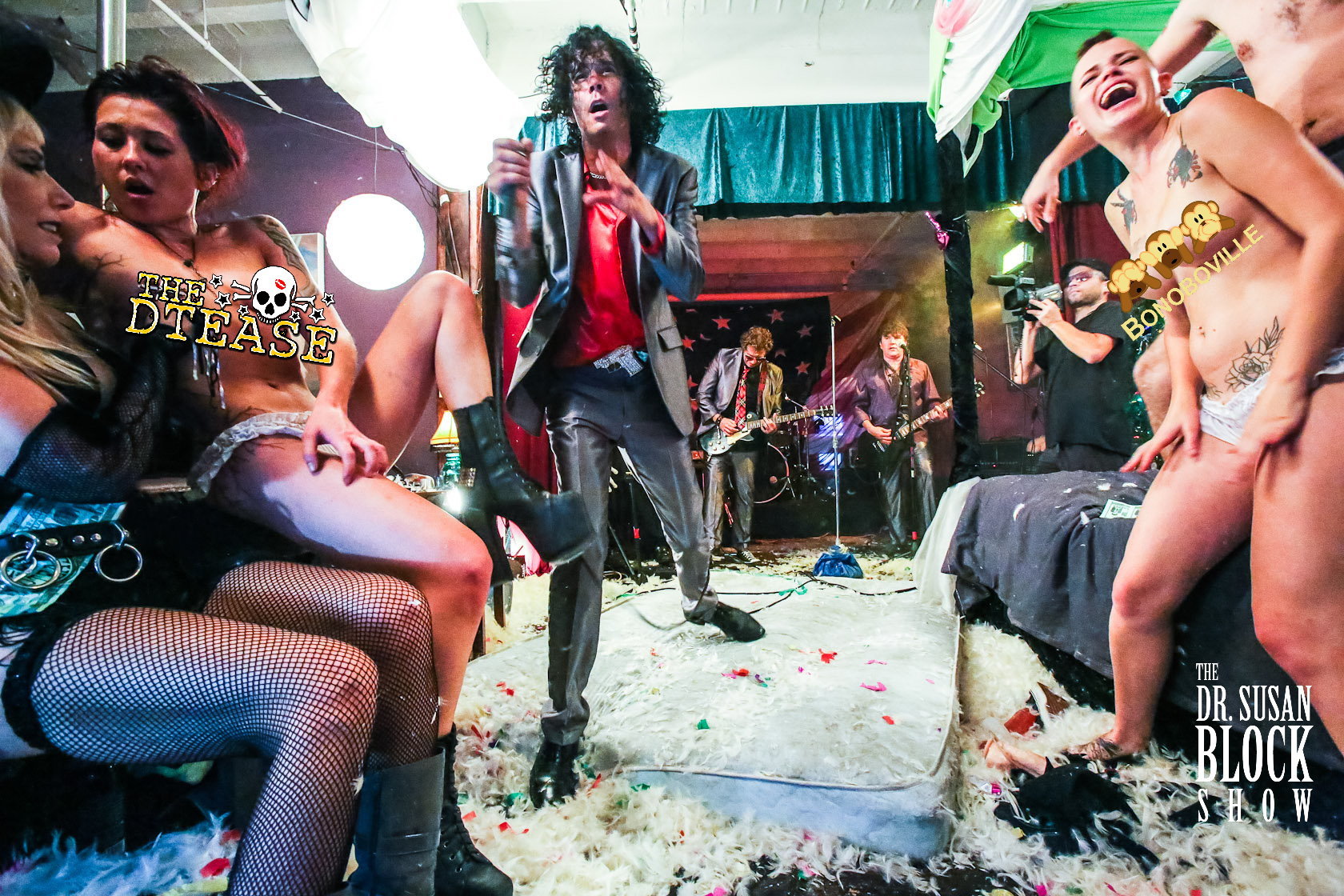 Any serious DrSuzy.Tv fan knows the fabulous Unlicensed Professionals, two of Santa Barbara's finest artists, models and comediennes, winners of many Bonoboville awards and accolades over the years, including 2015 SUZYS for "Most Artistic Anus" ( Cate) and "Best Funny Faces" (Sam). We can't wait to see them!
More about The DTEASE: "Redefining the post millennium era of music, The DTEASE have managed to take all the good from 70's glam artists like David Bowie & T. Rex, 70's punk rock like The Clash & The Ramones, 60's rock 'n' roll like The Doors & The Rolling Stones, and everything missing in the modern rock scene to create an all-powerful icon. Dressed in sharkskin suits and fueled by front man Wilson Gil, the band has captivated audiences up and down the California coast. Poetic lyrics consisting of sex, politics, and, well, rock 'n' roll, are geniously combined with an arsenal of destructive guitar riffs by Sam McPherson & Sado Rabaudi, brilliant bass lines by Terry Luna, and killer drum demolition by Mike Sharpe. 'DTEASERS,' Catherine Imperio and Samantha Fairley, execute seductive machete dance combat, zentai suit alien abductions, among other sexual performance art elements whilst vocalizing backups. The DTEASE's all or nothing interactive stage show is guilty of entrapping all of the senses and reverberates with metaphorical undertones to create a weapon of sonic mass destruction. The question is, are you experienced? With their live show that cannot be beat, The DTEASE will leave you speechless, soaking wet, and screaming for more." [Rose Lane Records]
"Extreme energy coupled with a rock show not seen in decades, The DTEASE deliver much needed CPR into today's music scene." —Pop Vulture Magazine
Check out The DTease first appearance on DrSuzy.Tv.
Also in-studio March 26th: the fabulous Dayton Rains—award-winning porn star, webcam and phone therapist with the Institute, and associate producer for DrSuzy.Tv—and more TBA.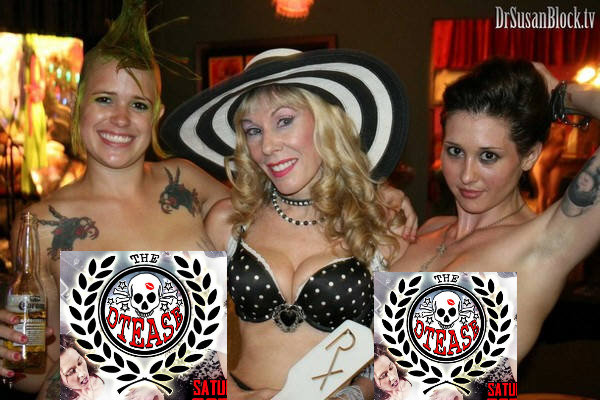 Click Here to RSVP to attend this show in the "Speakeasy" studio audience or call 626.461.5950. Studio doors open at 9:30 pm. Studio Members FREE. Membership Has Its Pleasures.
"EASTER EVE SEX ROCK RES-ERECTION with The DTEASE on DrSuzy.Tv" will broadcast LIVE from Bonoboville on The Dr. Susan Block Show Saturday night, March 26h, 2016, 10:30pm-Midnight PST. It can be viewed on DrSuzy.Tv or in Bonoboville where you can also chat live in the Bonoboville Studio.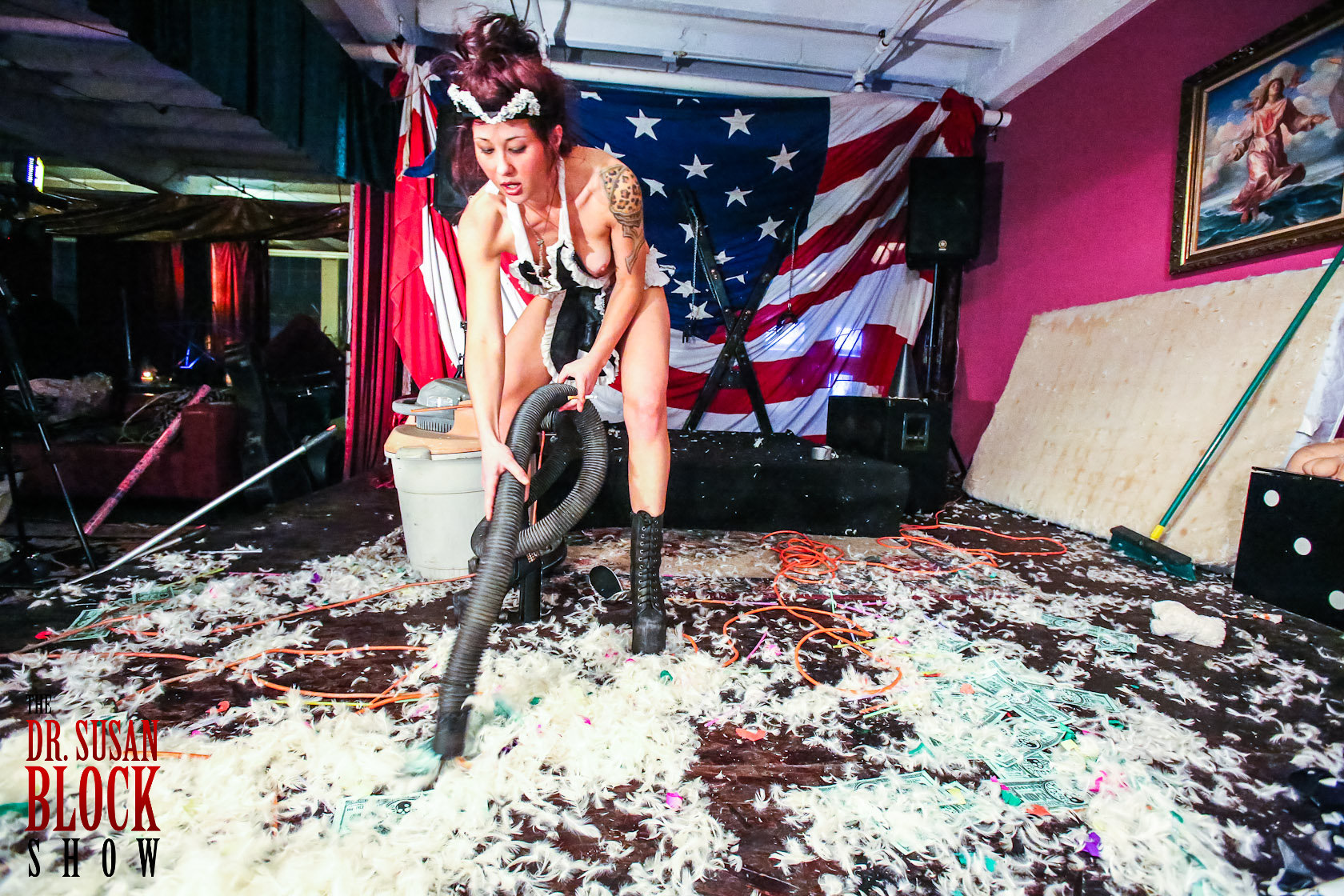 Call-In During the Live Broadcast: 1.866.289.7068. Tweet comments and questions @RadioSUZY1 and @DrSuzy. Listen Free or Watch the live show at DrSusanBlock.Tv. This week's live broadcast sponsored by Sybian, Condomania, Glyde America ALL-VEGAN Condoms, Agwa Cocoa Leaf Liqueur, Ron de Jeremy Rum, JuxLeather and Wein-Erotik-Edition.
The Dr. Susan Block Show is produced by The Dr. Susan Block Institute for the Erotic Arts & Sciences, an international center for sexual expression, therapy and education, based in LA, founded in 1991 by Susan M. Block, PhD, world-renowned Yale-educated sexologist, best-selling author and host of HBO specials. The Institute's mission is to help individuals, couples and communities enhance their sexuality and improve their lives based upon Dr. Block's philosophy of Ethical Hedonism and The Bonobo Way of Peace through Pleasure. A portion of all proceeds goes to help save the highly endangered "make love not war" bonobos from extinction in the Congo and to promote the Bonobo Way around the world.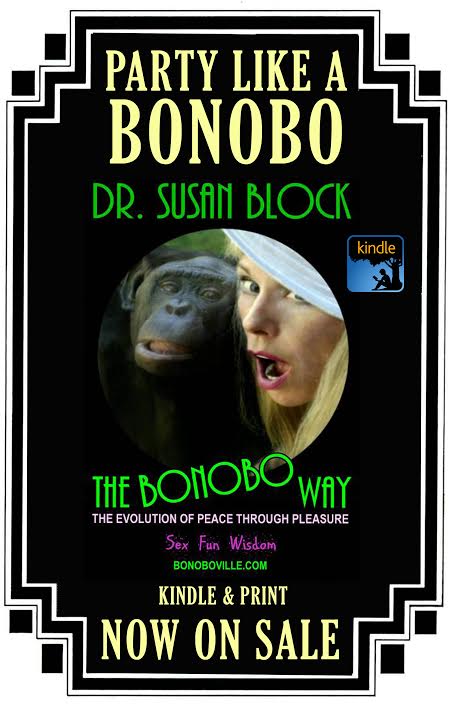 GIVE THE BONOBO WAY! CLICK HERE TO READ OUR RECENT RAVE REVIEWS & INTERVIEWS

Make 2016 your Year of the Bonobo and get your copy of The Bonobo Way: The Evolution of Peace through Pleasure.