This Saturday, February 22, 2014, The Dr. Susan Block Show, broadcasting live from Bonoboville at LAX, will investigate "lingerie fighting". Joining international sexologist Dr. Susan Block in-studio will be professional MMA (Mixed Martial Arts) and LFC (Lingerie Fighting Championships) lingerie fighter and football player, the world's first two sport lingerie athlete, Michelle "Scrapper" Blanchard. The LFC is the MMA's "most controversial league."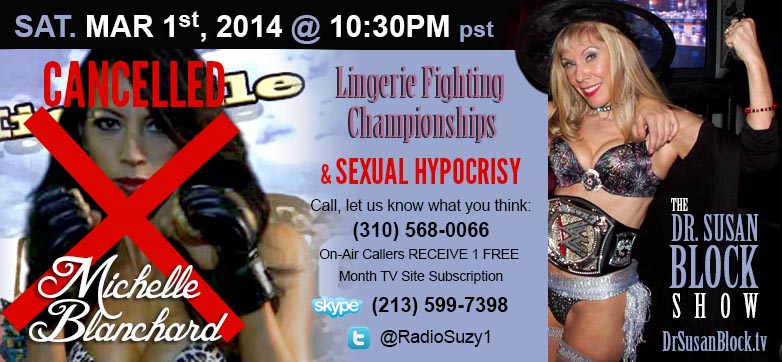 "Lingerie Fighting = My Kind of Fighting!" says Dr. Block.
Lingerie Fighting will air LIVE March 1, 2014, 10:30pm-Midnight PST on The Dr. Susan Block Show.
Listen FREE on your computer at DrSuzy.Tv or your phone at http://m.drsuzy.tv.
Call-In: 1.866.289.7068 or 626.461.5950. Tweet comments and questions @RadioSUZY1.
Watch the Live Show at DrSusanBlock.Tv (for as little as $5.95!)
The Dr. Susan Block Show is produced by The Dr. Susan Block Institute for the Erotic Arts & Sciences, an international center for sexual expression, therapy and education, based in LA. Founded in 1991 by Susan M. Block, PhD, world-renowned Yale-educated sexologist, best-selling author and host of HBO specials, the Institute's mission is to help individuals, couples and communities enhance their sexuality and improve their lives based upon Dr. Block's philosophy of Ethical Hedonism and The Bonobo Way of Peace through Pleasure. A portion of all proceeds goes to help save the highly endangered "make love not war" bonobos from extinction in the Congo and to promote theBonobo Way of Peace through Pleasure around the world.
 
<!–more–>
The Dr. Susan Block Institute
Established 1991
For more information, call our recorded line.
We're available 24/7, including all holidays.