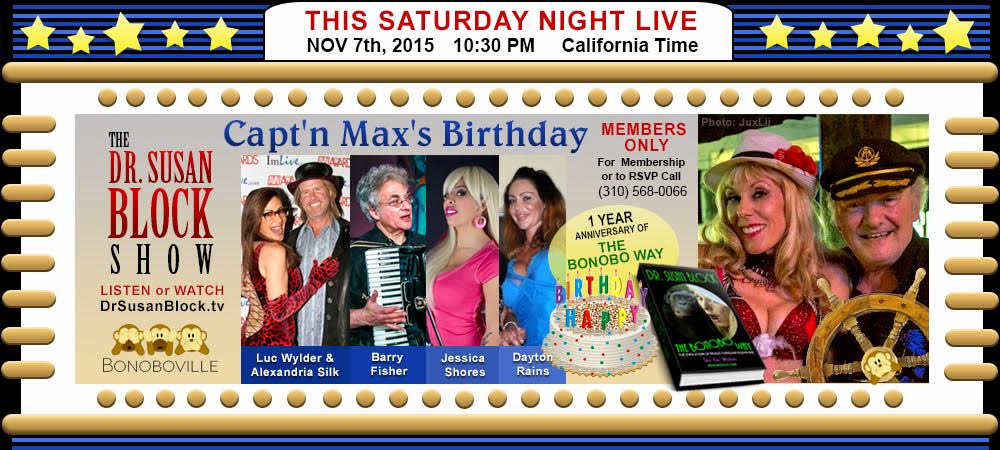 Saturday night, November 7th, The Dr. Susan Block Show will celebrate Capt'n Max's Birthday—and the one-year anniversary of The Bonobo Way: The Evolution of Peace through Pleasure. Married for over 23 years to international sexologist and Bonobo Way author Dr. Susan Block, Capt'n Max, a.k.a., Pr. Maximillian R. Lobkowicz, was the pioneering publisher of the first "reader-written" media such as the LA Star, Love, Hate, Finger, The Brentwood Bla Bla and Beverly Hills, the Magazine. Recently, Max and Dr. Suzy founded Bonoboville, both a new social-media and a real "socialist/capitalist," pro-sex community in Los Angeles, known for producing the first reality-based sexuality programs, convivial "Speakeasies," bonoboësque gatherings, erotic art exhibitions, bacchanalian soirées, life-changing lectures, sex-educational seminars, and priceless moments of communal ecstasy, with a portion of all proceeds going to help save the highly endangered real bonobos in the wild.    Joining Capt'n Max and Dr. Suzy will be featured guests Alexandra Silk and Luc Wylder, Jessica Shores, a.k.a., J sho,  Dayton Rains and Barry Fisher, along with DrSuzy.Tv show producer Biz Bonobo, a.k.a. Elizabeth Aston, and the Bonoboville crew.

"Capt'n Max's Birthday Eve" will broadcast LIVE from Bonoboville on The Dr. Susan Block Show this Saturday night, November 7, 2015, 10:30pm-Midnight PST. It can be viewed on DrSuzy.Tv or in Bonoboville where you can also chat live in the Bonoboville Studio.
Click Here to RSVP to attend this show in the "Speakeasy" studio audience or call 626.461.5950. Studio doors open at 9:30 pm. Studio Members FREE. Membership Has Its Pleasures.
Call-In During the Live Broadcast: 1.866.289.7068. Tweet comments and questions @RadioSUZY1 and @DrSuzy. Listen Free or Watch the live show at DrSusanBlock.Tv. This week's live broadcast sponsored by Sybian, Agwa Cocoa Leaf Liqueur, Ron de Jeremy Rum, Condomania, Glyde America Condoms and JuxLeather
The Dr. Susan Block Show is produced by The Dr. Susan Block Institute for the Erotic Arts & Sciences, an international center for sexual expression, therapy and education, based in LA, founded in 1991 by Susan M. Block, PhD, world-renowned Yale-educated sexologist, best-selling author and host of HBO specials. The Institute's mission is to help individuals, couples and communities enhance their sexuality and improve their lives based upon Dr. Block's philosophy of Ethical Hedonism and The Bonobo Way of Peace through Pleasure. A portion of all proceeds goes to help save the highly endangered "make love not war" bonobos from extinction in the Congo and to promote the Bonobo Way around the world.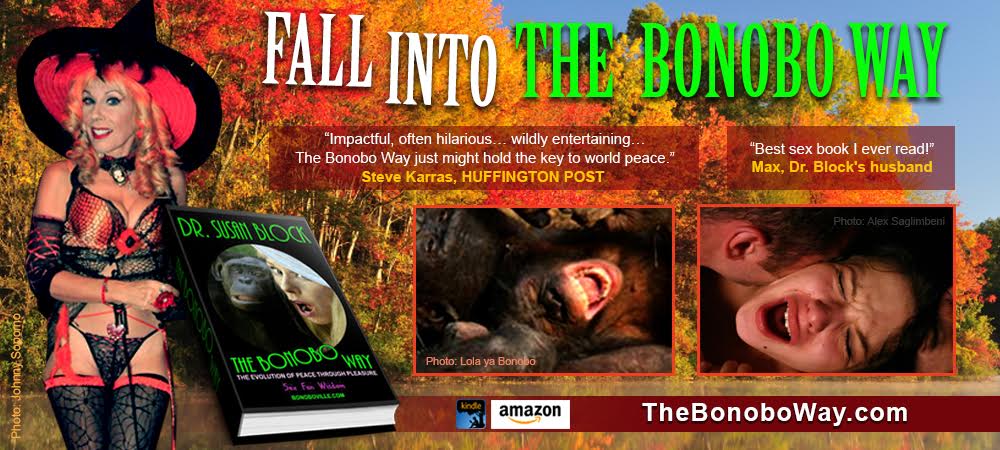 FALL INTO THE BONOBO WAY! CLICK HERE TO READ OUR RECENT RAVE REVIEWS & INTERVIEWS

Make 2015 your Year of the Bonobo and get your copy of The Bonobo Way: The Evolution of Peace through Pleasure.