Hear Ye, Here Ye: The End Is Near…
Have You Made Your Reservations for a REALLY Happy New Year?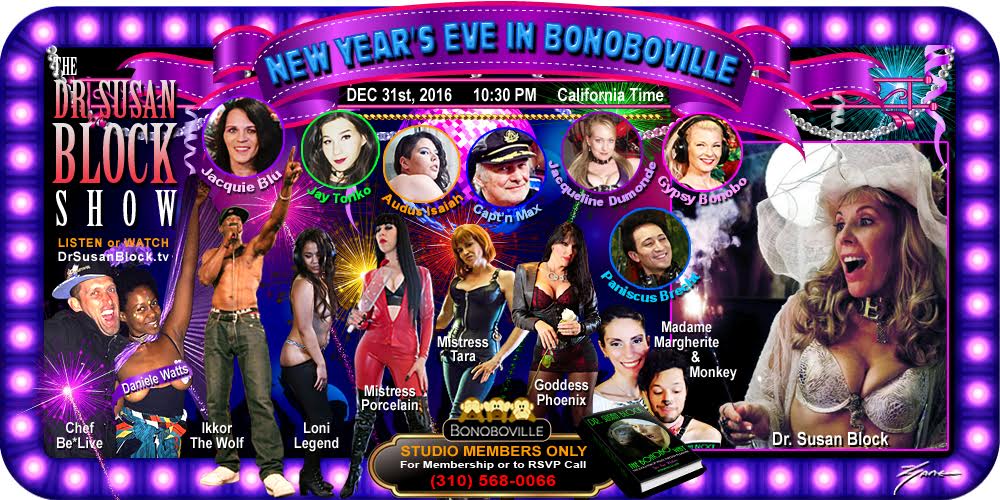 Come Mingle & More with Porn Stars, Artists, Millionaires, Models, Kinksters, Singers, Swingers, Dommes, Doms & Subbies, the Hottest Couples in Town & the Coolest Singles Around + the Über-Amazing Bonoboville Staff!

@ Dr. Suzy's NEW YEAR'S EVE Bacchanalia
Join international sexologist and Bonobo Way author Dr. Susan Block, Capt'n Max and the fabulous Goddess Phoenix, Mistress Tara Indiana, Mistress Porcelain Midnight, Goddess Suzina, Loni Legend, Madame Margherite &"Monkey" Andres Rey Solorzano, Audus Isaiah, Madam Jacqueline DuMonde, Ikkor the Wolf, Daniel Watts, Chef Be*LiVE, Jay Toriko, Dirge Magazine's Renée Asher Pickup, Gypsy Bonobo, Paniscus Brecht & Jacquie Blu. Live-Tweeting by Del Rey @RadioSUZY1
Free Champagne, Free Drinks, Free Aphrodisiacs, Free Hors D'Oeuvres, Free Condoms, Free Sybian Rides, Free Catalysts to Convivial Debauchery + Free Parking!
Featuring an Exotic Erotic LiVE Broadcast of The Dr. Susan Block Show with Magical Midnight Countdown to Usher in 2017!
Where Else But @ the One & Only Bonoboville LAX?
Just $100 per couple includes everything. No hidden charges for drinks, parking or anything!
Studio Members FREE. Membership Has Its Pleasures.
Compare with other NYE celebrations & you'll see we have the BEST DEAL for THE MOST FUN in LA! Can't do the math? Let our friendly 24/7 receptionists help you 🙂
Call 626-461-5950

RSVP NOW for our sake & yours–donation prices go up & up after 12/23/11!
Doors open 9:30pm and we'll go 'til… ?
Dr. Suzy's NYE in Bonoboville 2017 is a fundraising event for the highly endangered "make love not war" bonobos and the always endangered Bonoboville. Party for a good cause: The Bonobo Way of Peace through Pleasure into 2017 & way beyond!
"Dr. Suzy's New Year's Eve" will broadcast LiVE from Bonoboville on The Dr. Susan Block Show Saturday night, December 31st, 2016 – January 1st, 2017, 10:30pm-1am. It can be viewed on DrSuzy.Tv or in Bonoboville where you can also chat live in the Bonoboville Studio. This show and all past shows can be viewed in archives on DrSuzy.Tv and can be heard free on DrSusanBlock.com. Call-In During the Live Broadcast: 1.866.289.7068. Tweet comments and questions @RadioSUZY1 and @DrSuzy. Listen Free or Watch the live show at DrSusanBlock.Tv.
This week's live broadcast sponsored by Sybian, Condomania, Glyde America ALL-VEGAN Condoms, Agwa Cocoa Leaf Liqueur, Ron de Jeremy Rum & JuxLeather.
The Dr. Susan Block Show is produced by The Dr. Susan Block Institute for the Erotic Arts & Sciences, an international center for sexual expression, therapy and education, based in LA, founded in 1991 by Susan M. Block, PhD, world-renowned Yale-educated sexologist, best-selling author and host of HBO specials. The Institute's mission is to help individuals, couples and communities enhance their sexuality and improve their lives based upon Dr. Block's philosophy of Ethical Hedonism and The Bonobo Way of Peace through Pleasure. A portion of all proceeds goes to help save the highly endangered "make love not war" bonobos from extinction in the Congo and to promote the Bonobo Way around the world.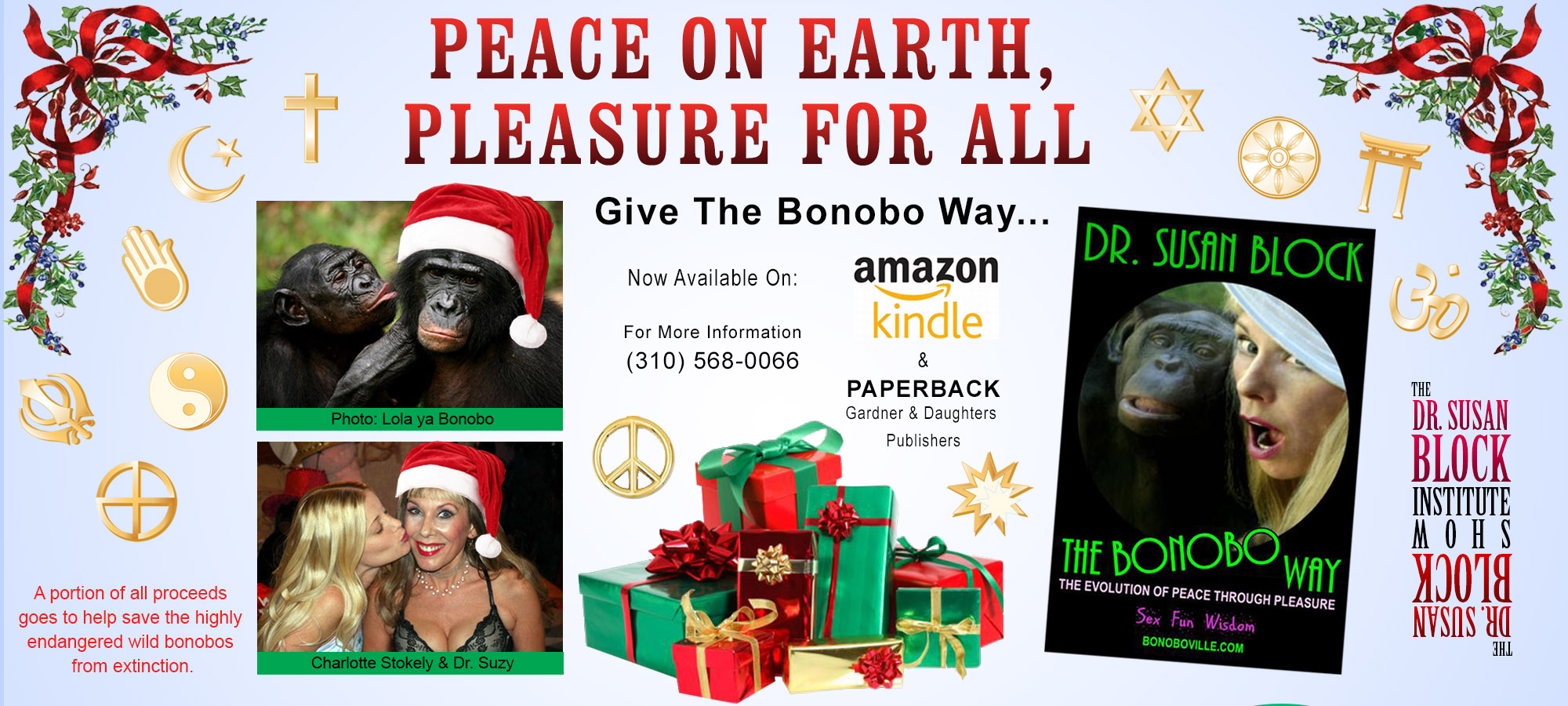 GIVE THE BONOBO WAY for the HOLIDAYS!

The Bonobo Way: The Evolution of Peace through Pleasure is the ultimate antidote to the fear and hatred that is driving us apart. Give it to someone you love, even if that someone is you.

The Dr. Susan Block Institute
Established 1991
For more information, call our recorded line.
We're available 24/7, including all holidays.