This Saturday night, December 6th, 2014, The Dr. Susan Block Show, broadcasting live from Bonoboville at LAX, will explore the meaning of "sex culture" in the 21st century plus how to throw an awesome arty-sexy party, Kinky Salon-style. Joining international sexologist and Bonobo Way author Dr. Susan Block live in-studio will be Polly: Sex Culture Revolutionary author and Kinky Salon founder Polly Whittaker, a.k.a., Polly Superstar.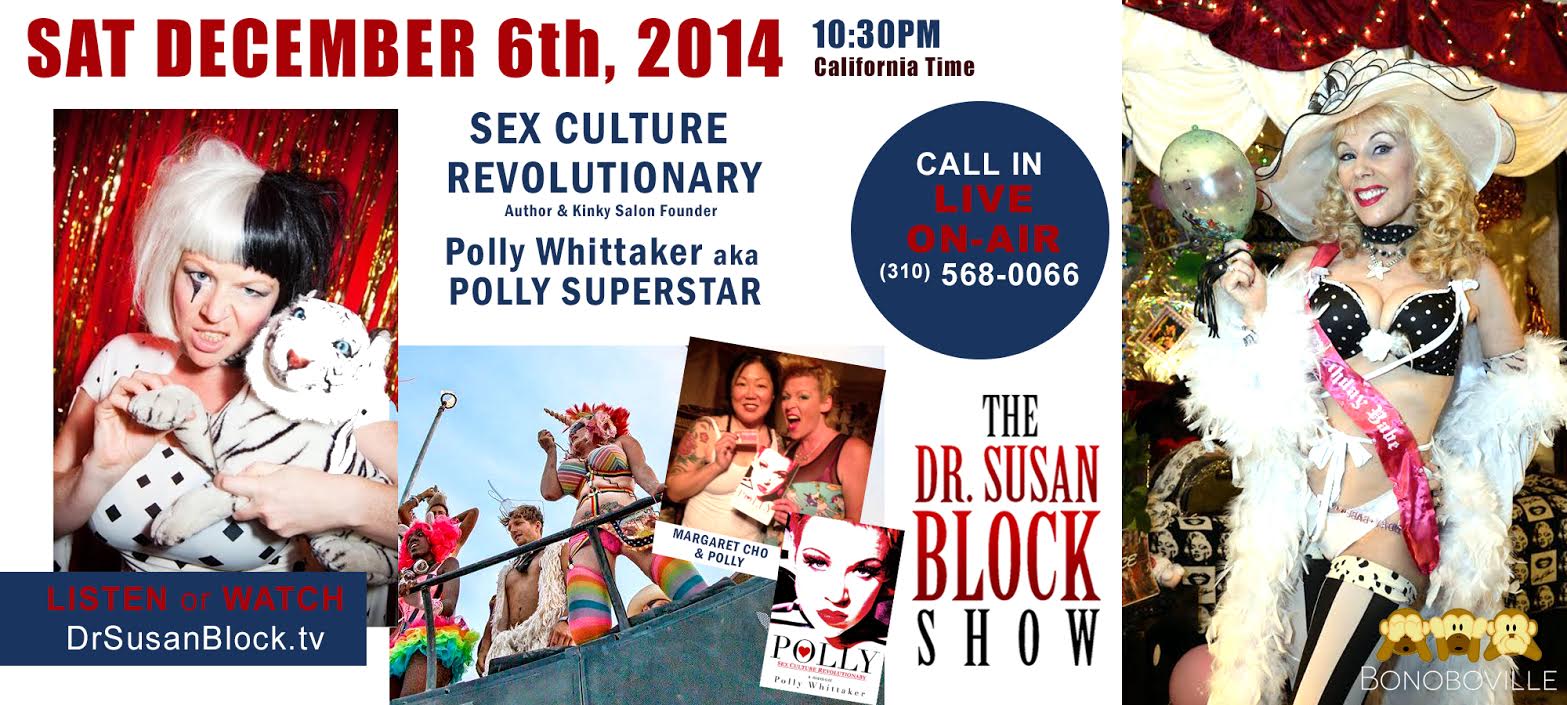 "Raw, untamed, emotional beauty–Polly is a true supernova," says comedian Margaret Cho in praise of Polly. "This memoir is as touching as it is hot, as moving as it is a masterpiece." 
Dr. Suzy agrees, calling Polly "a wonderful, beautifully written memoir, so real, so raw, so revolutionary, it had me laughing and crying and high-fiving the air in sex culture solidarity."
"Polly: Sex Culture Revolutionary" will air LIVE December 6th, 2014, 10:30pm-Midnight PDT on The Dr. Susan Block Show on DrSuzy.Tv.

Click Here to RSVP to attend this show in the "Speakeasy" studio audience or Call 626.461.5950
Call-In During the Live Broadcast: 1.866.289.7068 or 626.461.5950. Tweet comments and questions @RadioSUZY1.
Watch the Live Show at DrSusanBlock.Tv (for as little as $5.95!).
This week's live broadcast sponsored by Condomania, JuxLeather, Nice Buy Applicance and Dirty Tequila!
Dr. Block's got a new book too! Check it out: The Bonobo Way: The Evolution of Peace through Pleasure.

The Dr. Susan Block Show is produced by The Dr. Susan Block Institute for the Erotic Arts & Sciences, an international center for sexual expression, therapy and education, based in LA, founded in 1991 by Susan M. Block, PhD, world-renowned Yale-educated sexologist, best-selling author and host of HBO specials. The Institute's mission is to help individuals, couples and communities enhance their sexuality and improve their lives based upon Dr. Block's philosophy of Ethical Hedonism and The Bonobo Way of Peace through Pleasure. A portion of all proceeds goes to help save the highly endangered "make love not war" bonobos from extinction in the Congo and to promote the Bonobo Way around the world.