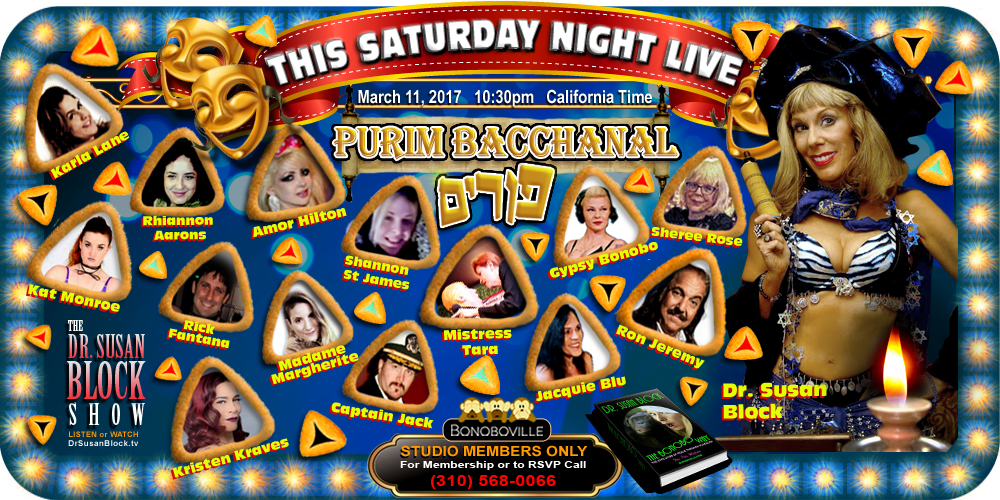 This Saturday night, March 11th, The Dr. Susan Block Show will celebrate Purim, aka the "Jewish Mardi Gras" or "Hebraic Halloween," that holiday of masquerade, seduction and debauchery revolving around the Story of Queen Esther, the Biblical Trophy Wife who saves her people from genocide with nothing but her Weapons of Mass Seduction.

Warning: This is Not Your Bubbe's Purim.
The world-renowned Commedia Erotica Players–porn stars, poets, BDSM experts and comedians–will improvise Biblical roles as Bonobo Way author Dr. Susan Block, a former Sunday school teacher turned sexologist, narrates her critically acclaimed, erotic exotic version of the Megillat Esther in the Womb Room, to be transformed into the king's court and harem, as well as a more bonoboesque "gallows" (a St. Andrew's bondage cross). Dr. Block's Purimspiel will be performed live on the air before a live studio audience, munching hamantaschen which we in Bonoboville also call "pussy cookies," since they are shaped like an open vulva, complete with a jam-filled hole in the middle. This seems more interesting than the more conventional explanation that their triangular form comes from the villain Haman's hat.

Special guests, performers, participants and celebrants include Ron Jeremy, Mistress Tara Indiana, Amor Hilton, Shannon St. James, Kat Monroe, Karla Lane, Kristen Kraves, Rick Fantana, Jack Cannon, Sheree Rose, Rhiannon Aarons, Madame Margherite, Ikkor the Wolf, Vanessa Block and our own Gypsy Bonobo and Jacquie Blu.
Click here to read Dr. Block's Purim Story in Elephant Journal, just chosen as an "Editor's Pick"
Click here to read an extended version of Dr. Block's Story of Esther
Read From Summer Camp To Sexologist: Dr. Suzy Talks Porn, Purim, and her "10 Commandments Of Pleasure, Heeb Magazine's interview with Dr. Block.
Click Here to RSVP to attend this show in the "Speakeasy" studio audience this Saturday, or call 626.461.5950 (you can call anytime; someone is always here). Studio doors open at 9:30 pm. Studio Members FREE. Membership Has Its Pleasures.
The Dr. Susan Block Show is produced by The Dr. Susan Block Institute for the Erotic Arts & Sciences, an international center for sexual expression, therapy and education, based in LA, founded in 1991 by Susan M. Block, PhD, world-renowned Yale-educated sexologist, best-selling author and host of HBO specials. The Institute's mission is to help individuals, couples and communities enhance their sexuality and improve their lives based upon Dr. Block's philosophy of Ethical Hedonism and The Bonobo Way of Peace through Pleasure. A portion of all proceeds goes to help save the highly endangered "make love not war" bonobos from extinction in the Congo and to promote the Bonobo Way around the world.
The Dr. Susan Block Institute
Established 1991
For more information, call our recorded line.
We're available 24/7, including all holidays.