"Gun shots or Cum shots? Which do you prefer?" asks Dr. Block
This Saturday night's live broadcast of The Dr. Susan Block Show will explore reasons why American media more often censor sex than violence.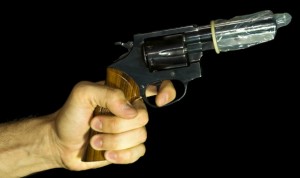 Joining international sexologist Dr. Susan Block in her BonoboVille broadcast studios will be Girls and Corpses Magazine's "Deaditor-in-Chief," Robert "Corpsy" Rhine, along with his latest issue featuring Dr. Block's new advice column, sexy porn star/corpsette Missy Martinez and world-renowned Team America: World Police puppeteer Scott Land.  Joining the group to discuss her most recent article in the wake of the recent shooting massacres in Aurora and Wisconsin, "What Terrorizes Americans Most: Guns or Sexual Freedom?" will be writer Lara Riscol.
Sex or Violence? will air live August 11th, 2012, 10:30pm-Midnight PST on The Dr. Susan Block Show. Listen FREE at http://tinyurl.com/RadioSex  Call-In Free: 1.866.289.7068.
Watch the LIVE BROADCAST & See All the Pix and Past Shows at http://DrSuzy.tv
To join our exclusive live in-studio audience and the after-party at Dr. Suzy's Speakeasy in the Soul of Downtown LA, aka BonoboVille, call or go to http://tinyurl.com/DrSuzyRSVP
Proceeds from donations go to help save the highly endangered "make love not war" bonobos from extinction in the Congo and to promote the Bonobo Way of Peace through Pleasure around the world.  Dr. Block and guests will enjoy sex toys provided by Sybian, ScreamingO, Stockroom, Kinky Eddie, JuxLeather and Condomania condoms, plus a fine art exhibit featuring Anthony Winn's Stripperella artwork and the classical erotic paintings of Scott Siedman. The Dr. Susan Block Show beverages of choice are Absente Absinthe and Agwa di Bolivia Coca Leaf Liqueur, among the many fine libations and gourmet hors d'oeuvres featured at the always-popular Speakeasy Open Bar and Aphrodisiac Buffet.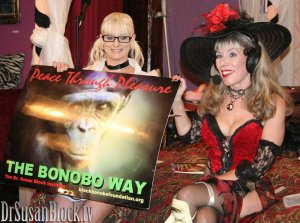 The Dr. Susan Block Show is produced by The Dr. Susan Block Institute for the Erotic Arts & Sciences, an international center for sexual expression, therapy and education based in LA.  Founded in 1991 by Susan M. Block, PhD, world-renowned Yale-educated sexologist, best-selling author and host of HBO specials, the Institute's mission is to help individuals, couples and communities enhance their sexuality and improve their lives based upon Dr. Block's philosophy of Ethical Hedonism and the Bonobo Way of Peace through Pleasure.