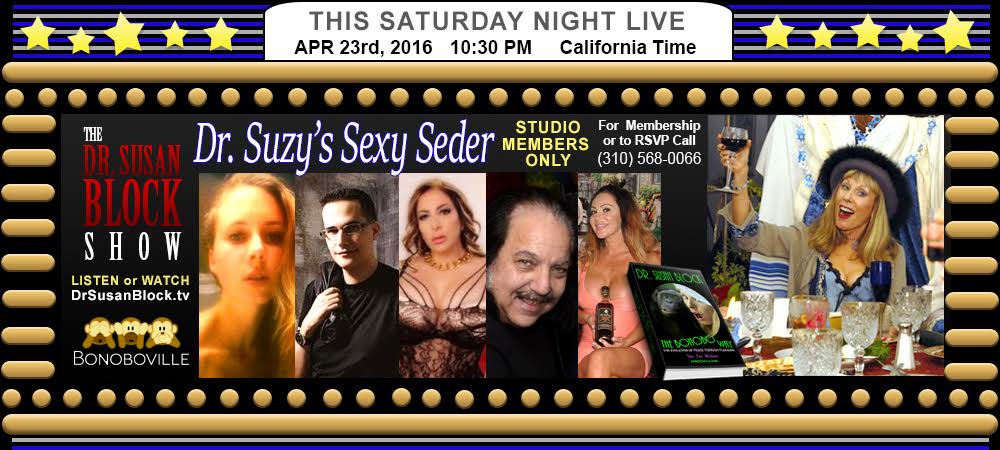 This Saturday night, April 23rd, The Dr. Susan Block Show will celebrate the official second night of Passover with a very special sexy Seder. Joining international sexologist and Bonobo Way author Dr. Susan Block around the Seder Table live in-studio will be Savannah Jane, Master D and Circe-Elise, Erika Icon, Rox Van Der Lee with Rabbi Ron Jeremy joining us a little late (after his family Seder), as well as Dayton Rains—webcam and phone therapist with the Institute, and associate producer for DrSuzy.Tv—and more TBA. There will be bitter herbs and other herb (Happy 4/20 Week!), saucy seder plates, The Four Questions (Sexually Speaking), party shtreimels, topless blessings, Dayenu scallion floggings (a shtreimel tip to Rabbi Shmuley Boteach for teaching us this awesome Sephardic tradition), sacred Manischewitz wine for Bonoboville Communion, Egyptian taskmasters & Hebrew slaves (50 Shades of Pesach), afikomen hunts, "Lox et Veritas" thong panties, juggling matzoh balls, satanic Sybian rides, sexy new spins on stodgy old traditions, partaking of the traditional "green vegetable" (including the eating of the green parsley and the smoking of the green sativa), Freedom vs. Restraint debates, an exploration of the Dionysian roots of Passover (Pesach) and other Spring holidays, as well as good-natured blasphemies galore.

"Sexy Seder 2016" will broadcast LIVE from Bonoboville on The Dr. Susan Block Show Saturday night, April 23rd, 2016, 10:30pm-Midnight PST. It can be viewed on DrSuzy.Tv or in Bonoboville where you can also chat live in the Bonoboville Studio.
Check out our amazing Last Supper Seder and Eggs & Balls in Bonoboville.
Call-In During the Live Broadcast: 1.866.289.7068. Tweet comments and questions @RadioSUZY1 and @DrSuzy. Listen Free or Watch the live show at DrSusanBlock.Tv. This week's live broadcast sponsored by Sybian, Condomania, Glyde America ALL-VEGAN Condoms, Agwa Cocoa Leaf Liqueur, Ron de Jeremy Rum, JuxLeather and Astroglide.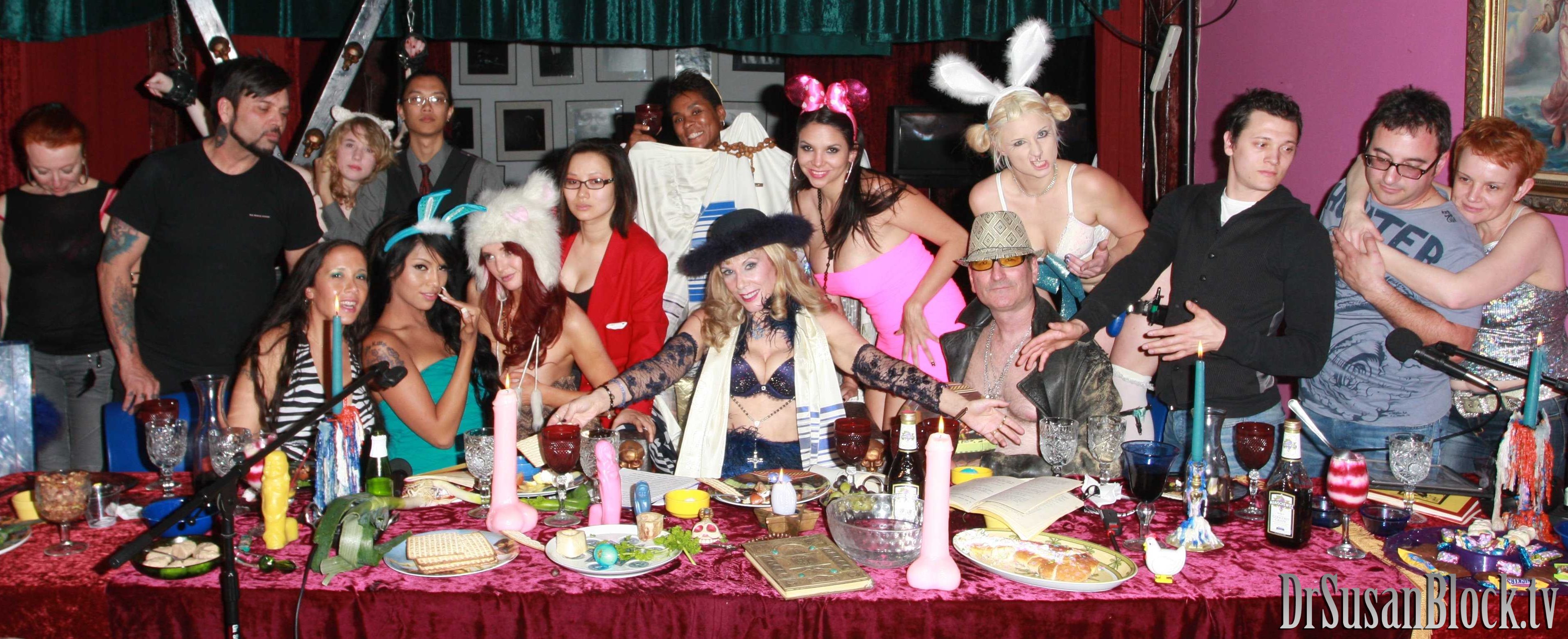 The Dr. Susan Block Show is produced by The Dr. Susan Block Institute for the Erotic Arts & Sciences, an international center for sexual expression, therapy and education, based in LA, founded in 1991 by Susan M. Block, PhD, world-renowned Yale-educated sexologist, best-selling author and host of HBO specials. The Institute's mission is to help individuals, couples and communities enhance their sexuality and improve their lives based upon Dr. Block's philosophy of Ethical Hedonism and The Bonobo Way of Peace through Pleasure. A portion of all proceeds goes to help save the highly endangered "make love not war" bonobos from extinction in the Congo and to promote the Bonobo Way around the world.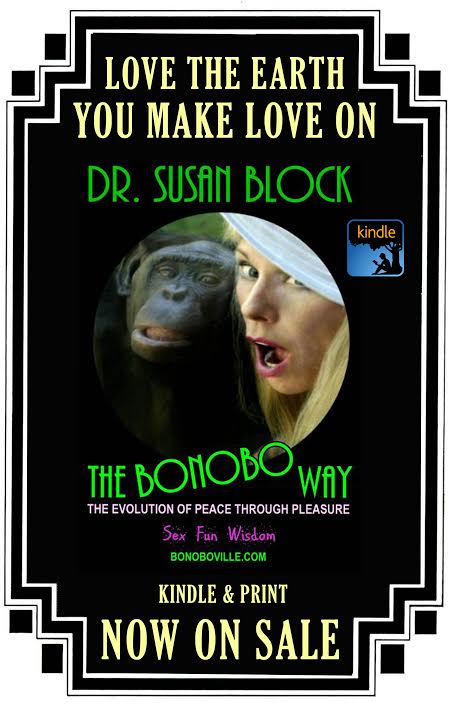 GIVE THE BONOBO WAY! CLICK HERE TO READ OUR RECENT RAVE REVIEWS & INTERVIEWS

Make 2016 your Year of the Bonobo and get your copy of The Bonobo Way: The Evolution of Peace through Pleasure.