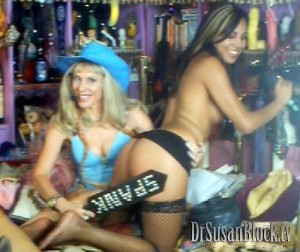 "To spank is to pay attention.  To be spanked is to command that attention–even if it hurts," says Dr. Block
This Saturday night's live broadcast of The Dr. Susan Block Show will explore the piquant, pain-laced pleasures of consensual adult spanking, deculottage and other ironic and erotic means of recreational algolagnia.  Joining international sexologist Dr. Susan Block in her Womb Room broadcast studio will be Studio Servitu CEOs Miss Crash and Jane Jett, their submissives Tiana and Aly Sinclair, spanking masters Dallas and Lord Master Earl, submissive Mehta and Goth queen opera singer Malena Teves.
Spankophiliac's Delight will air live September 17, 2011, 10:30pm-Midnight PST on The Dr. Susan Block Show. Listen FREE at  tinyurl.com/RadioSUZY1  Call-In Free: 1.866.289.7068.
To join our live in-studio audience for Spankophiliac's Delight and the erotic after-party at Dr. Suzy's world-famous Speakeasy in the Soul of Downtown LA, call or go to tinyurl.com/DrSuzyRSVP.
Watch the LIVE BROADCAST and View All the Pix, Clips and Past Shows at tinyurl.com/DrSuzyTV
Read Dr. Block's Spanking Blog, part of which will be in the new Wiley-Blackwell Human Sexuality Encyclopedia, at  bloggamy.com/?p=28173
For Spanking Phone Sex Therapy, call anytime 24/7.
Proceeds from donations go to help save the highly endangered "make love not war" bonobo chimpanzees from extinction in the Congo and to promote the Bonobo Way of peace through pleasure around the world.  Dr. Block and her guests will enjoy Doc Johnson Pocket Rockets (Drop Pocket Rockets, Not Patriot Missiles!), ScreamingO Vibrating Cock Rings and Finger Vibrators, Condomania condoms, fetish implements from KinkyEddies and a fine art exhibit featuring the classical erotic paintings of Scott Siedman. The Dr. Susan Block Show beverage of choice is Agwa di Bolivia Coca Leaf Liqueur, one of many fine libations featured at the Speakeasy Open Bar and Aphrodisiac Buffet, featuring the indulgent offerings of Harriet's Cheesecakes Unlimited.
The Dr. Susan Block Show is produced by The Dr. Susan Block Institute for the Erotic Arts & Sciences, an international center for sexual expression, therapy and education based in LA.  Founded in 1991 by Susan M. Block, PhD, world-renowned Yale-educated sexologist, best-selling author and host of HBO specials, the Institute's mission is to help individuals, couples and communities enhance their sexuality and improve their lives, based upon Dr. Block's philosophy of Ethical Hedonism and the Bonobo Way of Peace through Pleasure.