"People in porn are mostly like dolphins. But every once in a while you run into a shark."
Dr. Susan Block in STAGE BROTHER
Join us this Saturday night for another exciting live broadcast of The Dr. Susan Block Show when we will get "Sex Rocked" right after the Cinekink Film Festival West Coast premier of Stage Brother featuring, among other luminaries, international sexologist Dr. Susan Block as herself.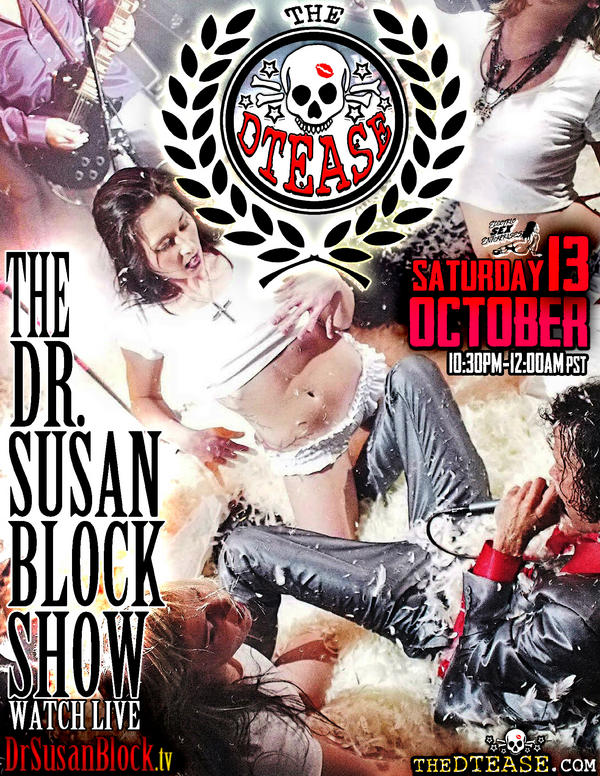 Joining Dr. Block in her BonoboVille broadcast studios this Saturday night will be Stage Brother director/writer/brother Richard Buonagurio and producer/editor Ryan Balas  and our favorite bodacious band manager Catherine Imperio bringing the glam/punk DTease doing a wild live performance with Catherine and divine punk princess Samantha Fairley.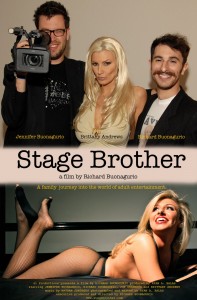 Stage Brother, Ink & The DTease will air live October 13th, 2012, 10:30pm-Midnight PST on The Dr. Susan Block Show. Listen FREE at http://tinyurl.com/RadioSex  Call-In Free: 1.866.289.7068
Watch the LIVE BROADCAST & See All the Pix and Past Shows at http://DrSuzy.tv.
To join our exclusive live in-studio audience and the after-party at Dr. Suzy's Speakeasy in the Soul of Downtown LA, aka BonoboVille, call or go to http://tinyurl.com/DrSuzyRSVP
Proceeds from donations go to help save the highly endangered "make love not war" bonobos from extinction in the Congo and to promote the Bonobo Way of Peace through Pleasure around the world.  Dr. Block and guests will enjoy sex toys provided by Sybian, ScreamingO, Tenga, Stockroom, Kinky Eddie, JuxLeather and Condomania condoms, plus a fine art exhibit featuring Anthony Winn's Stripperella artwork and the classical erotic paintings of Scott Siedman. The Dr. Susan Block Show beverages of choice is Absinthe and Agwa di Bolivia Coca Leaf Liqueur, among the many fine libations and gourmet hors d'oeuvres featured at the always-popular Speakeasy Open Bar and Aphrodisiac Buffet.
The Dr. Susan Block Show is produced by The Dr. Susan Block Institute for the Erotic Arts & Sciences, an international center for sexual expression, therapy and education, based in LA.  Founded in 1991 by Susan M. Block, PhD, world-renowned Yale-educated sexologist, best-selling author and host of HBO specials, the Institute's mission is to help individuals, couples and communities enhance their sexuality and improve their lives based upon Dr. Block's philosophy of Ethical Hedonism and the Bonobo Way of Peace through Pleasure.