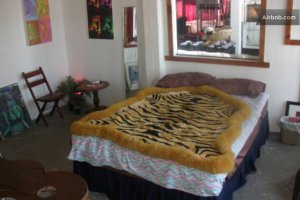 Would you like to stay overnight at the world-famous Dr. Susan Block Institute for the Erotic Arts & Sciences?   Get off the beaten path—and into a fabulous, sexy, artsy, private suite in the soul of Downtown Los Angeles.  Parking, security, 24 hour concierge and the unique experience of staying with the internationally renowned Dr. Suzy and her "bonobo gang" are available on the penthouse floor of a secluded industrial building with panoramic views of the city and surrounding areas, where the hottest parties happen and most electrifying guests come to soak in the independent spirit, sex education and ethical hedonism that pervades the Block Institute
Enjoy a huge kitchen with home-cooked meals, a fantastic, funky freight elevator, security, hospitality, 24 hour attendants, a private suite, open bar, erotic art gallery, room service and all the facilities our amazing 14,000 square foot penthouse loft has to offer.  Live the "communal lifestyle" with shared food and bathrooms and enjoy gorgeous views of Downtown Los Angeles from the huge windows that flood our loft with natural light—or even from the roof!
Saturday Night is show night at Dr. Suzy's Speakeasy within the Institute.  As an overnight guest at the Institute, you may attend the exclusive, exciting show and after-party free of charge!
Want to improve your sex life?  Enjoy a private and absolutely confidential sex therapy session, or one or two-day retreat with Dr. Susan Block and/or her associates here at the Institute for an additional fee.
Prices depend on dates, services needed, and other factors.  Below are some general prices which are subject to change, depending on availability.
Week Night (Sunday-Thursday night) stay for one person (includes drinks, snacks and continental breakfast):  $105
Weekend Night (Friday-Saturday night) stay for one person (includes show and after-party free pass, drinks, snacks and breakfast): $130
Each additional person in room: $30
Private Therapy Session with Dr. Susan Block: $300/hour (two-hour minimum)
Private Therapy Retreat with Dr. Susan Block and Associates (a full weekend experience): Come immerse yourself in an extraordinary, invigorating therapeutic experience.  Decompress and enhance your sexuality in a multitude of possible ways tailor-made to your needs.  A gift of love to give someone special, even if that someone is you.  Starting at $1200
Call us anytime at for details.
Transportation Options: Car service, Limousine service or rent Obama's 2008 campaign bus now converted to a giant plus party bus complete with stripper pole!  Prices vary. Call for details.
Yachting Therapy: Experience a therapeutic retreat with Dr. Susan Block on one of our private yachts in Marina del Rey and other harbors around the world.  Call for details.
The Dr. Susan Block Institute
Established 1991
For more information, call our recorded line.
We're available 24/7, including all holidays.