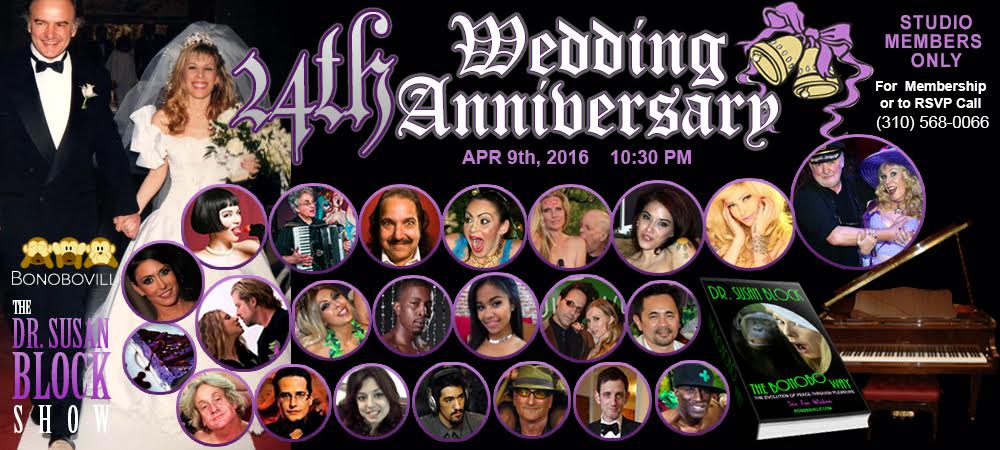 Saturday night, April 9th, The Dr. Susan Block Show will celebrate international sexologist and Bonobo Way author Dr. Susan Block and publisher/producer Pr. Maximillian R. Lobkowicz di Filangieri's 24th Wedding Anniversary. Joining the ridiculously happy couple live in-studio will be a star-studded guest list, including Guests of Honor Mistress Selina Minx, Ron Jeremy, Jessica Jaymes, John Barrymore, Eric John & Riley Reyes, Amor Hilton, Luc Wylder & Alexandra Silk (aka Silky), Isiah Maxwell, Jessica Shores (aka J-sho), Master D, Onyx Muse, Anthony Lee Winn, Tammie Parrott, Corpsy, Joe Williamson, Luzer Twersky, Loni Legend, Barry Fisher, Me$$ed Up, Ikkor the Wolf,  Nori Carter, Daryl Wright and DrSuzy.Tv associate producer Dayton Rains.
An orgasmic anniversary cheesecake will be whipped up with pansexual love by Rawkstar Chef Belive, aka Brian Lucas, who will attend with renowned Django Unchained star of stage and screen Daniel Watts.  (together they are famous as the interracial couple cited by LAPD for allegedly having sex in the car, though they were fully clothed). Ron Jeremy (not just a penis, but a pianist as well) will play a medley of classics and Nori Carter will play his original music on Dr. Suzy's grandmother's 1926 Steinway medium grand piano (just pulled out of storage and tuned by Dan the Piano Man!) in honor of the 24th Wedding Anniversary, the symbol of which is "Musical Instruments." Mistress Selina Minx will play harp or ukelele, depending on her mood. Other guests will also show off their musical talents in this sure-to-be amazing celebration of sex, art, music and long-term love. And yeah, there could be some sex…

"Dr. Suzy & Pr. Max's 24th Wedding Anniversary" will broadcast LIVE from Bonoboville on The Dr. Susan Block Show Saturday night, April 9th, 2016, 10:30pm-Midnight PST. It can be viewed on DrSuzy.Tv or in Bonoboville where you can also chat live in the Bonoboville Studio.
Call-In During the Live Broadcast: 1.866.289.7068. Tweet comments and questions @RadioSUZY1 and @DrSuzy. Listen Free or Watch the live show at DrSusanBlock.Tv. This week's live broadcast sponsored by Sybian, Condomania, Glyde America ALL-VEGAN Condoms, Agwa Cocoa Leaf Liqueur, Ron de Jeremy Rum, JuxLeather, Wein-Erotik-Edition.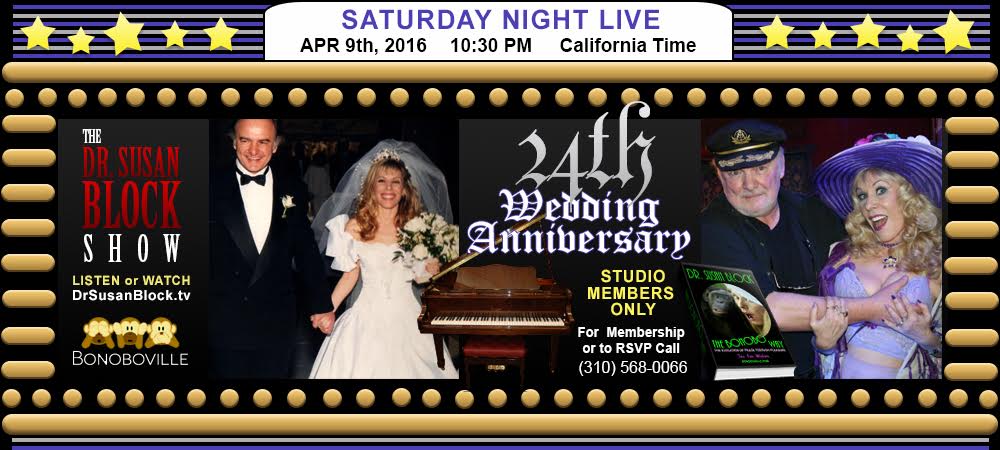 The Dr. Susan Block Show is produced by The Dr. Susan Block Institute for the Erotic Arts & Sciences, an international center for sexual expression, therapy and education, based in LA, founded in 1991 by Susan M. Block, PhD, world-renowned Yale-educated sexologist, best-selling author and host of HBO specials. The Institute's mission is to help individuals, couples and communities enhance their sexuality and improve their lives based upon Dr. Block's philosophy of Ethical Hedonism and The Bonobo Way of Peace through Pleasure. A portion of all proceeds goes to help save the highly endangered "make love not war" bonobos from extinction in the Congo and to promote the Bonobo Way around the world.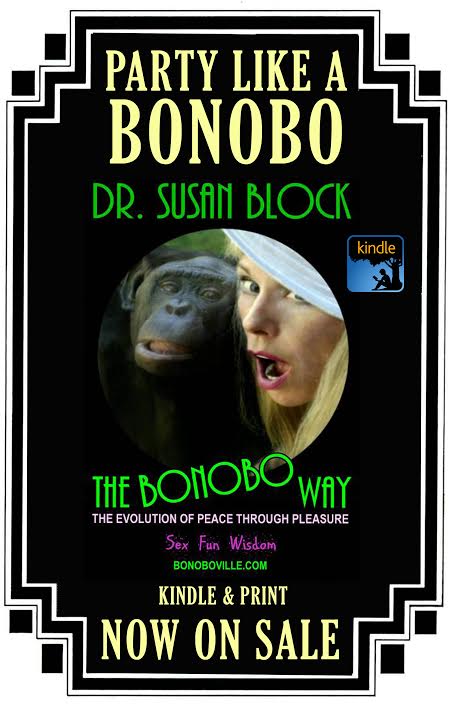 GIVE THE BONOBO WAY! CLICK HERE TO READ OUR RECENT RAVE REVIEWS & INTERVIEWS

Make 2016 your Year of the Bonobo and get your copy of The Bonobo Way: The Evolution of Peace through Pleasure.