Honoring Excellence in Broadcast Artistry and Exhibitionism
This Saturday's live broadcast of The Dr. Susan Block Show will reflect upon this extraordinary year's journey down the path of peace-through-pleasure and honor those that made it orgasmic! Join international sexologist Dr. Susan Block, Capt'n Max, Tasia Sutor, Master Liam and other member of the DrSusanBlock.tv staff as we remember 2012 and bestow awards upon our most memorable guests for "Most Sex Revolutionary Author," "Most Intelligent-Sounding Porn Star," "Sexiest Mainstream Performer," "Best Female Ejaculator," "Sexiest Poet," "Best Spanking,"  "Best-Dressed Guest," "Best Boob Job," "Scariest Dominant," "Cutest Sub," "Sexiest Promoter," "Most Erotic Artist," "Horniest Comedian," "Wildest Committed Couple," "Most Arousing Writer," "Most Enthusiastic First Timer," "Most Orgasmic Sybian Rider," "Most Fanatic Foot Fetishist," "Most Mesmerizing Pole Dancer," "Best Exhibitionist," "Most Blasphemous," "Most Bonobo," "Most Intoxicated" and more.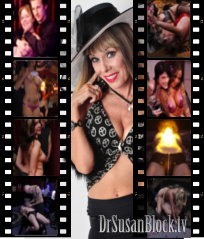 The DrSusanBlock.TV Awards will air live December 29th, 2012, 10:30pm-Midnight PST on The Dr. Susan Block Show. Listen FREE at http://tinyurl.com/RadioSex.  Call-In Free: 1.866.289.7068.
Watch the LIVE BROADCAST & See All the Pix and Past Shows at http://drsusanblock.com/TV.html.
To join our exclusive live in-studio audience and the after-party at Dr. Suzy's Speakeasy in the Soul of Downtown LA, aka BonoboVille, call or go to http://tinyurl.com/DrSuzyRSVP.
Sex toys provided by Sybian, Divine Interventions.   CalExotics, ScreamingO, Stockroom, JuxLeather and Condomania condoms. The Dr. Susan Block Show beverages of choice are Hennessy and Absinthe among the many fine libations and gourmet hors d'oeuvres featured at the always-popular Speakeasy Open Bar and Aphrodisiac Buffet.  Proceeds from donations go to help save the highly endangered "make love not war" bonobos from extinction in Congo and to promote the Bonobo Way of Peace through Pleasure around the world.
The Dr. Susan Block Show is produced by The Dr. Susan Block Institute for the Erotic Arts & Sciences, an international center for sexual expression, therapy and education, based in LA.  Founded in 1991 by Susan M. Block, PhD, world-renowned Yale-educated sexologist, best-selling author and host of HBO specials, the Institute's mission is to help individuals, couples and communities enhance their sexuality and improve their lives based upon Dr. Block's philosophy of Ethical Hedonism and the Bonobo Way of Peace through Pleasure.