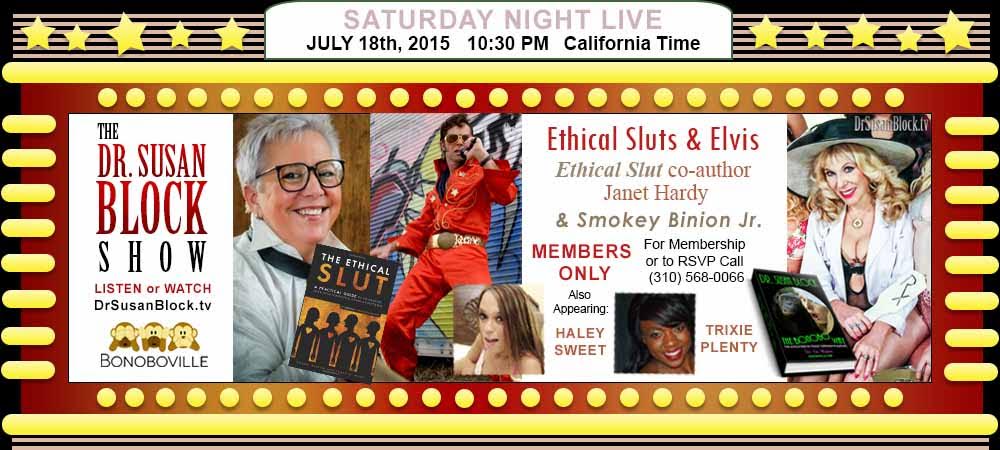 "A slut is a person of any gender who celebrates sexuality according to the radical proposition that sex is nice and pleasure is good for you."
The Ethical Slut
This Saturday night, July 18th, The Dr. Susan Block Show presents "Ethical Sluts & Elvis." Joining international sexologist and Bonobo Way author Dr. Susan Block live via webcam from Eugene, Oregon will be Janet Hardy, world-renowned sex educator, writer, publisher and co-author of the classic sex-positive, poly-friendly manifesto The Ethical Slut: A Practical Guide to Polyamory, Open Relationships & Other Adventures. Janet W. Hardy (a.k.a., Catherine A. Liszt, a.k.a., Lady Green), who will be the keynote speaker next Saturday, July 25th at SexPositive World's "Sexual Health Series Kick Off: Redefining Sexuality for the 21st Century" in UCLA's Northwest Campus Auditorium, appeared on The Dr. Susan Block Show back in 1998 when The Ethical Slut was first published.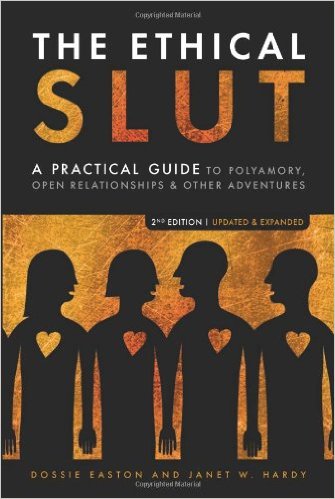 "We are proud to reclaim the word "slut" as a term of approval, even endearment… As proud sluts, we believe that sex and sexual love are fundamental forces for good, activities with the potential to strengthen intimate bonds, enhance lives, open spiritual awareness, even change the world."
The Ethical Slut
Joining Dr. Suzy live in-studio in Bonoboville, L.A. will be Elvis Presley tribute artist, Smokey Binion, Jr., and adult entertainers (and "ethical sluts"), Haley Sweet and Trixie Plenty, as well as show producer Biz Bonobo and Institute therapist Chelsea Demoiselle.

"Ethical Sluts & Elvis" on The Dr. Susan Block Show will broadcast LIVE from Bonoboville Saturday night, July 18th, 2015, 10:30pm-Midnight PST on DrSuzy.Tv. It can also be viewed live in Bonoboville.com.

Click Here to RSVP to attend this show in the "Speakeasy" studio audience or call 626.461.5950. Studio doors open at 9:30 pm. Studio Members FREE. Membership Has Its Pleasures.
Call-In During the Live Broadcast: 1.866.289.7068.
Tweet comments and questions @RadioSUZY1and @DrSuzy.

Listen Free or Watch the live show at DrSusanBlock.Tv .
Chat live in the Bonoboville.com Studio

This week's live broadcast sponsored by Agwa Cocoa Leaf Liqueur, Ron de Jeremy Rum, Dirty Tequila, Condomania and JuxLeather
Want to "define our terms"? Dr. Suzy wrote the definitive definitions of "striptease" for the new Wiley-Blackwell International Encyclopedia of Human Sexuality
The Dr. Susan Block Show is produced by The Dr. Susan Block Institute for the Erotic Arts & Sciences, an international center for sexual expression, therapy and education, based in LA, founded in 1991 by Susan M. Block, PhD, world-renowned Yale-educated sexologist, best-selling author and host of HBO specials. The Institute's mission is to help individuals, couples and communities enhance their sexuality and improve their lives based upon Dr. Block's philosophy of Ethical Hedonism and The Bonobo Way of Peace through Pleasure. A portion of all proceeds goes to help save the highly endangered "make love not war" bonobos from extinction in the Congo and to promote the Bonobo Way around the world.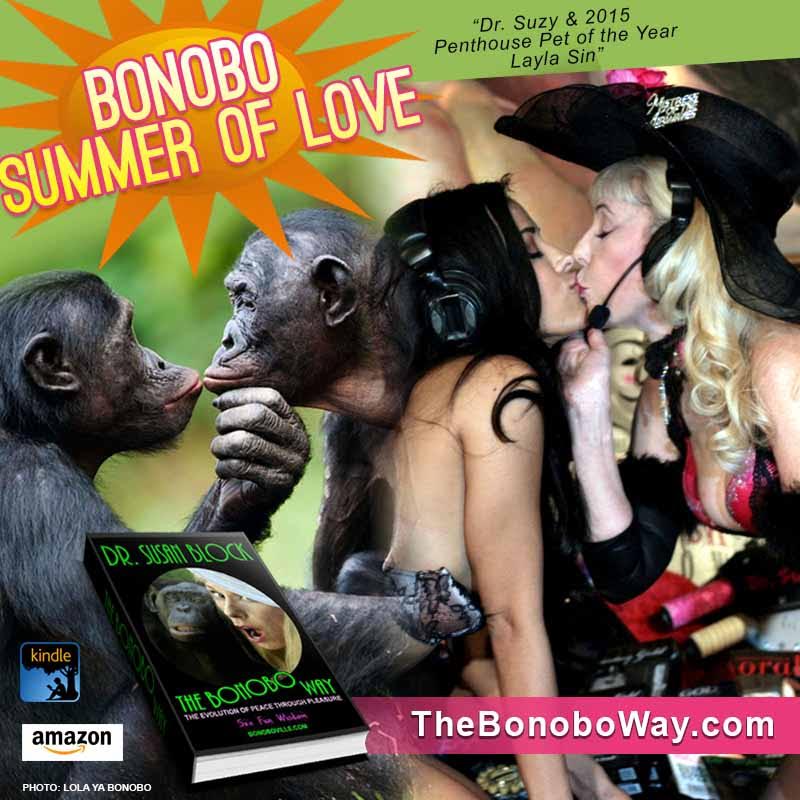 It's the Bonobo Summer of Love! Make 2015 your Year of the Bonobo and get your copy of The Bonobo Way: The Evolution of Peace through Pleasure.