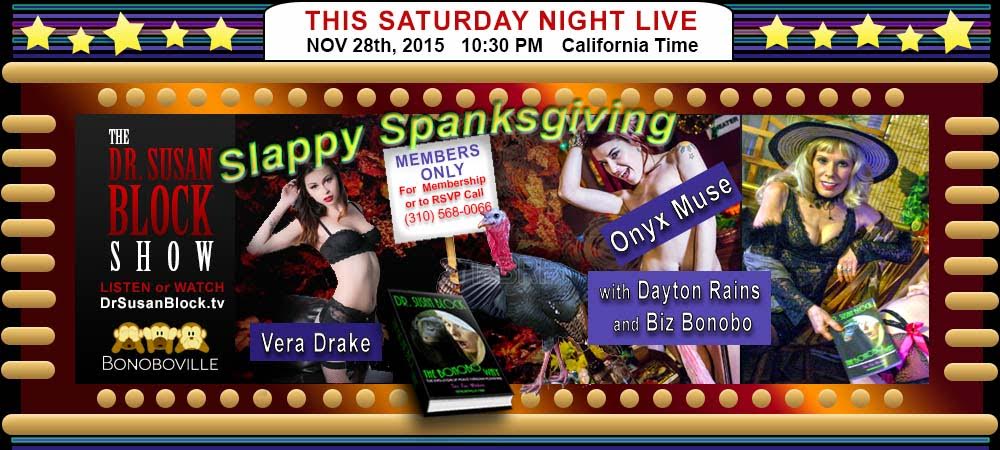 "'On Thanksgiving, let us give thanks for all our blessings. And on Spanksgiving, let us give spanks to all consenting adults who need spankings. And let us practice the Bonobo Way amongst each other. Let us stop the bombing and the shooting and learn to live in peace through pleasure… with a little spanking.  And let us spank our hands together across a nice willing warm ass, and say Amen and AWOMEN. "
~The Irreverend Dr. Susan Block of the Church of Bonoboville

 This Saturday night, November 28th, The Dr. Susan Block Show will celebrate SPANKSGIVING, a traditional Bonoboville holiday on the Saturday after Thanksgiving. Joining international sexologist and Bonobo Way author Dr. Susan Block live in-studio will be adult entertainers and spanking aficionadas, Live Jasmin girl Onyx Muse, who last delighted the Womb Room on our Bonobo Spring Equinox, and spanking hot new Burning Angel Vera Drake, plus as well as our own Dayton Rains—webcam and phone therapist with the Institute—and DrSuzy.Tv show producer Biz Bonobo, a.k.a. Elizabeth Aston.. Yes indeed, another Bonoboville Familia! After we get stuffed from both ends on Thursday and recover on Friday, it's time for SPANKSgiving Saturday night with Dr. Suzy (who wrote the definition of "spanking" for the new Wiley-Blackwell International Encyclopedia of Human Sexuality) and another yummy, spanking hot, live broadcast of The Dr. Susan Block Show.
"Dr. Suzy's Spanksgiving 2015" will broadcast LIVE from Bonoboville on The Dr. Susan Block Show this Saturday night, November 7, 2015, 10:30pm-Midnight PST. It can be viewed on DrSuzy.Tv or in Bonoboville where you can also chat live in the Bonoboville Studio.
Click Here to RSVP to attend this show in the "Speakeasy" studio audience or call 626.461.5950. Studio doors open at 9:30 pm. Studio Members FREE. Membership Has Its Pleasures.
Call-In During the Live Broadcast: 1.866.289.7068. Tweet comments and questions @RadioSUZY1 and @DrSuzy. Listen Free or Watch the live show at DrSusanBlock.Tv. This week's live broadcast sponsored by Sybian, Agwa Cocoa Leaf Liqueur, Ron de Jeremy Rum, Condomania, Glyde America Condoms and JuxLeather
The Dr. Susan Block Show is produced by The Dr. Susan Block Institute for the Erotic Arts & Sciences, an international center for sexual expression, therapy and education, based in LA, founded in 1991 by Susan M. Block, PhD, world-renowned Yale-educated sexologist, best-selling author and host of HBO specials. The Institute's mission is to help individuals, couples and communities enhance their sexuality and improve their lives based upon Dr. Block's philosophy of Ethical Hedonism and The Bonobo Way of Peace through Pleasure. A portion of all proceeds goes to help save the highly endangered "make love not war" bonobos from extinction in the Congo and to promote the Bonobo Way around the world.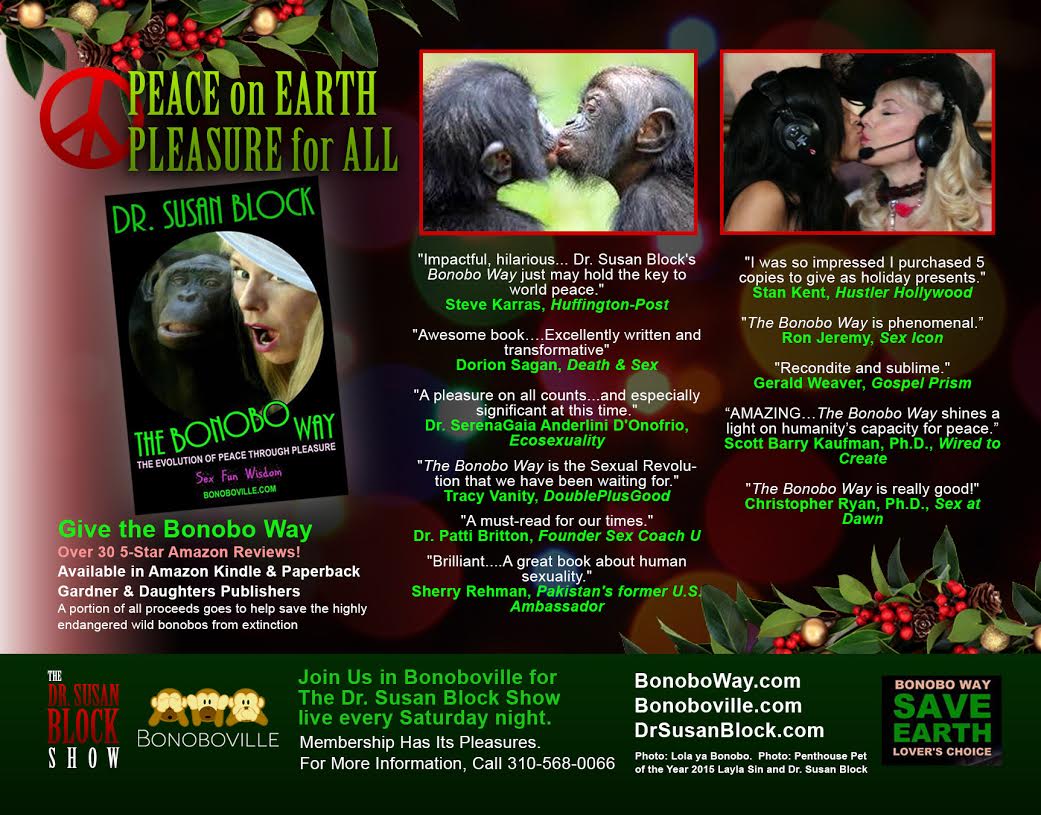 This Holiday Season, GIVE THE BONOBO WAY! CLICK HERE TO READ OUR RECENT RAVE REVIEWS & INTERVIEWS

Make 2015 your Year of the Bonobo and get your copy of The Bonobo Way: The Evolution of Peace through Pleasure.