If the sugary soft-sell of Valentine's Day hype is giving you a toothache, consider whipping up a little Lupercalia this season," suggests Dr. Susan Block.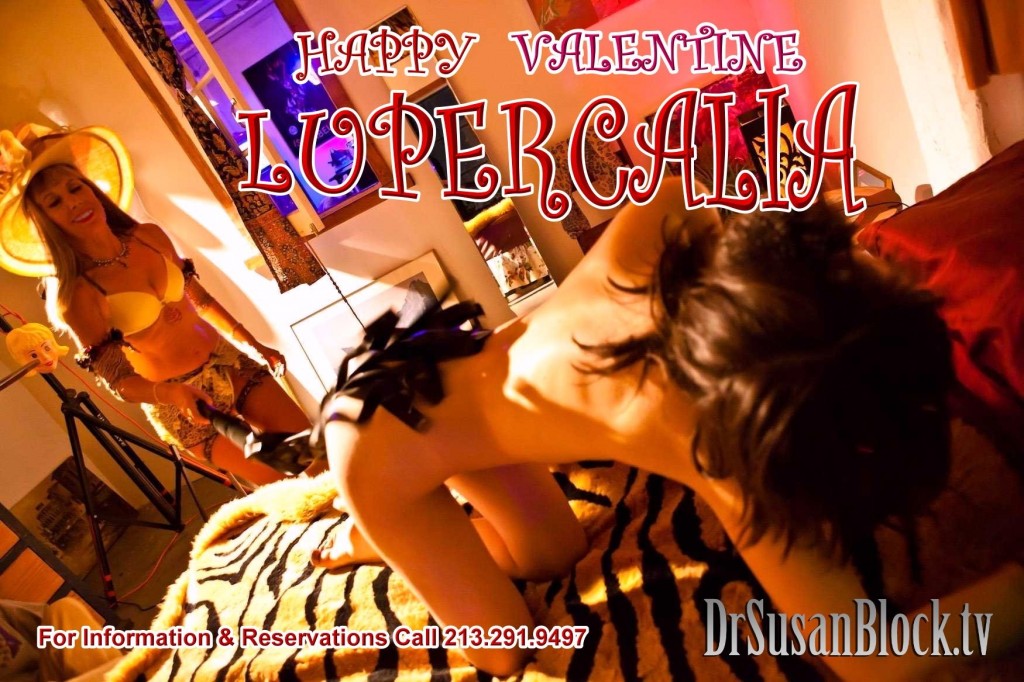 The idea of honoring exclusive, romantic LOVE on what we call Valentine's Day is a relatively new invention, created by the Church and commercialized by Hallmark.  But the tradition of celebrating all-inclusive LUST on and around February 14th dates back to the prehistoric Roman Lupercalia, a primordial festival of communal sexuality, purification, fertility, the rush of hormones, the howl of the wolf, the crack of the whip and the coming of spring.
Rather than hearts, flowers and words of love, the ancient Lupercalia involved whips, floggers and expressions of lust. The Lupercii ritually sacrificed goats, then ran nearly naked through the countryside, brandishing goatskin whips called februa, as ladies eagerly bared their buttocks to light thrashings–said to bless the recipients with fertility and health.  The early Catholic Church outlawed lusty Lupercalia, replacing it with the relatively chaste celebration of Valentine's Day.
But this Saturday night's live broadcast of The Dr. Susan Block Show will bring back the old Lupercalia—no goat sacrifices, but plenty of good healthy flogging and whipping up a festival of fun. Also unlike the old Lupercalia, we'll probably have at least as many ladies whipping the menfolk as vice versa, plus same-gender whacking and spanking.  It's the Bonobo Way.  So, forget the stress to impress and fattening candy of VD and flog or get flogged for the Big L!
Joining international sexologist Dr. Susan Block in her Womb Room broadcast studios for the first time will be Femdom Warrior Goddess and Spanking Disciplinarian Mistress C, webcam model/housewife Kendra Lust, and returning to the Speakeasy will be the beautiful Stevie Shay, pro-Dom Master Liam with his slave Tasia (who also happens to be producer of this show!) and Broken Door's Master D and Lil Bambii. Whips and floggers provided by JuxLeather.
Valentine Lupercalia will air live February 11th, 2012, 10:30pm-Midnight PST on The Dr. Susan Block Show. Listen FREE at http://tinyurl.com/RadioSUZY1  Call-In Free: 1.866.289.7068.
Watch the LIVE BROADCAST and View Pix, Clips and Past Shows at http://tinyurl.com/DrSuzyTV.
To join our exclusive live in-studio audience and the erotic flogging after-party at Dr. Suzy's Speakeasy in the Soul of Downtown LA, call or go to http://tinyurl.com/DrSuzyRSVP .
For more Lupercalia and Valentine's Day history, go to http://bloggamy.com/valentine-lupercalia.
"If love is going to hurt—as it so often does—then better to get your buns beaten for Lupercalia than your heart broken on Valentine's Day,"  says Dr. Block.
Proceeds from donations go to help save the highly endangered "make love not war" bonobo chimpanzees from extinction in the Congo and to promote the Bonobo Way of peace through pleasure around the world.  Dr. Block and guests will enjoy sex toys provided by AdultPlayParlor.com, Stockroom and ScreamingO, Condomania condoms, plus a fine art exhibit featuring Anthony Winn's Stripperella artwork and the classical erotic paintings of Scott Siedman. The Dr. Susan Block Show beverage of choice is Agwa di Bolivia Coca Leaf Liqueur, among the many fine libations featured at the always popular Speakeasy Open Bar and Aphrodisiac Buffet.
The Dr. Susan Block Show is produced by The Dr. Susan Block Institute for the Erotic Arts & Sciences, an international center for sexual expression, therapy and education based in LA.  Founded in 1991 by Susan M. Block, PhD, world-renowned Yale-educated sexologist, best-selling author and host of HBO specials, the Institute's mission is to help individuals, couples and communities enhance their sexuality and improve their lives based upon Dr. Block's philosophy of Ethical Hedonism and the Bonobo Way of Peace through Pleasure.