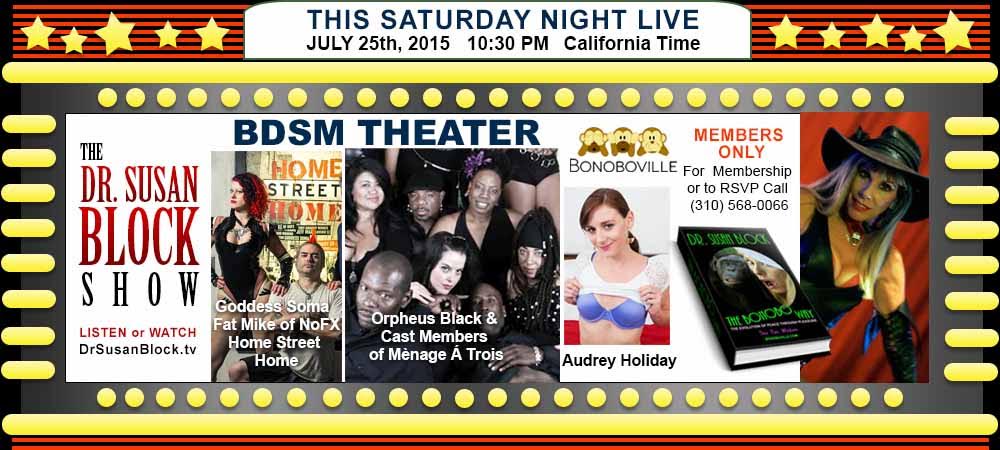 This Saturday night, July 25th, The Dr. Susan Block Show presents Superstars of BDSM Theater. Joining international sexologist and Bonobo Way author Dr. Susan Block live in-studio will be renowned BDSM master Orpheus Black and cast members from his new theatrical triology, Mènage Á Trois. This show will also feature our favorite domina and Domination Directory International (DDI) editor/publisher Goddess Soma Snakeoil and punk rock superstar/composer and BDSM connoisseur Mike Burkett, a.k.a., Fat Mike of NoFX, now in production for their critically acclaimed, Broadway-bound punk rock musical Home Street Home. Rounding out the guest roster will be kinky newcomer Audrey Holiday, along with show producer Biz Bonobo and sexy surprises.

"BDSM THEATER" will broadcast LIVE from Bonoboville on The Dr. Susan Block Show this Saturday night, July 25th, 2015, 10:30pm-Midnight PST. It can be viewed on DrSuzy.Tv or in Bonoboville.com.  Click Here to RSVP to attend this show in the "Speakeasy" studio audience or call 626.461.5950. Studio doors open at 9:30 pm. Studio Members FREE. Membership Has Its Pleasures.
MORE about our featured guests:
Listen to the amazing soundtrack of "Home Street Home" – music by Mike Burkett with some lyrics by Goddess Soman! 
Orpheus Black will be the keynote speaker this Saturday, July 25th at Sex-Positive World's "Sexual Health Series Kick Off: Redefining Sexuality for the 21st Century" in UCLA's Northwest Campus Auditorium.
Orpheus Black's "Mènage Á Trois… an Erotic Trilogy" will perform at the Poet's Jazz House & Theatre Theatre this Tuesday, July 28th. Click here for more info & Mènage Á Trois tickets.
Goddess Soma's next issue of DDI features "The Bonobo Way of Female Power" by Dr. Suzy!
Call-In During the Live Broadcast: 1.866.289.7068.
Tweet comments and questions @RadioSUZY1and @DrSuzy.

Listen Free or Watch the live show at DrSusanBlock.Tv .
Chat live in the Bonoboville.com Studio

Want to "define our terms"? Dr. Suzy wrote the definitive definitions of "fetish" and "spanking" for the new Wiley-Blackwell International Encyclopedia of Human Sexuality
This week's live broadcast sponsored by Agwa Cocoa Leaf Liqueur, Ron de Jeremy Rum, Dirty Tequila, Condomani, Glyde America condoms, Stockroom and JuxLeather
The Dr. Susan Block Show is produced by The Dr. Susan Block Institute for the Erotic Arts & Sciences, an international center for sexual expression, therapy and education, based in LA, founded in 1991 by Susan M. Block, PhD, world-renowned Yale-educated sexologist, best-selling author and host of HBO specials. The Institute's mission is to help individuals, couples and communities enhance their sexuality and improve their lives based upon Dr. Block's philosophy of Ethical Hedonism and The Bonobo Way of Peace through Pleasure. A portion of all proceeds goes to help save the highly endangered "make love not war" bonobos from extinction in the Congo and to promote the Bonobo Way around the world.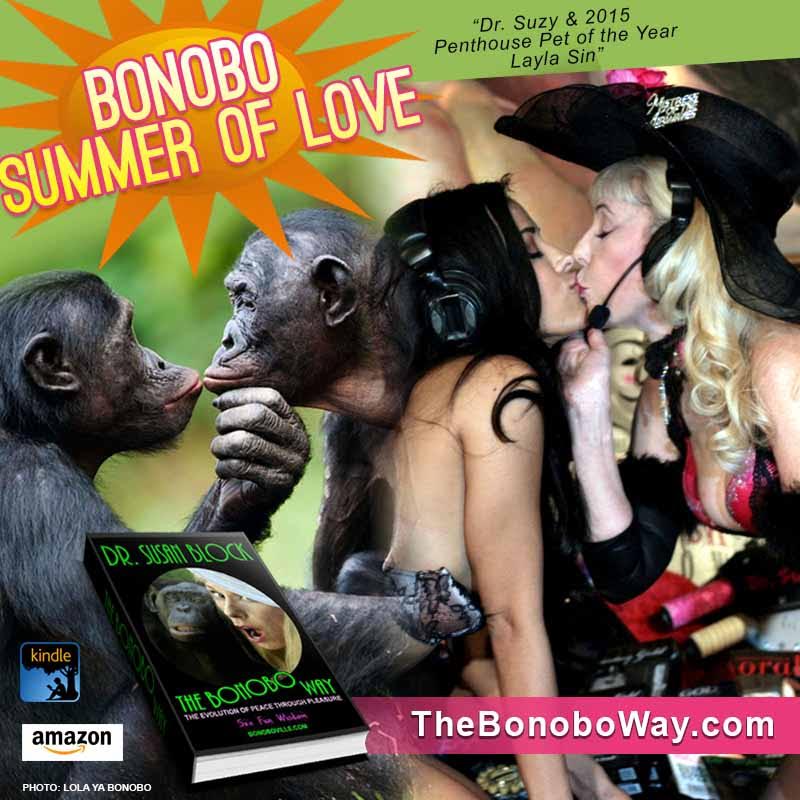 It's the Bonobo Summer of Love! Make 2015 your Year of the Bonobo and get your copy of The Bonobo Way: The Evolution of Peace through Pleasure.