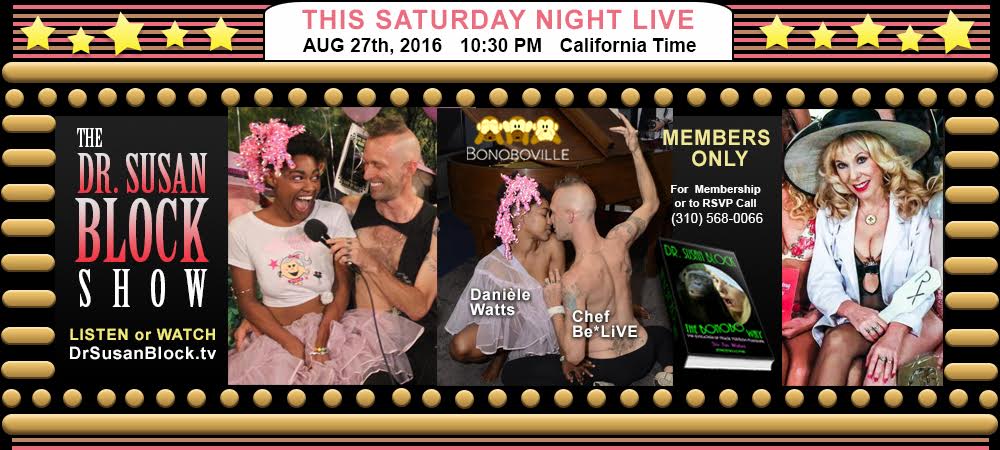 This Saturday night, August 27th, The Dr. Susan Block Show will explore newlywedded pansensual love and open marriage. Joining international sexologist and Bonobo Way author Dr. Susan Block live in-studio will be the extraordinarily talented, loving and very dynamic duo of "Rawkstar" Chef Be*Live (aka Brian James Lucas), award-winning pioneer of the 1990s gourmet raw foods movement, and renowned actress Danièle Watts, featured in Quentin Tarantino's Django Unchained, Showtime's Weeds, (where she has a recurring role as a police officer), Babysitter, The Gay and Wondrous Life of Caleb Gallo, Neurotica, and an exciting new show she is creative-producing with Chef Be*Live called Juicebar. A refreshingly different kind of Hollywood power couple, Danièle and Chef Be*Live gained fame as the interracial twosome cited by the LAPD for allegedly having sex in a car, though they were fully clothed at the time. The newlyweds are looking forward to coming back on The Dr. Susan Block Show to talk about how their experience on Dr. Suzy and Pr. Max's 24th wedding anniversary inspired them to "tie the knot" themselves last month in a fast and fabulous Vegas wedding. To celebrate a month of pansensual open marriage, Chef Be*Live will bring StarRawks RawkStar aphrodisiac tonic TeaLattes. and Shamanatrix Missy Galore, who just won a 2016 Global Peace Song Award for her song "Love'o'lution," will perform "Fluff the Goodness."  Ikkor the Wolf, Shannon Coronado, Jay Toriko and Brendan Sharkey will also join us … plus more (always more!) TBA.
Click Here to RSVP to attend this show in the "Speakeasy" studio audience and share pleasures under the palms of Bonoboville this Saturday, or call 626.461.5950 (you can call anytime; someone is always here). Studio doors open at 9:30 pm. Studio Members FREE. Membership Has Its Pleasures.
"Danièle Watts & Chef Be*LiVE" will broadcast LiVE from Bonoboville on The Dr. Susan Block Show Saturday night, August 27th, 2016, 10:30pm-Midnight PST. It can be viewed on DrSuzy.Tv or in Bonoboville where you can also chat live in the Bonoboville Studio. This show and all past shows can be viewed in archives on DrSuzy.Tv and can be heard free on DrSusanBlock.com.
Call-In During the Live Broadcast: 1.866.289.7068. Tweet comments and questions @RadioSUZY1 and @DrSuzy. Listen Free or Watch the live show at DrSusanBlock.Tv. This week's live broadcast sponsored by Sybian, Condomania, Glyde America ALL-VEGAN Condoms, Agwa Cocoa Leaf Liqueur, Ron de Jeremy Rum & JuxLeather.
The Dr. Susan Block Show is produced by The Dr. Susan Block Institute for the Erotic Arts & Sciences, an international center for sexual expression, therapy and education, based in LA, founded in 1991 by Susan M. Block, PhD, world-renowned Yale-educated sexologist, best-selling author and host of HBO specials. The Institute's mission is to help individuals, couples and communities enhance their sexuality and improve their lives based upon Dr. Block's philosophy of Ethical Hedonism and The Bonobo Way of Peace through Pleasure. A portion of all proceeds goes to help save the highly endangered "make love not war" bonobos from extinction in the Congo and to promote the Bonobo Way around the world.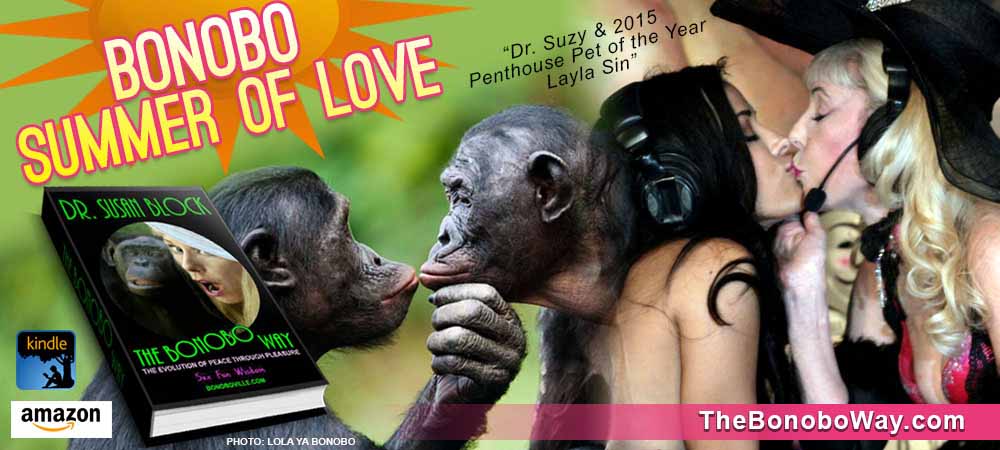 GIVE THE BONOBO WAY!

Make 2016 your Year of the Bonobo and get your copy of The Bonobo Way: The Evolution of Peace through Pleasure. Already got one? Give it to someone you love.