"Whether it's a pressure cooker explosive shattering innocent Boston Marathon fans or an unmanned Predator drone dropping Hellfire missiles on villages , we are becoming a society that communicates through bombs. But there is another way…Let's Come Together in Peace through Pleasure," says Dr. Block.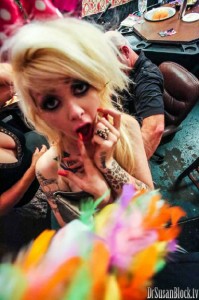 This Saturday, April 27th 2013, The Dr. Susan Block Show will explore the subject of Sex vs. Violence, Love vs. War and Terror Tactics vs The Bonobo Way in light of recent atrocities in Boston and elsewhere. In keeping with our philosophy of peace through pleasure, we will also have some erotic fun!  Joining international sexologist Dr. Susan Block in her Bonoboville broadcast studios will be adult performers Pretty Lush, Lexy Rose, Moe the Monster and the return of one our favorite DrSuzy.tv guests, Hollywood socialite with a heart of gold, Amor Hilton.
Drop Bras, Not Bombs! will air live April 27th 2013, 10:30pm-Midnight PST on The Dr. Susan Block Show. Listen FREE at http://tinyurl.com/RadioSex.  Call-In Free: 1.866.289.7068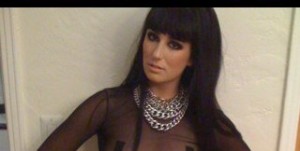 Watch the LIVE BROADCAST & See All the Pix and Past Shows at http://drsusanblock.com/TV.html
Listen Free on Your Mobile Phone at http://m.drsuzy.tv
To join our exclusive live in-studio audience and the after-party at Dr. Suzy's Speakeasy in the Soul of Downtown LA, aka BonoboVille, call or go to http://tinyurl.com/DrSuzyRSVP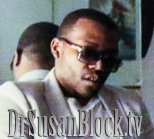 Coming Up Soon on DrSuzy.tv… (To RSVP call us at 213.291.9497)
05/04/13 – "Sex & God: How Religion Distorts Sexuality" Author Dr. Darrel Ray
Watch the LIVE BROADCASTS on DrSuzy.TV Call-In Free: 1-866-289-7068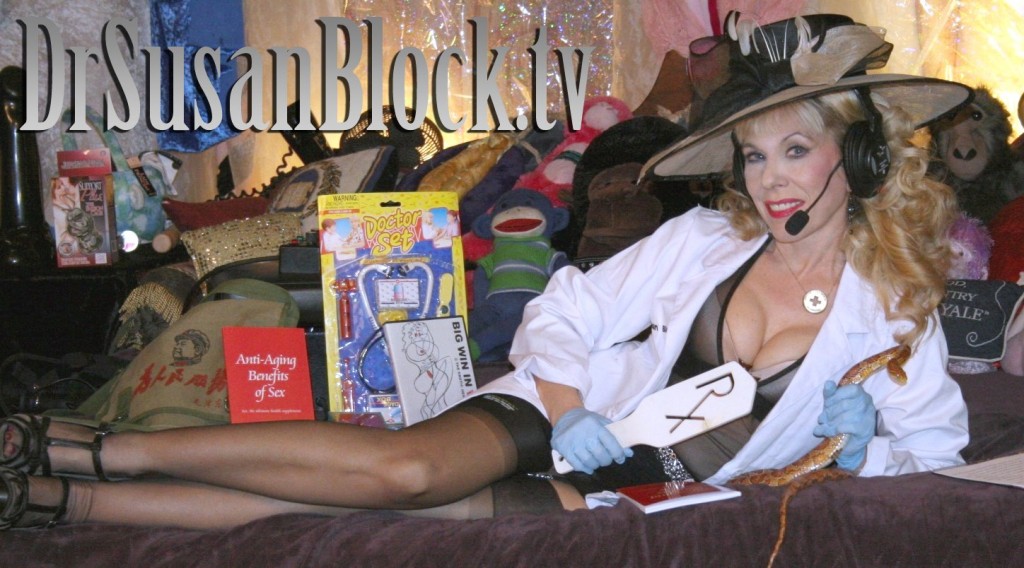 This show will feature Dr. Suzy's Bonoboville Jello Shots by Jello Shots LA among the many fine libations and gourmet hors d'oeuvres at the always-popular Speakeasy Open Bar and Aphrodisiac Buffet.  Sex toys provided by Sybian, CalExotics, ScreamingO, Divine Interventions, Stockroom, JuxLeather, Pipedream Products and Condomania condoms. Proceeds from donations go to help save the highly endangered "make love not war" bonobos from extinction in the Congo and to promote the Bonobo Way of Peace through Pleasure around the world.
 The Dr. Susan Block Show is produced by The Dr. Susan Block Institute for the Erotic Arts & Sciences, an international center for sexual expression, therapy and education, based in LA.  Founded in 1991 by Susan M. Block, PhD, world-renowned Yale-educated sexologist, best-selling author and host of HBO specials, the Institute's mission is to help individuals, couples and communities enhance their sexuality and improve their lives based upon Dr. Block's philosophy of Ethical Hedonism and The Bonobo Way of Peace through Pleasure.